As I look at thousands of calving records every month for dairies ranging in size from 100 to 5,000 cows, one thing that is consistent among almost all of them is the wide range of ages that springing heifers calve.
I recently compiled a small data set using eight dairies in six Midwest states with herd sizes ranging from 900 to 4,500 head milking. In this data set, there were over 7,000 calvings from first-calving heifers. Through compiling this data, I also looked at the percentage of calvings over 24 months old, the cost incurred for the dairy and how age affected fresh milk.
I found that most herds see very little benefit in calving heifers later than 24 months. In this group of calvings, 29 percent of the calvings were after 24 months of age. Of the heifers that calved over the age of 24 months, the average age at calving was 26.8 months old.
If we assume that the goal is to have everything calved by 24 months of age, what does it cost a dairy to have 29 percent of their first-lactation cows calve 2.8 months (85 days) late? To be very basic, three numbers need to be evaluated: the cost to feed a springing heifer, the average cost to feed a lactating cow and milk price.
The following conservative assumptions were made to analyze the costs: It costs $1.75 per day to feed a springing heifer, $5 to feed an average lactation cow and milk price is $16 per hundredweight (cwt).
First, if we get all of our heifers to calve by 24 months, we will save on heifer feed cost:
85 days x $1.75 = $149
However, we will spend money on lactation feed:
85 days x $5 =$425
We get the benefit of milk production in this same time period:
85 days x 80 pounds x $16 per cwt = $1,088
$1,088 + $149 - $425 = $812 of extra revenue generated for every heifer that is calved 2.8 months earlier.
A 100-cow dairy will calve about 40 heifers each year. On average, 11 of these heifers will calve after 24 months old. This means a 100-cow dairy could make an additional $8,930 per year in profit just by making sure each heifer calves by 24 months old.
There are some basic assumptions made in these calculations and not every factor that affects cost is considered, but the return on a high level of nutrition and reproduction can yield significant returns in your youngstock program. Realistically, no dairy will calve every heifer by 24 months old, 100 percent of the time.
However, if an average dairy that currently has 29 percent of their heifers calve after 24 months old can reduce this by half, there is a large savings.
When looking at fresh milk, I used a metric called week-four milk or what a cow or group of cows' level of milk production is at 30 days in milk. This is a great tool to measure how well the cows transition and move through the fresh pen into the lactation pens.
Based on other data sets I have found from 3.5 million cows' worth of lactation records, week-four milk is a great indicator of potential milk production curves. This means a small move in week-four milk will quickly tell you if a cow is going to produce more or less milk than other cows.
You can see from the week-four milk graph (Figure 1) that springing heifers calving from 22 to 24 months are performing at essentially the same level of production.
The trend starts to fall for heifers calving over 24 months old, and especially for heifers calving under 22 months old. This being said, I have seen very successful dairies set up their program to calve a majority of their heifers 21 to 23 months old and not see a reduction in week-four milk.
So is 24 months the correct age for springing heifers to calve? What I tell producers is that almost all dairies' records, no matter the size, will show that their 22- to 24-month-old heifers perform very similar regardless of age. At more than 24 months old, heifers tend to lose fresh milk due to overconditioning and issues during transition.
Calving heifers in at 21 months can be done well, but your youngstock program's nutrition, facilities and reproduction must be at a very high level from birth to calving. I have seen hardly any youngstock programs that can consistently calve in Holstein heifers under 21 months of age and not see a large reduction in fresh milk when compared to their first-lactation heifers calving in at 22 to 24 months.
If I evaluate a herd and their trend is more than 24 months old and these heifers are outperforming the 22-month-old heifers, then I know there is an opportunity in their youngstock program for better growth at some phase to ensure younger heifers reach their full potential.
There are many other factors that go into deciding what age to calve in first-calf heifers, such as herd size expansion, overall herd cull rate, facility limitation and space. However, what I see in nearly all farm records is that the added cost of calving a heifer later than 24 months old is real.
Most of the time this cost is hidden and producers do not realize how many heifers are calving out of their target range, but taking the time to assess this and make corrections where necessary is well worth the time and effort.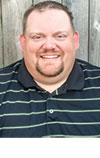 Tim Kinches

Technical Services Specialist
Form-A-Feed Inc.