Erin Mosley is owner of Mosley Dairy Consulting LLC and lives in Canal Winchester, Ohio. She provides independent dairy nutrition consultation focusing on the utilization of currently available software and technology to aid in the evaluation of feed- and cow-health-related data to help identify key areas of opportunity for production, health and financial improvement.
Mosley says her role is a little more unconventional than most as she provides support for other consultants or nutritionists at GPS Dairy Consulting LLC.
"One key aspect of my work focuses on providing insight into feeding program data," Mosley says. "The data summaries I create are used to give feedback to the farms and hopefully open up discussions about what strengths or areas of opportunity there are around feeding."
While Mosley does not get hands on at the dairies, she believes what she does allows other consultants to utilize their time and talents in a more efficient way. She shares the five things she finds most valuable assisting dairy consultants and nutritionists.
1. Networking
A nutrition consultant can bring much more to the table than their own knowledge and experience base. By having a wide and diverse network of professionals they work with, opportunities open up not only for them, but also for their clients. "I fall more into this tier. I don't work directly with dairies, however, I work with consultants who do," Mosley says. "I provide assistance by spending time looking through data, summarizing data and packaging it in a format that allows them to sit down, review and discuss what has been recorded in the producer's feeding program." Mosley says nutritionists may not always have the time to look through the data like she does, so she looks at her role as a way to provide service to the nutritionist and farm.
2. Internet access
"This may be an oversimplified one, but my whole job depends on transferring files over the internet," Mosley says. She lives in Ohio, but the rest of the GPS consultants and their clients live in other states. By using remote access or file-sharing programs, they can share large data files with her within minutes of getting the download. "I am able to pull data directly from farms if needed, Mosley says. "Without internet, I would not be able to be as efficient in getting data back to the farm."
3. Feeding programs
Feeding programs are powerful tools that are available to dairies. They collect and consolidate data and make it available to run reports. There is so much information feeding programs provide that farms can use in their management decision-making. Sometimes this can be overwhelming. Knowing how to use the programs to their fullest capabilities is a true benefit to farms.
"When I started with GPS, EZfeed was the only program I had experience with. EZfeed is based out of Provo, Utah, and it is not as popular here in the Upper Midwest because there are other programs based out of Wisconsin such as Feed Supervisor or TMR Tracker that are very popular, and there is also FeedWatch," Mosley says. "So one of my challenges was learning those other software programs without having that daily experience. But what I found was, they all have the same information. It is just structured a little different, and the programs operate in different ways, but, ultimately, the same data is being housed there."
4. Spreadsheets
Each feeding program has its own unique way of structuring data and does not provide the exact same reporting style or options. "I use spreadsheets to dump data from the programs and sort it into formats that are easier for me to summarize," Mosley says. "This helps me to standardize the reports that I create and deliver back to the consultants."
5. Communication
Mosley says her goal for the summaries she creates is to provide opportunities of communication for education and improvement. "If employees do not understand expectations or know how they are performing, then it is difficult to direct them for improvement," Mosley says. "By routinely evaluating data, dairy farmers know where they have been performing, can compare this to where they are expected to perform at, and then use the data to create a plan to get actual and expected performance closer together. Data doesn't do anyone any good if we aren't looking at it and talking about it."
PHOTO: In her home office, Erin Mosley creates data summaries to give feedback to client farms and open up discussions about what strengths or areas of opportunity there are around feeding. Photo provided by Erin Mosley.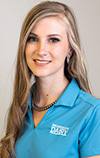 Audrey Schmitz

Editor
Progressive Dairy