"People haven't seen things this bad since 1964."
That is what University of Wisconsin – Madison Extension Crops and Soils Agent Kevin Jarek said, Sept. 25, at the "Meeting Tomorrow's Feeding Challenges Today" seminar held in Kimberly, Wisconsin.
The meeting was held in response to the countless emails and phone calls extension agents like Jarek and others in the northeastern corner of Wisconsin have been receiving this year after an unusually wet stretch. "It began raining about a year ago and hasn't stopped yet," Jarek said, noting the visible signs of stress he sees among fields in his area. Not only did the weather push spring planting behind, but now corn silage harvest is several weeks later than normal. And in some cases, the relentless precipitation prevented crop acres from being planted all together.
This is a major concern for one of the nation's leading regions for corn silage production, which has traditionally supported several of Wisconsin's top milk-producing counties (Manitowoc, Kewaunee, Brown, Outagamie, Fond du Lac, Shawano, Calumet). Dry hay is also in a potential situation for low stocks through the next several months.
The uncooperative 2019 cropping season is challenging dairies here – and elsewhere – to rethink how they determine the value of their forage sources. Jarek offered five tips for valuing forages and making the most of the cards Mother Nature has dealt.
1. Do the math
"You need to figure out what a ton of dry matter (DM) is worth," Jarek said.
How to determine the value of haylage: First determine the value of baled hay, and then convert that to DM. For this example, assume baled hay is going for $225 per ton with a relative feed value (RFV) of 151; assume also the baled hay is at 85% DM and 15% moisture.
Example: $225 (as fed per ton) / 0.85 DM (per ton) = $264.71 per ton of DM
How to determine the value per wet ton as fed (out-of-the-silo haylage): To convert the value of a harvested ton of DM hay to as-fed haylage, assume the haylage is 62% moisture and 38% DM.
Example: $264.71 (per ton of DM) x 0.38 DM (per ton) = $100.59 per ton as fed
Jarek emphasized the importance of a near-infrared (NIR) analysis when pricing alfalfa hay or haylage.
2. Consider pricing corn silage by the ton
Jarek explained that purchasing corn silage by the ton is certainly something to evaluate this year due to the major variations in kernel size and grain fill, which he's recently seen range from full to nonexistent within rows 50 feet apart in the same field. "You may want to negotiate by the ton versus by the acre," he said. "Buying by the acre is just not going to do it."
"We've seen a lot of earless, immature or R2-R4 stage silage out there," he said, attributing this to factors such as delayed planting and disrupted pollination. "A lot of it is just silking now."
What is there to do with this immature corn silage? Jarek said, "If the corn crop is so immature that it won't likely yield grain, a gross estimate can be made of tonnage by figuring the average height of the plants [minus the tassel]. Each foot equals approximately 1 ton of feed per acre."
For other forages, such as grass mixes like sorghum-sudangrass, Jarek cited a rule of thumb for valuing at 80% to 90% of corn silage. Be sure to consider height and maturity of these grasses. Desired height is at least 18 inches tall; shorter stands may be at risk of prussic acid issues.
3. Send samples in for lab testing
"If there ever was a year for forage analysis, this is the year," Jarek said. "There's going to be a lot of corn coming off and not likely in the ideal DM range." Even among the same field, there is tremendous variation in maturity and nutrient value.
4. Download the tools
Jarek shared several free tools available online for assisting with crop harvesting and purchasing decisions. This list included: SilageSnap – for estimating kernel processing scores; Corn Silage Pricing – for determining a fair price for buying and selling corn silage; and downloadable spreadsheets for pricing silage and predicting corn BMR silage milk versus yield.
While a scale provides the most accurate weight of forage wagons for determining price per ton, this University of Wisconsin – Madison publication can be a helpful tool as well.
5. Account for ash
Areas hit by severe summer storms saw a high rate of lodging out in the fields among corn, alfalfa and small grains. This means higher amounts of soil are being picked up during harvest, which may interfere with expected quality and even pose the risk of clostridial bacteria growth within the harvested feed. For this reason, combined with the other stress factors on fields, Jarek urged dairy producers purchasing feed to visit those fields first.
Without a doubt, 2019 has posed challenges for growing and harvesting quality forages, and the 2020 feedout may require a little more creativity, ingenuity and ration adjustments than prior years.
PHOTO 1: Producers are challenged by standing water in their fields, in some cases for the better part of the growing season.
PHOTO 2: Jarek urged producers to consider purchasing corn silage by the ton this year due to the major variations in kernel size and grain fill. The sample here shows stalks growing within just 50 feet of each other.
PHOTO 3: Many northeastern Wisconsin fields saw lodging following severe summer storms. Photos provided by Kevin Jarek.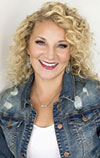 Peggy Coffeen

Editor
Progressive Dairy