Delivering high-quality forage for your ration starts long before you open the bag or dig into the pile. Now is the time to plan ahead, get it right in the field and focus on quality goals so you and your cows are satisfied when you start feeding next year.
Meet with your seed adviser, nutritionist and farm staff to discuss how to make this season a success.
Review the 2016 season
The best way to decide how to move ahead is to look back. Reflect on your decisions from the previous growing season and consider the outcomes. Identify what made your corn silage successful and dive into what could make it better. Ask yourself a few of these questions to start evaluating:
Did any of your fields or hybrids need more attention last year?


What disease or agronomic or feeding issues did you encounter?


Were you happy with the tonnage and yield last year?


What did your forage analysis tell you about the 2016 silage crop?


What was the neutral detergent fiber digestibility?


How did your cows respond when you started feeding 2016 forages?


Any noticeable declines or change in components?
Sit down with your team to discuss these questions, analyze last season, and build a plan now to maximize your crop throughout the growing season.
Define goals
Review your herd records and determine what goals you should set for your cows. Consulting with your nutritionist and herdsman can help spot missed opportunities for profit and production. Start by looking at different groups in your herd and evaluate whether they are meeting their goals.
Work with your nutritionist to build a customized ration for each group that focuses on feed efficiency, rumen health and maximum production.
We recommend meeting with your nutritionist regularly to review records, ensure rations are working well and adjust rations as needed.
Forage quality
Many different factors influence corn silage quality. If you have poor-quality corn silage, your cows will show the effects. Here are some clues for spotting low-quality silage:
Manure composition – Feed that passes through the rumen too quickly creates loose or inconsistent manure. This indicates a lack of effective fiber in the ration, and steps should be taken to increase forage levels and address effective fiber needs. A manure pile should stack 1 to 3 inches high with a dimple in the center from the last drop of manure.


Milk production – If your cows are not meeting their daily milk production potential, they may not be maximizing their dry matter intake. Analyze silage components for a healthy balance of fiber and starch to ensure optimum intake and digestibility. Evaluate adding supplements that complement your forages to assist in meeting your herd goals.
Pair up your agronomist and nutritionist to address concerns about quality from planting to feeding. They can identify steps or in-field management strategies that will put high-quality corn silage in the feedbunk. They can also anticipate unpredictable growing conditions that might reduce silage quality and offer solutions to protect quality.
Pest control
Examine each field's history to anticipate potential growing season problems such as herbicide carryover, weeds and insect pressure. Poor weed control not only impacts yield but also can create additional struggles when manure containing weed seeds is spread as fertilizer.
Seek guidance from your seed adviser, agronomist and nutritionist when executing your weed control tactics, such as pre-emergence products and timely rescue treatments. In corn production, it is ideal to use the "start clean, stay clean" philosophy.
If you are in the West, work with your agronomist and develop a plan to protect your crop from spider mites. Spider mites can cause loss of leaf tissue, stalk breakage, kernel shrink and premature death – which all reduce yield, tonnage and quality. Be proactive in building your insecticide program and application schedule.
During warm and dry conditions, spider mites thrive and can move rapidly into fields. Schedule your irrigation plan to reduce the likelihood of spider mites by controlling the amount of dust and creating a humid microenvironment. Planting early to avoid mite damage is helpful in reducing yield loss.
Keep working with your agronomist and seed adviser as you monitor your acres to stay a step ahead of insect infestations for your region.
Fungicide?
Fungicides may broaden the harvest window and provide more flexibility later this summer. As you begin to see tassels in the field, scout frequently and be prepared to decide about fungicide applications after tassels have fully emerged. Work with your agronomist to build a fungicide plan.
Plan ahead for harvest
When you harvested your 2016 corn silage, what stood out as something you wanted to improve? Were there any practices that reduced your corn silage quality? Addressing those concerns now helps guarantee a smooth harvest later. Build a harvest plan based on your varieties and maturities so you can harvest fields when the time is right.
Hire your crew and check harvest equipment by midsummer to be fully prepared to execute your plan. As harvest approaches, continually monitor whole-plant moisture. This is one of the biggest factors in corn silage quality you will see pay off in the future.
Throughout the growing season, remember why you developed your plan and keep your goals top of mind as you execute that plan. By bringing your team of experts together and wisely tapping your resources, you'll stay on track to achieve your ultimate goal: providing the highest-quality corn silage for your herd.
PHOTO: Thorough planning, clearly defined goals and understanding the needs of your herd can help achieve high-quality forage. Staff photo.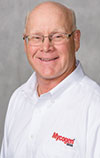 Bill Sutliff

Nutritionist
Mycogen Seeds