Each day, the cows at Second-Look Holsteins are served up a hefty helping of corn silage, and they have yet to miss the haylage that used to be a part of their meal.
Over the past three years, brothers Clint and Corey Hodorff have transitioned their 1,150-cow Holstein herd to a predominantly corn silage diet, with only a small amount of haylage included. While not the typical Midwestern diet, they are finding it works for them. The dairy, located near Eden, Wisconsin, is owned by Clint and Corey, as well as Corey's wife, Tammy, and their parents, Doug and Linda Hodorff.
Less haylage, more income
A few years ago, the Hodorffs were taking four crops of haylage off 450 acres. This year, they harvested only 75 acres of haylage. Why the shift away from putting up a higher amount of haylage for their ration? "It was mainly cost driven," Corey said. "Producing haylage was our highest cost per acre."
The brothers recognized that they could get more tonnage to the acre with corn silage. In fact, technologies implemented by Clint on the cropping side actually allow them to do it without increasing acres.
"We're able to run the same amount of acres but still have enough forage in-house and still have 100 acres of wheat, 100 acres of beans and 100 acres of dry corn to shell," Corey said. "So, it saved us more than just on the expense side … it also produced additional income."
Precision cropping
Clint implements several cropping technologies to ensure maximum tonnage and quality on the corn silage, while also prioritizing nutrient management efforts. A precision planter allows him to put two seed-corn hybrids into the same planter at once and draw up a plan to target the best seed option for each area of the field based on factors like low spots or dry spots.
"Everything on [the planter] is made to get the right seed at the perfect depth so we can get the emergence and get the tonnage," Clint explained.
One particular change that has positively impacted tonnage has been switching from 30-inch rows down to 20-inch rows. He's noticed a bigger stalk and less need for herbicide as a result. Clint prefers highly digestible silage (HDS) corn, noting the quality is comparable to brown midrib (BMR) corn.
Harvesting corn silage employs an equally high level of precision technology. Right at harvest, the custom harvester monitors factors including tonnage, moisture and starch levels as corn comes off of the field. Clint uses this information to manage the piles. "We know how much feed is coming in and how much is going down on that pad," he said. "If we know we need to put up 15,000 tons of corn silage this year, when we get to 15,000 tons we stop, and we put the rest into grain."
The Hodorffs have also transitioned from bunker storage for their corn silage crop to piles. They use a feed monitoring software program to calculate shrink. Clint notes less shrink, as wasted feed had been a problem on bunker side walls. Infrared analysis during packing is a helpful tool in providing the proper amount of packing weight.
Clint continues to tweak his planting and harvesting techniques to make the best possible feed. Two years ago, they chopped high, at 24 inches, then dropped down to a 6- to 8-inch chop height last year. "The tonnage was the same," he noted, "the feed quality was not much different."
Doing what's right to protect and enhance soil and water quality are also high priorities for the Hodroffs. Clint uses a vertical tillage method and follows the corn silage with cover crops to prevent soil erosion. He also rotates corn with soybeans and wheat to decrease disease pressure.
'It looks like a steer ration'
The shift in the Second-Look diet was made gradually over the past couple of years to reach the level of 75% to 80% corn silage in the milk cow diet. A little bit of hay or oats is added as a fiber source.
"It looks like a steer ration," Corey says. "All corn silage and grain, but there's very little sorting because it's a very consistent ration."
Kernel processing is a key factor to discourage sorting behavior. Changing from a processing score of 76 to 78 was a positive improvement. Overall, the cows are doing well on their corn silage-based ration, experiencing few metabolic problems and averaging 85 pounds of milk per day with 3.9% fat and 3.2% protein. Those numbers have remained relatively unchanged from the days of including more haylage in the diet. Dry cows and heifers transitioning from a grower diet also receive a high corn silage ration that includes oat hulls.
Perhaps the greatest advantage for the cows is consistency.
"It's a very consistent diet," Corey concluded. "It doesn't change much."
PHOTO 1: Brothers Clint (left) and Corey (right) Hodorff of Second-Look Holsteins in Eden, Wisconsin, work together to make a high corn silage ration work on their 1,150-cow dairy. Clint manages the cropping and agribusiness side, while Corey manages the dairy enterprise.
PHOTO 2: The milk cow diet at Second-Look is 75% to 80% corn silage. The cost-driven change from making more haylage has resulted in additional costs savings and efficiencies while not disrupting cow health or production.
PHOTO 3: The Hodorffs recently transitioned from storing feed in bunkers to drive-over piles. Meticulous face management and precision during packing prevents spoilage. Photos by Peggy Coffeen.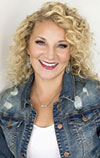 Peggy Coffeen

Editor
Progressive Dairy