A 2,000-cow dairy near Fond du Lac, Wisconsin, has elevated the accuracy of feed storage, mixing and delivery with an innovative feed center featuring an automated kitchen and on-site grain storage that saves them time and money.
The need for a better way to feed their herd became apparent when Vir-Clar Farms expanded their dairy five years ago.
"We quickly realized a feed center for 900 cows would not work for 2,000 cows," Grant Grinstead said, during a tour hosted by the Professional Dairy Producers (PDPW) in October 2019. Grinstead is a partner in Vir-Clar Farm with his wife Katie (Boyke) Grinstead, her parents, Gary and Rose Boyke, and her brother J.R. Boyke.
At that time, Vir-Clar was buying ground fine corn from several local feed mills. As Grinstead watched trucks go right past their driveway on their way from the neighboring fields to the mills, he pondered the dollars the dairy could save if only they could buy the corn right then and have a place to dry, store and grind it. "So we built it," he said.
The solution: a state-of-the art feed center, including two 115,000-bushel grain bins for dry corn, a 25,000-bushel wet bin, 1,800-bushel-per-hour dryer and roller mill. To that, they have added a stationary mixer and automated feed kitchen for more control over the entire feeding system by increasing accuracy, consistency and efficiency, minimizing shrink, capturing margin and capitalizing on economies of scale.
Taking control of feed costs
Grinstead saw opportunities to take control of their feed costs, which make up 60% of the dairy's cost of production, first by adding grain storage adjacent to the dairy. The ability to take in corn, dry and store it right on-site is proving to be a major advantage of the setup, which includes several upright bins. They realize savings in time, trucking and storage, while also offering a competitive pay price to local farmers.
"Look at the margin out there … [for example, $1 per bushel of corn] … that is going into someone else's pocket," Grinstead pointed out. "Those are economies of scale we can capture."
While Vir-Clar historically fed a lot of high-moisture corn, the switch to dry corn went smoothly. Cows average 95 pounds of milk each day with 3.9% fat and 3.2% protein.
"We just felt it is easier for us to get dry corn than high-moisture corn," Grinstead said. So far, filling the bins has not been an issue. In 2017, the first year the bins were up, he turned away 80,000 bushels of corn.
He noted similar benefits in having room to purchase and store large quantities of specific ingredients in their bays by leveraging the commodity markets. "When prices are low, we can go to the marketplace, buy 20 to 30 loads of cottonseed and be able to stack it up," he said.
Automating for efficiency
Grinstead's background in the pork industry brought a unique perspective to feed-center management. A self-proclaimed "pig guy," he saw the opportunity to further up the efficiency of the dairy's feed storage, mixing and delivery processes by implementing ideas and technologies relatively new to the dairy scene.
"It's all about accuracy, precision, and automation," Grinstead said.
He worked with a Dutch company (Triolet) to implement one of their first automated feed kitchens in the U.S. The system includes a central control panel that manages the stationary mixer and dispensers. Monitors and sensors connected by a software program work in synch to track inventories and precisely weigh ingredients as they are added to the 1,150-cubic foot vertical stationary mixer. The double-screw unit runs off a variable speed drive, which allows it to automatically adjust the mixing speed based on factors such as how close it is to the call weight for each ingredient.
Tasked with the daily duty of mixing six different types of rations and over 145 tons of feed each day, the automated feed kitchen is hard at work. The computer is programed to start each "recipe" first with the dry ingredients from the bins. Without having to flip a switch, an auger system delivers the specific amount of ground corn, canola, blood meal and mineral into the mixer, mixing as it goes. Water is also added as needed. All other ingredients are delivered by the payloader according to the recipe, such as wet gluten, corn silage, sweet corn waste, cottonseed or ground straw or hay, as needed. A digital scale monitor mounted right inside the payloader allows the feeder to add each commodity within a tight margin of accuracy.
"It's been amazing what we've found as far as improvements in accuracy," Grinstead said. In fact, the goal for deviation on weights of ingredients added via the automated system is just 1 pound and with the payloader is 10 pounds. "Sometimes our guys beat that by a lot," he added.
While most of the feed-mixing tasks are automated, there are a few batches that require small amounts of specific ingredients. For these batches, the feeder weighs ingredients by hand into a bucket on a separate digital platform scale before adding to the mixer.
Within 15 minutes time, six of those minutes dedicated to mixing the complete batch, the mixer has whipped up a fresh batch of feed. The feed is conveyed to delivery trucks, and the computer then pushes information to tell the driver which pen to go to and how much feed to deliver to each pen. Just because the mixer is empty, doesn't mean the feed center stops working. Upon emptying, it automatically shuts down the conveyor and closes the discharge door, which signals it to start dropping ingredients, and it begins mixing again.
Minimizing shrink
Between the accuracy of automation and design of the feed center to minimize waste, Grinstead is pleased with the ability to curtail shrink, and that's a number he watches like a hawk. "There is a penalty of adding too much of an ingredient and not adding enough. We take both into account," he said.
"There's a lot of money to be saved knowing both sides," he said, "10 cents a day on a 2,000-cow dairy is 73,000 dollars a year."
He attributes bin storage as a factor in shrink savings. "I think we can minimize shrink most effectively in a bin [versus flat storage] with this type of setup. We keep the expensive ingredients in the bins," he said.
So, just how many cows does it take to support an investment like this?
"When we're at 2,000 cows, the investment pays," Grinstead said, speaking for Vir-Clar. However, he believes it could be worthwhile for dairies half that size. "One thousand cows, I think, could support this."
Grinstead believes the investment they have made in making feeding their dairy herd more efficient, more accurate and more controllable is really an investment in the future of Vir-Clar Farms. "I hope we can create opportunity for my kids, nieces and nephews to be part of the farm someday," he added.
PHOTO 1: Due to the efficiencies of automation, the stationary mixer automatically prepares six different rations and 16 batches of feed each day.
PHOTO 2: Grant Grinstead (left) was joined by Vir-Clar nutritionist Laurie Winkelman (right) to explain how the feed center works during a tour organized by the Professional Dairy Producers (PDPW).
PHOTO 3: An office and break-room area houses the central control panel that manages the stationary mixer and dispensers.
PHOTO 4: The four augers bring in ingredients from outside bins and drop the precise amount for each recipe into the stationary mixer.
PHOTO 5: Ingredients from the commodity bays such as wet gluten, corn silage, sweet corn waste and cottonseed are added to the mixer using a payloader.
PHOTO 6: Once the batch is mixed, a conveyor moves the feed from the stationary mixer to the feed delivery truck. The computer tells the truck exactly how much feed to deliver to each pen.
PHOTO 7: In 2017, Vir-Clar Farm erected their own bins and added the capabilities of doing their own corn drying and storage. Photos by Peggy Coffeen.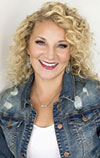 Peggy Coffeen

Editor
Progressive Dairy
Vir-Clar Farms would like to thank their partners in this project.
"We had some great partners that helped us in the build of this system," Grinstead said. He credits the following:
Farm Credit Leasing and Compeer Financial – for financing for the facility
The Scharine Group, Whitewater, Wisconsin – for the grain handling, drying, storage and ingredient bins
Easy Automation, Welcome, Minnesota – for the automation controls for grain and ingredient receiving and corn grinding
IFA Roller Grinder, Stanley, Iowa – for the roller mill
Fox Structures, Kaukauna, Wisconsin – for the building construction for the feed center
Cliff's Inc., Friesland, Wisconsin – for installing the Trioliet batching and mixer system
Rotomix – for the commercial feed delivery box
Related podcast
Grant Grinstead: elevating accuracy and efficiency with an automated feed system at Vir-Clar Farms