Garrett Miller has worked as the dairy manager at Oakwood Dairy LLC in Auburn, New York, since 2009. Miller has been surrounded by dairy cows all his life. He grew up on his family's small dairy farm and pursued his interest in dairy at Cornell University, graduating from their dairy management program in 2007.
At Oakwood, Miller oversees the entire dairy barn operations including herd health and bunk and feed management. His primary focus is on herd health, which is essential to the 2,250-cow dairy as they raise all their own heifers and do much of their own breeding.
When Miller is not absorbed in the management of his team at Oakwood Dairy, he makes sure to carve out time for his family. Miller places a high value on family time and looks forward to spending any downtime he has with his wife and their two kids.
Miller shares five things he could not manage Oakwood Dairy without:
1. My team Of the team of some 25 people Miller manages, he says simply, "they show the team effort and leadership that goes into being successful."
2. Laptop Miller stores a lot of information on his laptop and refers to it constantly to manage inventory, herd health and breeding. Miller's most-used program is Microsoft Excel of which he says, "I do a lot of spreadsheets, so I rely pretty heavily on those."
3. Animal health monitoring systems These systems, most of which make daily contact with the cows, are integral tools which allow Miller to evaluate herd health. Miller says, "we rely heavily on our Afimilk sort gates and dairy milk weights for herd health." Miller also uses SCR rumination collars to assess the farm's fresh and pre-fresh heifers and cows, as well as in breeding-age heifers.
4. First Defense Tri-Shield Miller started using Tri-Shield not long after it hit the market. He says he appreciates the ease of administration the product provides. Miller also likes the assurance the product delivers over the dam-level vaccines he used previously. "You know that [the calf] is getting the antibodies directly," he says.
5. Pen and note card "I wouldn't survive without writing stuff down, so [I have] a card and a pen in my pocket and [I always] tell everyone that I hire to have something to write on when they're in the barn." Miller believes writing on a note card is faster and easier than relying on his phone to take notes, acknowledging this may make him a little old school. In addition to this, Miller feels being on his phone less at work sets an example for his employees to follow suit.
PHOTO: Photo courtesy of Garrett Miller.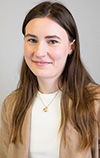 Emma Ohirko

Editorial Intern
Progressive Dairy