For more than three decades, Vic Larson has been traveling the Minnesota countryside, taking care of dairy cows' hoof-trimming needs.
It was May of 1983 when Larson learned the trimming trade from one of his brothers. In fact, hoof trimming was a family affair. At one point in time, four of the eight boys in his family were trimmers. However, those were the days before the back-saving features of motor-powered equipment and hydraulic chutes. He cut his teeth in trimming using long-handled nippers and a hand-cranked table. Today, he credits advancements in trimming equipment as a driving factor behind his continued ability to trim hooves.
Hoof trimming has not only served as a career for Larson, but it has also paved the path for being a leader among his peers. In 1990, he and eight others got together to formally charter the Hoof Trimmers Association. From 2004 to 2008, he served as the group's secretary and, in 2016, acted as president-elect before taking over as president.
When asked what about hoof trimming he finds most fulfilling, Larson acknowledges that hearing how an animal improved from his work provides a sense of satisfaction. However, it's the dairy farmers and families he works with that he values most. "It's the people. They make the job," he says.
Larson shared with Progressive Dairy Editor Peggy Coffeen the five things he cannot do his job without:
1. Hydraulic trimming chute: There was nothing automatic in Larson's beginning years as a hoof trimmer but, nowadays, he relies on his hydraulic tilt table to efficiently get the job done. The table he currently uses is one he designed and had welded in 2011. One of the key features is a hydraulic back door. "I'm a firm believer you should have some power assist to push cows in," he explains. "It's a safety factor so cows can't back up over you."
2. Trim-Tec wheels: The right kind of trimming blade is also a key tool and contributing factor to Larson's efficiency and livelihood, speeding up the trimming process and saving time.
3. Gates: Larson would say gates are a hoof trimmer's best friend, especially for trimmers like him who spend the majority of their time working alone. The chute carries eight gates and eight archways for staging lanes right along with it. In the right setup, he can stage six cows: one to two right behind him plus a small pen of four to five cows. "I think it keeps the cows calmer," Larson says.
4. Hoof Trimmers Association: Larson says he could not do his job without the Hoof Trimmer's Association and the people he has met as a result of it.
"The association opened up for trimmers to communicate with each other," Larson says. He experienced the benefits of the network of like-minded trimmers when he underwent shoulder surgeries. He adds, "I could call in other trimmers to come in and do my work for me and then get the work back when I was done. It gave me somebody to call on when you need something."
These days, Larson finds himself being called upon often by others. He enjoys troubleshooting and fielding questions from young trimmers about their hydraulic chutes and serving as a mentor.
5. Family: Larson adds that he could not do his job if not for his wife of 42 years, Fran. Together, they have three children and eight grandchildren. "She's been my support system all through the years and understanding of the long days," he says. After living in St. Cloud, Minnesota, for 36 years, he and Fran now reside on the lake in Tracy, Minnesota.
PHOTO: Vic Larson. Photo by Peggy Coffeen.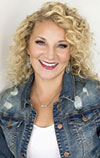 Peggy Coffeen

Editor
Progressive Dairy