Over 80 hoof-trimming enthusiasts met in Tomah, Wisconsin, to network and learn more about their trade at a winter getaway on Feb. 18-19. The gathering was coordinated by trimmers Skip Blake from Wisconsin and Justin Addy from Minnesota, and included conversations around certification, lameness and professional development.
Hoof trimmer certification: During this gathering of trimmers, one of the topics discussed was developing a certification program. Attendees were asked to come up with ideas on how trimmers, as a profession, could somehow create a system on deciding what constitutes a qualified trimmer.

Although there has been a lot of resistance to certification, other trimming associations in different countries have certification, and it's something we could consider in the U.S.

The keynote speaker, Wisconsin Secretary of Agriculture, Trade and Consumer Protection Ben Brancel, gave the group some ideas on how hoof trimmers could self-regulate a certification process without governmental oversight. He further noted how the state is encouraging other professions to self-regulate.


Lameness: Tod Fleming from Equity Cooperative Livestock, a marketing cooperative with locations throughout Wisconsin, gave insight into the entire process from how cows are moved from farm to slaughter. His presentation was insightful as he showed pictures of abnormalities and how small defects affect pricing.

Severely lame cows are often not sold, and those with even a minor limp can be heavily docked in price. He also showed a video of a major slaughterhouse and noted how cows are handled, paying particular attention to easy handling and smooth cow flow.
Blake presented a program called Hoof Talk. This was an audience-interactive presentation on hoof issues. Several pictures were shown depicting various abnormalities in hooves. As a picture was presented, audience members could add insight into how they would treat the pictured condition and what works for them.
Various opinions were shared regarding the benefits of wrapping and blocking versus not. There were also many pictures of objects found in hooves, including rocks, nails, screws, teeth, needles and fencing staples (see photos).
Business and professional development: To educate trimmers on running their own businesses, Tim Moy, a CPA specializing in tax preparation and small-business consulting, discussed tax-related topics such as tips on what to deduct, withholdings, children's pay and IRA contributions.

A panel of trimmers also divulged their secrets to running a successful business. One of the panelists was Shayne Mostyn, a trimmer who came all the way from Australia. Mostyn explained cows are not trimmed upside-down in the Land Down Under.
Beyond business, the conference included some recommendations for health and wellness. Paul Roberts, a personal fitness trainer, spoke on events that turned his life around. He stressed the need to become fit and emphasized the importance of taking small steps so as to not get discouraged.
The getaway also included a dinner with a live auction, from which proceeds will go to offset costs of the getaway and additional funds will be used to help fund research studies on lameness issues. Vic Larson, president-elect of the Hoof Trimmers Association, was also present to field questions and concerns regarding the organization.
Overall, the meeting was a huge success, and plans are underway for next year's getaway to be held Feb. 10-11, 2018. This event has been held traditionally in February since 2001.
Next to the Hoof Trimmers Association Convention, it is the largest regular meeting of hoof trimmers in North America, with representation from both trimmers and industry suppliers.
PHOTO 1: Tooth
PHOTO 2: Screw
PHOTO 3: Spoon
PHOTO 4: Fencing Nail Photos provided by Skip Blake.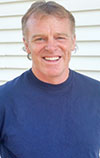 Skip Blake

Shamrock Cow Care