Representatives from across the dairy industry spectrum discussed the impacts of Idaho's 400,000 cells per milliliter somatic cell count (SCC) limit at the 2017 National Mastitis Council Regional Meeting held in Boise.
The five panelists were Marv Patten, Idaho State Department of Agriculture; Lindsey Dimond, Dairy Farmers of America; Mark Wustenberg, Tillamook County Creamery Association; Toy Smith, Darigold; and Bernie Teunissen, Beranna Dairy.
At a maximum of 400,000, Idaho is one of only four states that limit SCC below the national average of 750,000. The state legislation went into effect in 2012. Patten serves as the state's deputy bureau chief of the animal industries division for the Dairy/CAFO Bureau. "If you look at the information that's out there, it just makes sense to lower it to 400,000 – but not without controversy," said Patten.
"There was controversy here in Idaho when that [decision] came about." He stressed the importance of cooperation between producers and processors to come to agreements and fair premiums. "This shouldn't be a government situation; it should be an industry situation," he said. "[If] you want better milk, pay us for it. All of those dynamics play it out."
Patten and the four other men discussed how the 400,000 SCC limit was adapted by dairies and processors as well as its effects on dairy management and milk marketing.
Processor incentive payments
Smith first highlighted that, to his knowledge, Idaho's cell count limit has not lost Darigold any producers. "There were some bumps in the road along the way," he said. "But as far as a negative impact on milk supply, I don't think that will happen." Some of the unintended consequences came in decreasing incentives.
For example, after the legislation was passed, some processors realized their milk supply was already well under 400,000 SCC limit; they were no longer motivated to offer incentives for milk quality as long as they stay within those parameters.
"In my opinion, that was an unintended consequence that some of the premiums went away," he said. As with Patten, Smith also believes the best way to control rates on milk quality is going through the state legislature. That way, if producers get in trouble, it puts less strain and paperwork on processors.
Dimond agreed that, like Darigold, DFA had not seen a loss of producers linked to SCC limits. "We already had a pretty good somatic cell count, as some of our customers were already requiring us to be down there, and I think that we wanted to be," Dimond added.
"I will be honest: There were some producers who were a little reluctant, not because they didn't want to have a lower SCC, but … they wanted the processors to compensate them for it since they were spending extra time and resources to get that higher-quality milk. We had in place then, and still maintain now, a multi-tier quality milk program."
He noted that so far Idaho has not had to worry about individual producers going over 200,000 SCC. The highest they've been up to is 185,000 after the past winter, which was especially harsh. Dimond typically sees an average SCC of 135,000, with peak counts coming in at 160,000 to 165,000.
Milk quality management
Teunissen sells his milk to Sorrento Lactalis who, along with Gossner Foods, offers among the highest premiums for milk quality. Lactalis gives 60 cents per hundredweight for SCCs under 100,000. "But you've got to work hard to do that; there's a lot of input costs and culling," Teunissen said. "Under 100,000 is a real effort.
But saying that, I think in Idaho it is one of the easiest states to maintain a low somatic cell count." He attributed his success in managing his count to Idaho's favorable climate. He made mention of farmers in Washington who struggle to keep a cell count under 200,000.
With that in mind, he acknowledged their goals, while achievable, will be more difficult in certain states. "What I'd like to see come out of this is to maybe see National Mastitis [Council] make a motion, get this thing going and get the whole nation under 400,000," he said.
Milk marketing advantages
One of the strongest impacts of lowering cell count is marketability of product. In states such as Idaho that export the vast majority of their milk – up to 90 percent – that flexibility is imperative in reaching export markets. "If processors want that better quality, we need to be in a position to supply them," Dimond said. "In Idaho, we are exporting everything, and when you're exporting almost 100 percent of your milk, it needs to be able to go anywhere."
He noted that DFA alone, neither one of the biggest nor smallest milk procurers in Idaho, has supplied every processor in the state at one time or another. "And I don't say that to pat ourselves on the back," he said. "Being under 400,000 is the best thing for the country and for Idaho."
Dimond also pointed to the other benefits producers can get while pursuing lower cell counts besides monetary premiums, including better milk production, overall quality, lower cull rates and more.
Wustenberg spoke on the contribution of different producers. "This is a classic example of where you're using domestic milk supply to drive decisions that have an impact on the non-domestic product that goes out," he explained. "It's interesting to be in a position where we get a consistent product, but we do it as an individual."
In a changing world with more regulations, he highlights the difficulties of not setting a cell limit. "While it doesn't prevent you from doing business, it definitely complicates the relationship you have with customers in export markets when you don't have this kind of standardization across milk supply," he said.
Wustenberg went on to note that despite arguments SCC is not viewed as a food safety issue among the dairy industry, it must be considered from a wider perspective. He added, "… the rest of the world thinks it's a food safety issue – so we should deal with it. And if you're going to provide a product to a market, you've got to consider their definition of food safety."
Is a lower national SCC limit in the future?
The National Conference on Interstate Milk Shipments (NCIMS) is a non-profit organization made up of representatives from nearly every link of the dairy supply chain, from farm to consumer. It includes dairy farmers and processors, people involved in farm and plant inspections and regulation enforcement, academic researchers and advisers, and consumer representatives.
NCIMS serves in an advisory capacity to the FDA, considering proposals impacting dairy product safety and quality standards.
Meeting every other year, NCIMS has voted down proposals to lower national SCC limits from the current level of 750,000 nine times, including 2011, 2013 and 2015. A proposal offered by Holstein Association USA in 2017 received no additional support, and NCIMS took no action.
The National Milk Producers Federation (NMPF), a longtime proponent of lowering the national SCC threshold to 400,000 cells per milliliter, did not support the Holstein Association USA proposal, saying an existing export certification program with the European Union is already effective.
U.S. milk quality is improving. It is estimated only around 2 percent of U.S. dairies have regular bulk tank SCCs over 400,000, and the vast majority of large herds, especially those in the West, are well under 300,000. Teunissen restated that much of the opposition comes from Southeastern producers battling a climate working against a lower cell count.
PHOTO: The panel consisted of five representatives with different industry perspectives. From left to right: Mark Wustenberg (Tillamook County Creamery Association), Marv Patten (Idaho State Department of Agriculture), Toy Smith (Darigold), Lindsey Dimond (Dairy Farmers of America) and Bernie Teunissen (Beranna Dairy). Photo by Jaclyn Krymowski.
Jaclyn Krymowski was a 2017 Progressive Dairyman editorial intern.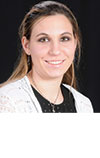 Jaclyn Krymowski

Staff Writer
Progressive Dairyman