Harvesting high-quality milk involves interactions among humans, cows, milking equipment and the environment. Implementing and training staff on milking routine standard operating procedures can influence the outcome, but efforts in the parlor shouldn't end there.
Milking systems are designed to harvest milk quickly and completely while not putting cows at risk for machine-induced mastitis. Routine milking equipment servicing is becoming more common because dairy producers would rather replace a worn-out item as part of a service program instead of having to call for service after a breakdown.
There are standards by which milking equipment is evaluated for vacuum stability and functionality. Those standards are detailed in a National Mastitis Council publication, "Procedures for Evaluating Vacuum Levels and Air Flow in Milking Systems."
Between monthly routine service calls, everyone assumes all milking equipment is functioning properly at the start of each shift, but how do you know unless you make a few system checks? Beyond vacuum and air flow testing, there are milking equipment checks and maintenance tasks that should be completed prior to every milking shift to catch problems early.
Before and after every milking, staff should check all hoses for tears, moisture or debris in clear hoses or plugged air vents, listen for irregular sounds such as air leaks and record the system vacuum.
Clean or replace the hoses if necessary. If a piece of straw or some manure is found in a pulsation hose, then what do you do? The best-case scenario is to replace the pulsation hose or remove the hose from the pulsator and spray water through it to remove the debris.
Moisture or debris in the pulsation hose most likely won't impact the phases of the pulsation cycle, but it will ultimately end up in the pulsator, causing it to malfunction and increase the risk of machine-induced mastitis. Moisture (especially if it is milk) and debris in a pulsation hose may also signal a torn liner, so these should be checked as well.
Make sure claw and liner vents are unplugged. Plugged claws vents will lead to an increase in claw vacuum during milking, negatively impacting teat condition. Provide the proper tool for unplugging liner vents.
Check pulsator function
One of the most important checks is to turn on each milking unit and insert fingers into the liners to ensure they are opening and closing properly. If the liners stays closed or open the entire time, then there is most likely an issue with the pulsator or pulsation components.
If pulsators are tested only once monthly by your milking equipment dealer, and you are milking 3X daily, then there could be up to 90 milkings between when a pulsator malfunctions and your milking equipment service provider returns.
In a 1,200-cow herd milked in a double-20 parlor, each unit milks 30 cows per milking, or 90 cows per day. If a pulsator of a single milking unit fails, there's the potential for as many as 2,700 faulty milkings during that period. That may have a negative impact on teat tissue condition and thus, udder health.
It has been eye-opening to us that when we summarize a list of problems detected in our milking system evaluations, we find one or more pulsators are malfunctioning on over 50 percent of our visits. Although not all of these could be detected without testing equipment, there are many the finger test or a pulsation hose inspection would pick up.
Other checks
Each milker should make sure liners are not twisted. Most liners have marks on them to line up the mouthpiece with the short milk tube.
Record the value on the farm vacuum gauge, located near the receiver, so it can be reviewed to make sure settings have not changed.
To ensure a successful pre-milking equipment check, properly trained milking staff must be allowed to make minor equipment repairs when necessary. Develop a protocol for checking equipment at the start of every milking shift, training all milkers on the new protocol.
Are there milking liners, short pulsation hoses, spare pulsators, pulsation hoses, milk hoses, claws and shells available if something needs to be replaced? Providing pre-cut sections of replacement milking and pulsation hoses is helpful.
Record and review
We've created a checklist (Table 1) to help the dairy owner and milking team complete pre-milking equipment checks and determine if certain components are being replaced more than others.
Click here or on the image above to view it at full size in a new window.
In January, we met with a dairy producer to review the tasks outlined in the checklist, and the next morning we received the text below (see Figure 1).
Conclusion
To ensure milking equipment is functioning properly, it is highly recommended all milkers be trained to check equipment as part of their daily routine and record the information.
For management, it is important the daily milking equipment checklist form be reviewed and supplies are provided for the milkers to make minor equipment repairs. Review the form to determine if there are milking system components requiring more attention, and hold routine follow-up meetings to go over the results.
Milking equipment malfunction is a small risk related to the cause of mastitis. However, by completing routine tasks, producers can lower the risk of machine-induced mastitis even more. Checking the milking equipment at the start of each milking shift should be a priority of every dairy farmer or parlor manager.
Rick Watters, Ph.D., Paul Virkler, DVM, and Matthias Wieland, DVM, are staff with Quality Milk Production Services, a program of the Animal Health Diagnostic Center in the department of population medicine and diagnostic sciences within the college of veterinary medicine at Cornell University. It offers a variety of services, notably on-farm evaluations of management and equipment and whole-herd milk cultures, through its laboratories in Ithaca, Warsaw, Cobleskill and Canton, New York.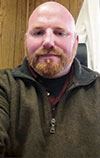 Rick Watters

Senior Extension Veterinarian
Cornell University