Traditional animal monitoring systems can be cumbersome. Leg straps and collars, while useful, can involve some maintenance and cleaning.
In an effort to continue to monitor important indicators in dairy cows, no-maintenance telemetry cattle monitoring has been developed. Telemetry cattle monitoring uses a bolus, a small capsule device that stays in the cow's rumen for five years, to track parameters that give an indication of the cow's health and well-being and provide up-to-date information every 15 minutes. Because the device operates in the cow internally, it requires no maintenance.
Denis Tokarev, CEO and co-founder of Cattle Scan, which manufactures a telemetry monitoring system, says, "It's like a Fitbit for cows." Tokarev says the technology has the ability to provide a lot of potential benefits for dairy producers, both operational and economic. The telemetry monitoring systems work by recognizing patterns within given health parameters of an individual cow and detecting any changes to these patterns. "When the cow is getting sick, the pattern is changed, and then [the device] generates an alert and sends it to the farmer," Tokarev says.
The system has the capability to monitor for clinical mastitis, pneumonia, metritis and other common cow diseases. It is also able to track an individual cow's water intake per liter, in near-real time. Tokarev says this information is useful to identify issues with water competition and help producers make decisions about the number and location of available water stations in the barn. Understanding individual cow water consumption may also help identify areas where water efficiency can be improved. Tokarev says the telemetry system is likely the only animal monitoring system that can provide data on an individual cow's water intake.
The telemetry system is adaptive, meaning it understands patterns of a herd and works to understand the patterns of individual cows within a herd. This allows the system to create a range of "normal" patterns for each parameter. Each cow can then be determined to fall within the normal range or outside of it, helping identify any signs of illness while also avoiding false alarms. Tokarev says, "The algorithm is adaptive to individual cows as well as to individual herd management styles." He adds, "As we get more data about individual cows and the herds themselves, we were able to recognize some patterns that were different herd by herd. They can [add] some value to herd management in general."
The aim of telemetry monitoring systems is to provide an early warning for any abnormal conditions within the cow, as a preventative tool to avoid severe illness. Tokarev says, "The only indicator in most farms is when milk production drops."
"When milk [production] drops, it usually changes the whole milking curve for the rest of lactation," he notes. In order to stay ahead of sickness, the bolus works by sending an alert to the producer two or three days before visible symptoms appear.
Understanding and identifying illness in cows early can help avoid antibiotic use and possibly even avoid any changes to milk production or to the cow's lactation curve altogether. Tokarev equates this early detection to when humans feel a cold coming on and react by resting, drinking tea or taking vitamins to prevent further sickness or at least minimize the severity of symptoms. If antibiotic use is avoided, it circumvents the milk withdrawal from treatment.
The bolus is implemented on-farm. It is administered through the cow's mouth, very similar to how a magnet might be administered to prevent hardware disease. The bolus then travels to the cow's rumen or reticulum, where it stays for the rest of the animal's life.
Tokarev says another benefit of the telemetry system is how it can understand changes and patterns in a cow's health over time, which is helpful in maintaining detailed records of each cow's health status over multiple lactations. Tokarev says this can help producers avoid unnecessary costs. "In some farms, I realize that farmers take those health-related incidences as the cost of doing business," he says.
Tokarev says the technology used in internal animal monitoring systems has been validated by research that supports its use to predict calving time and heat. The benefits of the bolus predicting patterns and illness can be observed on the farms that have implemented the technology in their herd, as well as in cows at the University of Guelph – Ridgetown.
When asked what advice he would give producers interested in using telemetry monitoring systems on their farms, Tokarev says research is important. He suggests producers examine research conducted on the subject by academic institutions and seek to understand how the technology may benefit their individual farm.
To Tokarev, the COVID-19 pandemic is a wake-up call for people in all industries, and he says the idea of an epidemic or pandemic in animal agriculture should not be dismissed. Tokarev notes that while concern of a pandemic in the dairy industry may not be top-of-mind right now, it cannot hurt to be prepared for the worst-case scenario and to take preventative action with health monitoring. He says a telemetry cattle monitoring system is a good step toward prevention.
PHOTO 1: Denis Tokarev, CEO of Cattle Scan, says prevention is key for producers to cut down on health and milk withdrawal-related costs.
PHOTO 2: Producers can place the telemetry bolus in cows using similar techniques applied to placing magnets in the rumen. Photos courtesy of Cattle Scan.
Visit Cattle Scan or for more information.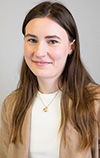 Emma Ohirko

Editor
Progressive Dairy