Nine years after a government mandate stemming from human health concerns required the Netherlands' dairy farmers to reduce antibiotic use, the industry has valiantly risen to the challenge of tighter regulations and increased transparency.
"It was a shock, but 95 percent of dairy farmers have learned to live with it," Dutch veterinarian and dairyman Henry Voodgd said during the Lely North America FMS Conference held in Fair Oaks, Indiana, in May. Voodgd explained why and how he and his countrymen cut on-farm antimicrobial administration by 46 percent between 2009 and 2015 and what the results of those changes have meant for dairy farmers.
The case for cutting back
According to Voodgd, the legislative push for tighter animal drug use regulations resulted from a series of events in the mid-to-late 2000s when the Netherlands' livestock industry took center stage for its connection to human diseases and deaths.
Extended-spectrum beta-lactamase (ESBL), coined "chicken bacteria," led to one woman's death, and Q fever, a deadly bacterial infection, was blamed for 21 human casualties and the slaughter of nearly half the country's goat population.
Around that same period, cases of methicillin-resistant Staphylococcus aureus (MRSA) jumping from livestock to people were increasing, particularly among pig breeders and veal calf raisers. The staph infection strain is impervious to most commonly used antibiotics, and the infection risk is so high, Dutch doctors and hospitals will not see patients from farms until the end of the shift to reduce the chance of disease transmission. Concerns over the connection between livestock antibiotic use and human drug resistance, combined with political animal welfare initiatives, pressured the farming industry to take action.
Committing to the cause
In 2008, a memorandum of understanding was drafted and signed by farmers, veterinarians and dairy representatives that committed the industry to a multi-stage effort to reduce antibiotic use while increasing transparency on dairy farms. This included benchmarking and heightened veterinary oversight, with the goal of reducing antimicrobial usage by 20 percent in 2011, 50 percent in 2013 and 70 percent in 2015.
"I have to have a written agreement with my vet," Voodgd said. The vet is responsible for the content of the farm's health and treatment plan, which includes setting goals on a yearly basis for such things as health status and antimicrobial use; the farmer's responsibility is to act in accordance with this plan.
"The vet is the only one who can prescribe and deliver antibiotics to me and register antibiotics with the regulatory system," he added, noting that any time antimicrobials are used on animals, veterinarians must report into a central system monitored by the Veterinary Medicines Authority. Individual reports are published quarterly. With veterinary consent, farms are allowed to have antibiotics on hand for no more than 10 percent of animals on the farm. Compliance is regulated by authorities.
Impact on dairy farms
Under the regulations, "preventative use of antibiotics is forbidden by law," according to Voodgd. Treatments that were once commonplace on Dutch dairies are no longer permissible, including the blanket use of antibiotics for dry cow therapy. Instead, guidelines for curative care at the time of dry-off are in place based on the individual cow's somatic cell count (SCC). Antibiotic treatment is allowed for heifers with a SCC greater than 150,000 and second-lactation and later cows with a SCC greater than 50,000. The limit is higher for young cows, Voodgd explained, because they are better able to overcome an infection on their own. Overall, the reduction in drug use at dry-off has not resulted in negative effects on udder health. In fact, SCC is actually on a downward trend in the Netherlands.
"Selective dry cow therapy can work well," he said, estimating that he treats about one-third of his 85-cow herd with dry cow therapy antibiotics. His udder health strategy includes using an external teat sealant and reducing milk production at the time of dry-off down to less than 10 kg per day. He is able to do this by gradually cutting back the amount of concentrate fed through his robotic milking system. "The less milk at dry-off, the better," he noted.
Though adapting to the more stringent antibiotic use has been a learning experience, Voodgd recognized its benefits. In particular, it has opened up markets for high-value milk products like baby formula. He also believes the system provides good benchmarks for farmers and encourages them to focus on management and preventative measures rather than relying on medication.
"The solution is not in a bottle," he concluded.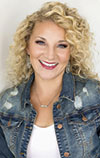 Peggy Coffeen

Editor
Progressive Dairyman