After calving, a cow needs about three times more calcium than before calving.
This increase in calcium requirement is in part due to colostrum production, which requires about 50 grams of calcium or 10 times the amount of calcium circulating in the cow's bloodstream. Low calcium levels may cause clinical milk fever and subclinical hypocalcemia, which can result in lower milk production, retained placenta, displaced abomasum, clinical mastitis and ketosis.
To regulate calcium in cows after calving, calcium boluses may be administered. Sjoert Zuidhof, veterinarian and consultant, provided insight into selecting the right calcium bolus to target and prevent issues like those mentioned above during his presentation "Not All Calcium Boluses are Created Equal" as part of Grey Bruce Farmers' Week on Jan. 7.
Calcium regulation
Parathyroid hormone (PTH) is a key factor in regulating calcium content in dairy cows. Zuidhof explained calcium regulation is improved with mild systemic acidosis, which can be created through the administration of calcium boluses and anionic salts. PTH targets bone, salivary glands and kidneys. "Kidneys are an important factor in the metabolism and the regulation of calcium. They help the tubular reabsorption of calcium and play a role in vitamin D production," Zuidhof said. The production of vitamin D is important because it is required to absorb calcium from the intestines.
According to Zuidhof, a good bolus is one that supplies calcium rapidly and is rapidly dissolved. It should also provide enough calcium to establish mild acidosis, as this would increase PTH receptor sensitivity.
Types of calcium
Of the boluses Zuidhof discussed, each one contained calcium chloride, which is a rapid calcium source. Other calcium sources were rapid sources of calcium sulphate and calcium propionate. Calcium propionate has not been found to provide any tangible benefits or to prevent ketosis so, Zuidhof explained, its presence in a calcium bolus is inconsequential. Some boluses also contain calcium carbonate, otherwise known as limestone, a common dairy ration ingredient. Zuidhof noted while calcium carbonate is a good source of calcium, it is slow to be absorbed by the cow.
Producers should pay attention to calcium carbonate content when choosing a bolus because, as Zuidhof noted, even if a bolus contains a higher total calcium content, if most of that calcium content comes from calcium carbonate, then there will be less calcium readily available to the cow compared with a similar bolus containing a lower overall calcium content but a higher concentration of a rapidly available calcium source.
"Calcium chloride peaks rapidly within an hour. When we look at the calcium carbonate, it takes at least five hours to get a very modest return peak," Zuidhof said regarding the availability of the two calcium sources.
Active vs. passive absorption
"There is a difference in transport of calcium, too. The calcium chloride and the calcium sulphate get absorbed passively between the cells in the rumen and go into the blood. The thing to remember here is: It is a matter of the gradient between the concentration in the rumen and the concentration in the blood," Zuidhof said. He explained when cows have low blood calcium levels and high calcium concentration in the rumen, they will attract more calcium into their blood, to balance concentrations, than cows with higher blood calcium levels.
Conversely, calcium carbonate passes through an active absorption process. The absorption happens past the rumen in the intestinal tract. Thus, calcium carbonate must move from the rumen to the intestinal tract, slowing down the absorption process relative to that of calcium chloride and calcium sulphate.
Benefits of calcium boluses
Calcium boluses are an effective tool in milk fever prevention, Zuidhof said. "We recommend, based on our studies and the studies we have reviewed, that two boluses [be administered after calving] as an initial treatment," he noted.
Providing calcium boluses is also cost-effective. Zuidhof cited one study that found a positive return on investment has been observed in high-producing herds, lame cows and multiparous cows, with lame cows seeing the greatest return on investment.
Conclusions
Zuidhof's final suggestion was for producers to discuss with their veterinarians and nutritionists to consider whether or not a herd approach for administering calcium boluses is appropriate. If producers see very few cases of milk fever and herd health issues are generally under control, Zuidhof said an argument can be made to treat only lame and high-producing cows.
"When we have a lot of calcium issues on a dairy farm, you have to really start digging into the problem, talk to your nutritionist and possibly make some changes in your ration, using anionic salts and other things," Zuidhof said.
To conclude his presentation, Zuidhof emphasized the importance of making calcium available to cows as soon as possible after calving, while understanding that not all calcium boluses provide the same benefits.
PHOTO: Photo illustration by Ray Merritt.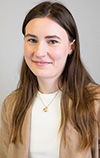 Emma Ohirko

Editor
Progressive Dairy