As 2018 comes to a close, I've been asked to write about "balancing cow comfort and the bottom line." This has certainly been a year when the focus has needed to be on making sure your operation was in balance, and there have been enough curve balls to test it.
You can't be penny wise and pound foolish, but you also can't afford to dig such a deep hole of debt you can't see your way out.
There are no easy answers.
With no easy answers, here are a few places to start to search for the balance between cow comfort and your bottom line.
Focus on what is in your control. You cannot single-handedly impact the milk price, and you cannot control the weather. You can try, but you'll annoy, frustrate and irritate everyone around you.
What is in your control?
1. How you treat your employees and how your managers treat your employees
Your employees handle your most important assets: your cows, the feed you provide to nurture them and the equipment you've invested in to get the jobs done.
You could spend tens of thousands, even hundreds of thousands of dollars on the latest and greatest cow comfort materials, but if your employees have a bad attitude, drive equipment too fast, make a lot of noise and spook your cows, you'll never get anything out of your cow comfort investment. Your overall cow stress will be through the roof.
You may have a bad apple or two in the bunch but, overall, take a look at how you treat your employees. When is the last time you asked them how they or their family are doing? What structure (and unstructured fun) is in place to let them know you care about them as individuals? When is the last time you asked what you could do to make their jobs more efficient or less taxing on their bodies?
Your employees milk and handle your cows, nurture their calves and prepare their food. What would be the impact of more positive employees on your farm?
2. How you think and plan for the future
Write down your top three to five priorities for improvements on the farm. Don't call it a "wish list." You're not rubbing a bottle to get a genie to come out to grant you three wishes. You're running a business and planning for the future. There is give and take, prioritizing and planning.
You might not have the money to spend right now on making a purchase, but you can use the time to do your research. Get a list of two or three farmers who had what you have and switched to what you want to switch to. Talk to them. Visit their farm if you can. How can you use technology (or video conferencing) to virtually visit the farm if an in-person visit is too time- or resource-prohibitive?
Ask questions in online forums. Use caution when listening to answers. We all have met our fair share of internet trolls. Talk privately with those who are in similar situations to yours who can provide further detail.
3. Your attitude
Speaking of internet trolls, sometimes we can be our own worst enemies, our own internal trolls. We get down on ourselves, our industry, our lot in life. It can be a dangerous spiral.
When is the last time you did a check on your own attitude? Do you have a trusted adviser, pastor or friend who will be straight with you on what he or she sees in your attitude? Do you go into the milkhouse looking for problems or people doing something wrong, or do you go in looking for how you can lift up and support your employees?
It's just a few short weeks away to the Christmas celebration. Even if you're not a practicing Christian, we're all touched by the spirit of the season and the reflection that comes at year-end. There are so many areas on the farm where you can invest and look to make incremental changes. How can you focus on what is in your control in 2019 to have a positive impact on cow comfort, overall stress mitigation and increased gratitude on your farm?
PHOTO: Focus on what is in your control. You cannot single-handedly impact the milk price, and you cannot control the weather. You can try, but you'll annoy, frustrate and irritate everyone around you. Getty Images.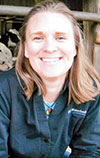 Amy Throndsen

Chief Operating Officer
Advanced Comfort Technology Inc.