Dairyman Michael Johnson's journey toward activity monitoring started several years ago when he realized his plate was getting too full to handle everything.
The father of two young children at the time and the second generation on his family's farm, Johnson was involved in everything on the growing 600-cow dairy in Fountain, Minnesota. He was milking, doing herdsman work, managing employees and tending to youngstock.
"We were adding cow numbers and looking for a good herdsman without success," Johnson recalls. "We knew we needed to make a change."
The change Johnson wanted to see was activity monitoring. He was looking at three different companies at the time and eventually settled on CowManager ear tags. He says a big part of his decision to use an ear tag monitoring system was his dislike for neck collars. He'd seen them in use on other farms prior to joining the family farm and didn't like them. Plus, CowManager at the time was running a trial that would permit him to demo their ear tags with just a few cows. Johnson says the low cost of start up – both in hardware and the lack of software to purchase – was appealing.
"I decided to just try it. 'What could it hurt?'" Johnson remembers thinking. "Part of me wanted to prove that it wouldn't work. I didn't think the system could really do a good job at activity monitoring."
Johnson put the system in gradually. He'd clip the activity tags onto the dairy's existing RFID tags as cows came through the pre-fresh pen. He'd buy 50 tags at a time, which helped him spread out the costs of switching to the system. Prior to the tags, the dairy was using an A.I. company to do tail-chalking and had a full OvSynch program implemented. The dairy continued to tail-chalk and synch cows for reproduction during the implementation to be able to compare the results of the ear tag data with what they were seeing visually. Johnson's primary interest in the system was for reproduction at first. He wanted to see if it could help him save time and energy and also decrease his overall hormone usage.
As the data began to roll in, he found it was at first overwhelming.
"I'm a cow fanatic. I want to do the best job I can for my cows so they can reach their potential," he says. "So when I started receiving all of this data I felt like I needed to check each cow right away."
Over time he's learned which data points mean a trip to the barn to fetch an in-need cow and which alerts mean he can more causally observe a cow and just keep an eye on as he does his other work.
"As I've used the system, I really began using the rumination data more. You don't realize how much you affect a cow when you move her from one pen to another or when you give her a vaccination. When you can watch her hourly rumination, it makes you think about every interaction or everything you do to that cow."
Based on the initial data he saw in cows' reactions to the dairy's regular workflow, Johnson has modified the herd's vaccination schedule and has now backed off of whole-herd hormone use. He's moved the herd's voluntary waiting period from 55 to 72 days. Now 70% of cows are bred based off of the activity-monitoring data. The other 30% are bred with a modified OvSynch program. The activity data has allowed Johnson to continue twice-daily breeding.
"I believe that putting semen in the cow at the right time has really benefited us," Johnson says.
As for herd health, Johnson says activity monitoring has improved cow care.
"I have great employees, but they were still only seeing a cow for a few minutes a day," Johnson says. "To be able to tell if a cow is sick in a few minutes, not even the best herdsperson can do that. I'm definitely catching sick cows a lot faster than I used to."
The activity recorded on Johnson's dairy is available via web browser - at the barn's desktop computer or on a mobile phone. Most of Johnson's interaction with the data is on his cell phone.
"I'm in the barn a lot less now. I don't have to carry paper with me," Johnson says. "If I see something on a cow, I can look her up on my phone and make a decision right there if I want to breed her or sort her out for further examination This allows me to spend my time focusing on the few cows that need my attention."
While Johnson's expectations have been realized, and the company has been good to work with, he says he has expectations for continuous improvement. That's not just for this technology but with anything he purchases for his dairy.
"Technology changes fast. If it doesn't keep improving or if more value isn't continually added to it, then something else will likely come along," Johnson says.
Four-and-a-half years after installation, the system proved its worth recently during the birth of Johnson's fourth child. He says he was able to stay in the hospital with his wife for several days and still check on his cows through his mobile phone. He had confidence in what he was seeing and could relay instructions back to personnel on the farm.
Johnson believes that every farm's adaptation of technology will be slightly different. Data is all the system gives a dairy, Johnson says. It's up to the manager to decide how that data is used to change protocols or affect management.
"I had to figure out how this system was going to work for me and my dairy. What works for me may not work for someone else. Every farm will be different," Johnson says. "But for me, it's allowed me to still be involved in everything and feel confident I'm doing all I can to provide the best care for my cows."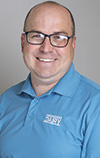 Walt Cooley

Editor-in-chief
Progressive Dairy