From milking by hand in 1915 to milking with robots today, Stensland Family Farms has embraced technology's role in providing an opportunity for dairying, agritourism and on-farm processing.
During the 2017 Conference on Precision Dairy Farming, Doug Stensland discussed his family's transition from traditional to precision dairy farming. The family-owned and operated, multigenerational farm located just outside of Larchwood, Iowa, was homesteaded by Stensland's great-grandfather, and today it includes 1,500 acres of organic cropland and 200 dairy cows. The herd is equipped with rumination collars that monitor weight, temperature, activity and rumination.
When describing their path to precision dairy farming, Stensland recalled, "My dad retired in 1989; my kids were small and I wanted to enjoy them, so we made the decision to stop milking cows." This respite did not last for long; Stensland's twin sons began working for area dairymen, and they soon went to their grandfather and asked to rebuild the dairy. As a self-proclaimed "cow breeder" through and through, Stensland said, "You have to allow for genetics; my sons have the bug in them for dairy cows. I thought I was doing them a favor by taking them away from it, but they came back."
When they reached the point where they were spending over 12 hours a day milking 200 cows in a step-up parlor, the family decided something had to be done to increase efficiency and allow for better quality of life for both the people and the cows on the farm. After visiting farms and looking at the technology available, the Stenslands installed six robot boxes six years ago.
Precision dairy technology has allowed the Stenslands to focus on efficiency and to get better instead of getting bigger. Stensland said, "I am a true believer in the technology; we monitor the ruminations and are proactive. We give a cow a probiotic bolus and she gets right back on track; we have not had a [displaced abomasum] since we began using them."
During his time away from milking, he worked in the A.I. industry as a technician and realized when doing tail chalking and providing breeding services to other farmers that precision dairy technology and the ability to monitor cows' activity provided dairymen with a powerful tool to increase reproductive efficiency. Stensland has developed a custom program using the data collected by the monitors, and by pinpointing the optimum time to breed cows according to their activity, they are getting more cows pregnant because the monitors are picking up the heats that were being missed with observation and tail chalking.
When they began the transition to precision dairy farming, the Stenslands did it with the vision of opening the farm up for tours. Last October, they started an on-farm processing plant, and the efficiencies gained through precision dairy technology are allowing them to focus on their cheese production and agritourism.
The herd is housed in a freestall barn equipped with waterbed mattresses covered with sawdust, an automatic scraping system and an automatic grooming system. These additions to the farm provide cow comfort and an environment where the cows are not disturbed. Stensland explained this technology is great to have because people see the cows in a comfortable environment and they can gain a positive image of what dairy is all about when they see the cows moving freely for milking, eating and grooming.
Stensland and his wife, Mona, have four children and 10 grandchildren. His father is 87 years old and still helping on the farm. Stensland commented, "We are a true family-operated farm and have four generations living and working together on our farm." He believes the advances in technology utilized on their farm have benefitted both the animals and the people by allowing them to more closely monitor the cows and to catch health issues before they become serious.
Doug expressed his belief that continuing education in precision dairy is important for the future of the industry, and events like the Conference on Precision Dairy Farming, where people can get together and share information, provide dairy farmers a powerful business tool. He stated, "The advancements on our farm have truly left us blessed; we can work together as a family with a sense of hope that the farm will continue to thrive for generations to come."
With over 180 people in attendance, 85 companies and 14 countries represented, the Conference on Precision Dairy Farming, co-hosted by the University of Minnesota and the University of Kentucky and held May 30-June 1 in Lexington, Kentucky, brought together people from across the dairy industry to discuss advances in precision dairy technology and learn from one another's research and experience with the implementation of new technologies.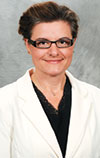 Somula Schwoeppe

Dairy Producer and Freelance Writer
Huntingburg, Indiana
PHOTO 1: Last October, the Stenslands realized their dream of opening up an on-farm dairy processing plant.
PHOTO 2: The Stensland family operates a multigenerational dairy farm and processing facility near Larchwood, Iowa. They use robotics and technology to milk and manage 200 cows. Photos provided by the Stensland family.