Many dairy producers struggle to find words to sum up the last 12 months in the industry. The onset of the pandemic was almost like a violent storm that formed quickly.
Producers who had sound risk management in place for 2020 had some protection from that storm. This article discusses how to maintain that protection and, if needed, build that shelter for 2021.
Back in December 2019, the industry was experiencing some of the highest milk futures we have seen in the last six years. Producers were looking forward to 2020, genuinely excited for their future. By the end of January, however, something changed that few could have anticipated.
The world was quickly coming to a halt, due to an unforeseen virus outbreak, and so was the excitement for the dairy industry's 2020 outlook. Class III milk futures for the second quarter of 2020 (April, May and June) went from a high of $17.88 per hundredweight (cwt) on Jan. 24 to a low of $11.64 per cwt on April 21. In 12 short weeks, the industry took a $6.24-per-cwt hit on Class III milk and a $7.32-per-cwt hit on Class IV milk prices.
Since then, we've seen numerous government programs rolled out to provide relief to producers. Along with government relief programs, many dairy cooperatives stepped in to try and balance markets by implementing various supply control measures. Due to the unprecedented level of government support, many producers may assess 2020 as a pretty good year in the end. But was it? If you take out the government relief programs, what was the true impact of COVID-19 on your business?
Start with a foundation, then build walls
This is why it's critical to plan for the future. With any good market-based risk management plan, it's important to start by knowing your cost of production. How much is it costing you to produce that hundredweight of milk?
Once that question is answered, decisions about revenue protection plans become a little easier. The best part of knowing your cost of production is being able to use that to prepare for 2021. This is the foundation of your risk management plan.
Once the foundation has been established, it's time to put up walls to protect your business in 2021. These "walls" include leveraging the knowledge of your team, being aware of changes in the futures markets, establishing a risk management budget and layering in your risk management options.
The first wall to build on the foundation of understanding your costs is, "Are we leveraging the knowledge of the team around us?" Building a plan is not an easy task and not one that most producers feel comfortable doing alone. Identifying a team to assist in building your risk management plan will make these decisions much easier.
The next wall to build is being aware of what is happening in the futures markets. Fundamentally, we are looking to establish a market price for the operation to limit downward risk of revenue while still being able to capitalize on upward market movement. With today's technology, this has become much easier. It could be a member of your team actively tracking those markets or utilizing decision support tools to set price alerts to notify you if the markets hit your desired price. Being aware of the markets allows you to capitalize on potentially high futures prices while establishing a plan to reduce the impact of low prices.
Build on a budget
Now that you've established a team to assist you, and you're tracking the futures markets, the next step is determining a budget for your risk management plan. It's important to budget this as a necessary expense, not a potential revenue stream, regardless of whether you are purchasing Dairy-Revenue Protection (Dairy-RP), Dairy Margin Coverage (DMC), Livestock Gross Margin for Dairy (LGM-Dairy) or Chicago Mercantile Exchange (CME) options. The intent of the plan shouldn't be to make money but rather to protect the foundation that you've established.
The last wall to build is establishing a layered coverage strategy. As you're working with your team, tracking futures markets and knowing your budget, you're ready to execute your plan – whether that means utilizing different options in combination, such as Dairy-RP and DMC, during the same crop year or covering smaller amounts of your production over the course of several months. Staying the course on your layering approach is key to a successful risk management plan.
Add the roof
Once you've built the four walls, the final step is completing the roof by executing on a comprehensive plan.
In 2020, we saw the market equivalent of driving rains and high winds for most of the year, and it's unclear what 2021 has in store, so it's important to develop a sound risk management plan to protect your business from the elements.
Getty Images.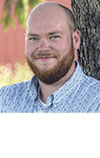 Tristan Peterson

Northeast Marketing Agent
Crop Growers LLP