The East Africa country of Rwanda is a densely populated, landlocked country composed of hills and mountains. The country is slightly smaller, geographically, than the state of Maryland but has a population similar to Pennsylvania.
Agriculture is extremely important to the country, with about 70% of Rwandans dependent upon agriculture for their livelihood.
When Rwanda is mentioned, the first thing that comes to the minds of many people is genocide. During a 100-day period in 1994, about 1 million Rwandans were killed. The root of this tragedy was the majority Hutu ethnic group attempting to wipe out the minority Tutsi. Besides human beings, the genocide destroyed much of the country's productive resources, including its cattle. It is estimated that prior to 1994, Rwanda had 600,000 cattle. After the genocide, the number declined to about 170,000 head.
During June of this year, I was in Rwanda doing volunteer work for the Ministry of Agriculture, participating in a regional dairy workshop and related farm activities focused on Jersey cattle. It was gratifying to see Rwanda recovering from the genocide, to see how the country is experiencing an economic recovery and striving to be the economic hub of East Africa.
According to Rwanda's minister of agriculture, the cattle population is now around 1.3 million head. About 41% of the cattle are native or local cattle, 43% are crossbreds and 16% purebreds. Annual milk production grew from only 110 million pounds in 2000 (the annual milk production of New Jersey) to almost 1.8 billion pounds in 2018 (the annual milk production of Illinois). This is impressive growth for any country. More importantly, dairy farming is lifting many people out of poverty by increasing incomes and employment opportunities. In a country where malnutrition is a challenge, milk is providing much-needed nutrition, especially to the country's large population of children.
Before I explain why dairy is growing in Rwanda, let me first share with you one of the most impressive characteristics of the country: its cleanliness. Rwanda is one of the cleanest countries I have visited. As I traveled throughout much of the country, it was rare to see any trash or debris on city streets, country roadsides, around farms or near people's homes. Even when I saw debris on the roadside, someone was there sweeping it up.
Why is Rwanda free of trash and so clean? No plastic bags are allowed in the country. When entering the country at the airport, luggage is screened to ensure no one brings in plastic bags. Consideration is being given to not allowing any single-serve plastic containers as well. For three hours on the fourth Saturday of every month, all able-bodied people from 18 to 65 participate in "Umuganda," which means coming together for a common purpose. Everyone works together in clean-up and other community projects. Traffic stops, stores close, and all pitch in to help. Those who do not participate face a heavy monetary fine. It was obvious to me Rwandans take pride in their country, farms and homes; keeping their country free of trash is one way they express their pride.
Farms are small in Rwanda. Average farm size is only about 1 to 2 acres. Most dairy farmers milk one to two cows. All milking is done by hand. (Labor is plentiful and jobs are needed.) Milk production varies from about a gallon to a gallon-and-a-half of milk per cow per day, with some of the better cows producing up to 5 gallons per day. I did meet one dairy farmer with 50 cows who had four people milking his cows by hand twice a day. This farmer told me he was not the largest herd in the country; another farmer milked 80 cows. Almost all cows are kept in small corrals with grass brought to them. Farmers want to easily collect all of the cow manure, which is highly valued for fertilizer.
The Rwanda government plays an active role in supporting the dairy industry, which is a primary reason for the significant growth in milk production. Back in 2004, the government promoted the establishment of milk collection centers. Today, there are 126 such centers located throughout the country. Even though the majority of milk in Rwanda is sold directly from the farmer to the consumer, these centers organized as cooperatives, provide needed and accessible milk markets to dairy farmers. The smallest center I visited collected milk from about 130 farms, while the largest, composed of 10 centers, purchased milk from about 10,000 farmers. The farm milk price is equivalent to about $10 per hundredweight (cwt).
Dairy farmers bring their uncooled milk in a milk can, most likely transported on a bicycle, to the center. The center receives the milk, performs basic quality tests, then moves the milk into a milk tank where it is cooled. When a sufficient volume of milk is received, the center puts the milk back into milk cans. The milk is then transported to one of the four main milk plants in the country for processing and manufacturing.
The collection centers also provide other services to farmers, including veterinary supplies, artificial insemination and feed. Often when a dairy farmer brings in a can of milk, he not only takes the empty milk can back home but also a bag of cow feed on his bicycle. Some centers are also beginning to process or manufacture some of their own milk production and market the products locally.
In 2006, the Rwanda government started "Girinka," which is the "one cow per poor family" program. Under this program, a family that meets certain requirements is given a cow along with assistance on how to care for the cow. The first female offspring from the cow is given to another family. The purpose of "Girinka" is threefold:
1. Provide nutrition to not only the family with the cow, but then milk produced beyond the family's need can provide nutrition to others, including fulfilling the country's "one cup of milk per day to each child" program.
2. Generate income to the dairy farm family. Farms I visited that had received a cow through the program testified how the dairy cow lifted their family up out of poverty by providing both nutrition and income.
3. Enhance soil nutrition. Cow manure provides the fertilizer needed for the country's food crops, such as bananas and various vegetables.
Rwanda also receives help from other countries to build its dairy industry. U.S.-based Heifer Project International has sent heifers to Rwanda. Land O'Lakes, with assistance from the U.S. Agency for International Development, conducted a 10-year program helping grow dairy production in Rwanda. Currently, two of the most active outside programs are: Send a Cow, a United Kingdom-based nonprofit, and the country of Jersey Island.
In the past, Send a Cow did send cows to Rwanda, but they are now focused on providing technical assistance to dairy farmers with about 30 staff working in the country. Jersey Island is investing several million dollars each year into Rwanda. Working in cooperation with Send a Cow, the money is used to train artificial inseminators, give management assistance and provide thousands of units of Jersey semen. Jersey Island officials estimate that every hour for the next three years, a Jersey or Jersey-cross calf will be born in Rwanda.
Yes, Rwanda has made remarkable progress in growing its milk production. As painted on sides of some of the milk collection centers, milk provides the dual benefits of both wealth and health which the country is experiencing. Going forward, all signs point to continued growth in Rwanda's milk production. This is due to more milk per cow, a result of better genetics and management.
The challenge the Rwandan dairy industry is now facing are markets for its increased milk production. Per-capita dairy consumption in Rwanda is one of the lowest in the world. This is due to many consumers not being familiar with dairy products, product packaging and distribution challenges, and low personal income. However, as with production, Rwanda is working to overcome this challenge and likely will overcome it.
PHOTO 1: Calvin Covington recently returned from consulting with dairy cooperatives in Rwanda. Here he is seen outside one of the country's many milk collection centers.
PHOTO 2: Most raw milk in Rwanda is transported to collection sites by bicycle. Courtesy photos.
Calvin Covington is a retired dairy cooperative CEO and now does some farming, consulting, writing, and public speaking.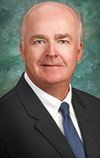 Calvin Covington

Retired Dairy Co-op Executive