With employee retention being a constant battle in the dairy industry, Jim Cnossen, owner of Cnossen Dairy, found a unique way to show appreciation toward his employees.
Cnossen Dairy, which was started by Cnossen's father over 45 years ago, currently milks 11,000 cows, has over 7,500 acres of cropland and employs 100 individuals in Hereford, Texas.
Over the last 30 years, Cnossen has seen an increasing challenge with employee retention, which inspired the implementation of a free employee lunch program in late 2020, he says.
This idea was first introduced to Cnossen when he and his brother purchased a feedlot in Idaho in 1997. The feedlot came with a lunch area with small appliances for the employees to make their lunch, he says.
"At first, I thought it was silly," he says. "But as we watched it and talked over the management end, it gave a place for people to gather and really didn't cost much," he says.
He says once they saw the benefits of having a common lunch area, they never questioned it again.
At the feedlot, Cnossen noticed having his employees gather in one place during their lunch breaks helped keep them more aware of what was going on in the feedyard, he said.
"Say a load of cattle would come in [during lunch]," he says. "They would go out and unload the cattle and then come up and finish their lunch, and you'd still have a lot of productivity," he says.
Once Cnossen moved from Idaho to Texas, he built a third rotary parlor on his facility, which is when he considered adding a kitchen and cafeteria area to the plan.
"The rotary has big corners in the building that you can utilize for whatever, so I thought it would be good to put a kitchen in one of the corners," he says.
About a year after the rotary parlor was complete, they added the finishing equipment to the kitchen, including a commercial stove, freezer, refrigerator and pantry for storage.
A job posting was advertised on Facebook, and they hired an hourly cook to prepare meals five days a week.
Each day, their cook, Tiffany Fowler, prepares 50 to 60 meals depending on the ingredients she has for the week, he says.
The meal is ready around noon, and the lunch provided primarily takes care of their day-shift employees, he says. Any meals left over from the day are available for the night-shift employees, he adds.
"This keeps everyone on the same page now, and it doesn't really cost much," he says.
Because they opened up the cafeteria during COVID-19, they designed the process to be safe for employees by pre-packaging their lunches in to-go boxes. This ensures employee could pick up their lunch, social distance and walk out without having much interaction, he says.
The space is large enough for 10 to 15 employees to sit during their lunch break, and they hope to make the seating option available to employees sometime soon, he says.
Fowler previously owned a restaurant, which has made it especially helpful when planning meals, ordering ingredients and keeping up with inventory, he says.
Fowler plans the menu a week prior to when it is served so ingredients can be ordered ahead of time, he says. The menu is also publicized in various work areas so their employees can plan accordingly if they are allergic to an item or want to skip out on the lunch, he adds.
Fowler usually tries to make a variety of different meals without repeating often and also takes into consideration what the employees like, he says.
Meals range from sandwiches to pasta dishes and some Mexican- and Asian-inspired dishes, and they always try to incorporate dairy products as often as they can, he says.
The benefits Cnossen witnessed from the employee kitchen at the feedlot are the same benefits he is experiencing now with the employee cafeteria at the dairy, he says.
The program has helped Cnossen Dairy become more efficient because employees don't have to leave the workplace to get lunch, he says.
"We're keeping the people there and keeping the communication," he says. "That is a real big benefit."
It has also become a useful employment tool, as employees have recommended Cnossen Dairy as a respected employer, he says.
"I thought it was a good thing to bring a little value for someone who comes to work here because they don't have to worry about bringing lunch in five days a week," he says.
This token of appreciation has been recognized by the employees, and the response has been all positive, he says.
"I've heard a lot of thank yous and that's nice to hear, and [seen] a lot of smiles on their faces when they're walking out to lunch," he says.
Cnossen says establishing an employee lunch program like this is something he wishes he had done earlier because the results have been well received for everyone involved.
"You can't do it without the people, so doing a little thing like making lunch goes a long way," he says.
PHOTO 1: The kitchen at Cnossen Dairy is housed in one of the corners of their rotary parlor and is stocked with commercial kitchen equipment.
PHOTO 2: Cnossen Dairy in Hereford, Texas recently established an employee lunch program. Owners Jim and Ellie Cnossen (right) are pictured with their children, Cord and Evie (left), and cook Tiffany Fowler (center). Photos provided by Evie Cnossen.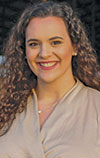 Adriana Toste

Editorial Intern
Progressive Dairy