For dairy producer Josh Waddell, costs were just one reason to examine energy use on his family's Apple Shamrock Dairy Farms LLC, in Crawford County, Pennsylvania. Directing electricity to where it was needed was also a major factor.
Transition and expansion
Like many dairy farms, Apple Shamrock Dairy Farms had modest roots. Josh's grandparents, Robert and Lorna Waddell, and father, Robert, started with 60 Jersey cows in 1976. Over the next three decades, the northwestern Pennsylvania farm grew and transitioned to Holsteins. Josh returned to a 400-cow herd in 2004, after graduating from college. A new parlor was added in 2007, followed in 2014 with the construction of a 600-cow freestall facility.
Today, the operation includes his parents, Robert and Chris, and his brother, Joe. A sister, Katie, is not involved in the dairy. Josh and his wife, Hayley, have three daughters Emma, Josie and Maggie, and a baby boy, Milo, on the way. Joe is married to Gwen.
Apple Shamrock currently milks 1,100 cows and raises about 1,000 youngstock. Milking 3X, the Holstein herd has a rolling herd average of about 33,000 pounds of milk, and while the tank average is about 100 pounds of milk per cow per day, Waddell's production goal focuses on components, seeking to produce 7 pounds of milkfat and protein per cow per day.
The Waddells prefer to milk older cows, and the current herd makeup is about 29% 2-year-olds. By limiting cow turnover, they're able to sell about 40% of their heifers annually.
In addition to milking cows, the family – aided by 25 full-time employees – grows all its own forages and grain and also cash crops 600 acres, does its own fieldwork and also hauls its own milk. Achieving high production goals while managing all those enterprises requires efficient optimization of every aspect of the operation.
Electrical audit
With several different barns and other buildings on the farm, a lighting company representative suggested the Waddells conduct an energy audit. That audit shed light – literally and figuratively – on the dairy's electrical use and limitations.
"We're a high-input, high-output farm. As we've continued to expand, we have always been pushing the limit on electricity," Waddell explained. "We had metal halide lights, fluorescent lights, LED lights – you name it, we had it. The farm has been a slow transition, so with each building, you could see the progress of the farm just by looking at the lighting in the barns."
After completing the energy audit, Waddell learned they could reduce electrical costs simply by changing the lights. With the help of a Pennsylvania Small Business Advantage Grant through the Department of Environmental Protection (DEP), they replaced all the light fixtures with light-emitting diode (LED) lighting on the farm.
By eliminating some of the small, hidden costs involved with powering a dairy farm, Waddell said it has led to significant savings and has helped the farm continue to grow. Not only did they improve lighting and save money, but the Waddells also found opportunities to take advantage of technological advances, upgrading and adding automation to further enhance the dairy's efficiency.
"After we upgraded our lights, I would say the biggest impact it had on our dairy was the opportunity to add fans and some automation," Waddell said. "For me as a manager looking at the cow end of things, I knew I was running out of electricity. I looked at the energy audit a little different than most. I looked at it as an opportunity to save some amps so I can add a fan or an electric motor somewhere and help make the farm more efficient. The money savings was really good, but the bigger part for me was the amperage savings."
Apple Shamrock Dairy Farm is powered by 800-amp service, the largest capacity available with transformers on a pole. Acquiring additional amperage would have come at a significant cost.
"We're constantly doing projects and [building] something new, so it's pretty easy to figure out the cost of that project," Waddell said. "What you can sometimes miss are the costs of the electric service, the subpanel, the wiring and all those hidden costs that come with a building. By being able to save electricity, we also don't have the infrastructure cost of setting up another service and upgrading lines. Those things can have significant costs."
Other opportunities to optimize efficiency
Throughout the podcast, Waddell described other areas of focus that target immediate and long-term efficiency.
Three core groups. Waddell said he believes a management focus on three core groups – baby calves, pre-fresh and dry cows – helps the rest of the herd take care of itself.


Calf care. The Waddells feed calves three times per day, finding the extra nutrients consumed by the calves boosted first-lactation milk yields by 5 pounds of milk per cow per day.


Animal comfort. The focus on comfort begins early and continues through the life of the herd. Heifers are housed on deep sand bedding beginning at 4 months old, with additional attention on heifer stocking density. Freestalls are sized for the resting needs of the herd's larger-than-average cows.
Beyond bedding and freestalls, Waddell stressed heat abatement, unwilling to lose summertime milk. Fans and misters in the holding area play a crucial role.
Genetics: The Waddells select for large, well-uddered cows that can convert forages to milk, believing cows that can consume 65 pounds of dry matter per day can overcome poorer forage quality when weather affects harvest.


Hauling milk. The Waddells began hauling their own milk about 10 years ago, currently delivering about 13 semi loads of milk per week. For any producer considering hauling their own milk, Waddell said requirements include the ability to maintain trucks and equipment and have reliable employees willing to drive every day, regardless of weather conditions. A minimum milk production threshold is a full load every other day.


Succession planning. The Waddells began working on a succession plan in 2007, transitioning management and ownership from his parents, Robert and Christine, to Josh. About 10 years later, Joe decided to join the dairy, requiring a separate agreement. Waddell encourages use of an unbiased outside consultant, willing to mediate tough conversations as a dairy family develops and moves through a succession plan.
Finally, Waddell recommended staying connected with dairy producer peers and learning from them.
"See if you can find a dairy that's profitable and you like the way it's running," he said. He shared, "I see [much] value in a neighbor farmer who's successful and asking him to come over and share ideas."
PHOTO 1: Located in northwestern Pennsylvania, Apple Shamrock Dairy Farms LLC has been operated by the Waddell family for more than four decades.
PHOTO 2: Josh and Hayley Waddell have three daughters, Emma, Josie and Maggie, and a baby boy, Milo, on the way. They farm with Josh's parents, Robert and Chris, and his brother, Joe. Courtesy photos.
Emily Barge is the communications and marketing manager with Pennsylvania's Center for Dairy Excellence.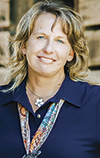 Jayne Sebright

Executive Director
Center for Dairy Excellence