Robotics have made significant inroads into every sector of life, from robotic-assisted surgery and automobile assembly to gathering items for an online order.
Nearly every facet of our lives has been touched by a robot of some sort. To date, our personal contact with robotics has typically been limited, and we are often not aware of their use. However, those times and the number of direct personal experiences are changing as robotics become more prevalent and affordable.
The dairy industry is one of the current robotics hotbeds. It is estimated approximately 2 percent of America's dairy herds are currently being milked by robots, and that number could rise to 40 percent or 50 percent over the next five to seven years.
While it is intriguing to imagine robots feeding, milking, medicating and otherwise taking care of our dairy herds, there are important items to consider before purchasing them. This article attempts to provide general guidance that can be used for any robotics system based on an analysis of installing an automatic milking system robot.
Remember each dairy is unique, and an analysis must be based on specific facts and circumstances of your operation.
Robotic costs
It is reasonable to assume each automatic milking system will currently cost approximately $200,000, and this number includes $15,000 to $20,000 of facility renovation. Each automatic milking system requires a space approximately 15 feet by 12 feet, which includes "clean space" behind the robot to allow for maintenance, monitoring and general access to the machine.
As robots also require a minimum ambient temperature, your facility renovation costs could be greater than the estimated $15,000 to $20,000 if additional work is required to ensure protection from freezing temperatures. Additionally, maintenance and repair costs need to be considered in the total cost analysis.
Labor savings
Although robots do not sleep, complain or ask for vacation time, they have their limitations. A typical automatic milking system can milk between 55 and 60 cows three times per day. Installation of an automatic milking system has been shown to reduce milking labor by approximately 75 percent and reduce heat detection labor by around 70 percent.
These gains in labor savings appear to be fully realized with a slight increase in management duties. Associated costs are offset by the reduction in time spent managing employees and human resource issues. Generally, annual labor savings have been shown to be roughly $44,030 per robot.
Automatic milking system herd training may take as little as a week to as long as three months. These costs should be factored in to the overall price of the automatic milking system. Inevitably, some cows will always need to be fetched each day and brought to the automatic milking system.
Milk production
With an automatic milking system, the cows participate in deciding when they are milked. Typically, this has resulted in an increase of milkings per cow per day from two to three and increasing production by approximately 12 percent.
Additionally, somatic cell counts have been found to drop while fat percentage increases. However, as you know, good herd management produces milk; an automatic milking system only helps with collection.
Feed management
Feed management is critical to realizing improvement and ensuring efficiency with an automatic milking system. There may be possible feed savings depending on how a herd is currently being fed. An automatic milking system allows for each cow to be fed based on individual production rather than feeding the entire string based on an average production formula.
For example, rather than feeding a string based on average production of 80 pounds, they can be fed based on a 60-pound average, with higher-producing cows being fed a nutritionally dense pellet when they come to be milked. The amount of pellets given are generally increased or decreased based on whether a cow will be dried up, is bred, is in early lactation or other factors.
An automatic milking system allows much greater ability to feed based on individual production rather than average herd production.
Intangible benefits
Every purchase decision has some level of intangible benefits to consider. Depending on where labor comes from and overall goals for achieving a specific quality of life, the overall cost of an automatic milking system may be in part offset by those benefits.
Dairymen using automatic milking systems report their overall time, while spiking up just after installation due to herd training and system familiarization, eventually decreased, leaving them more time to deal with other dairy or personal family obligations.
The use of robots reduces the reliance on volatile labor pools. One consideration that must be taken into account is: Since the robots are operating 24 hours a day, seven days a week, there must be someone on call around the clock to respond to robotic issues.
Automatic milking system technology may not be the least expensive system on the market, but it does promise improved lifestyle, and decreased labor and labor-associated issues, as well as the possibility to milk more cows with an already limited (family) labor force.
These intangibles alone can be enticing. A strong financial analysis is a must to identify the benefits for your specific operation and should not be ignored. Financial and tax impacts should be discussed with your management team and outside trusted advisers prior to purchase.
Resources
The Iowa State University Extension and Outreach Dairy Team has put together a spreadsheet that will help dairy operations determine if an automatic milking system makes economic sense based on individual criteria.
That can be found online (Iowa State University - milking systems), "Economics of Robotic Milking Systems (Working EXCEL Spreadsheet)." Additional resources are also available on that page that will be helpful in determining the viability of an automatic milking system investment.
PHOTO: The dairy industry is one of the current robotics hotbeds. It is estimated approximately 2 percent of America's dairy herds are currently being milked by robots, and that number could rise to 40 percent or 50 percent over the next five to seven years. Courtesy photo.
Fetzer recently joined Cooper Norman and brings unique skills to the team as a Juris Doctorate and MBA.
References omitted but are available upon request. Click here to email an editor.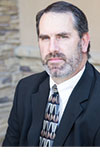 Mark Brady

CPA
Certified Valuation Analyst
Cooper Norman