Immigration issues have seen heightened attention since last year's presidential election. Concurrently, the U.S. Immigration and Customs Enforcement Agency (ICE) has expanded its efforts to identify undocumented immigrants. As a result, many dairies may have an employee or their family member face deportation.
One dairy previously raided by ICE in the southwest U.S. describes the event as a "traumatic experience emotionally and as a business, devastating." The owner was heartbroken. "Their families were left with no direction," explains the dairy producer, who requested to remain anonymous.
There are a number of steps undocumented immigrants can take to minimize the devastating effect for themselves or their family if they face deportation. In order to be most effective, preparation should begin well in advance of contact with law enforcement, according to legal experts.
The first advice for undocumented immigrants is to begin working with an attorney before they are arrested or identified by ICE. Both the immigrant and their adult family members should have the attorney's primary telephone number memorized.
"Speaking with an immigration attorney, a licensed attorney who understands and practices immigration law, is the only way to truly identify if there may be a legal remedy for your situation," advises Annie L. Rice, a licensed immigration attorney with Khazaeli Wyrsch Law Firm of St. Louis, Missouri.
"If there is an avenue for you toward legal status, it is better to identify that before ICE interacts with you." Things become much more difficult when ICE becomes involved, Rice says.
There are a number of key factors an immigrant should look for when securing legal representation including licensing, experience in immigration law and costs.
"Make sure the attorney is licensed," Rice says. "Most state bar associations have services that can help you track the person's credentials to make sure they are a licensed attorney."
Furthermore, look for an attorney with specific experience in immigration law. "Immigration law is second in complexity to the U.S. tax code," Rice says. "Using someone who just thinks they understand the law can get you into trouble." The American Immigration Lawyers Association (AILA) also offers a referral service and can be contacted through their website.
Depending on an immigrant's specific situation, some legal paperwork can be prepared in advance. For example, a motion commonly referred to as a stay of deportation is typically filed with the court once removal has been ordered. "It's a last-ditch attempt to keep you in the U.S., because you may have some other form of relief," Rice explains. "If you don't have an open case, you can't file something like this."
Undocumented workers who may leave family members behind in the U.S. following deportation have additional things to consider. Issues such as custody of minor children, contracts such as a car loans or other debts, medical consent, insurance policies, bank accounts and outstanding wages will have to be addressed.
"If the undocumented parent is the only one on the home lease and is deported, then the family could end up out of a place to live," she warns.
"One of the ways immigrant service providers in our region have been working to help is by preparing power of attorney documents for undocumented immigrants," Rice says. "In the case of detainment or removal, there is someone legally authorized to handle your family, custody, financial affairs, etc."
That individual may require access to your finances in order to provide money for a bond or an attorney in the event of detainment.
"You do not need to have legal status within the United States to execute a power of attorney," counsels Nicholas Nevarez Jr., an immigration attorney who practices in Texas and retains a number of dairies in both Texas and New Mexico as clients.
"FERPA, which stands for Family Educational Rights and Privacy Act, is important to undocumented and documented parents, because it is a federal privacy act. It limits the amount of information an educational institution is able to divulge to the general public (nonguardian or individual lacking power of attorney notation)."
"ICE will provide parents in ICE custody a form to sign, wherein the parent is able to authorize individuals to act as a 'guardian' of their children," Nevarez explains. "However, schools often to do not honor this form because it is not notarized nor does it contain proper language to comply with FERPA."
Thus, having a power of attorney prepared in advance could help bridge the gap in ensuring all day care for children of detained or deported parents. (Because state laws are different regarding how powers of attorney are executed or the extent to which they are viable, it is important to consult a local attorney.)
"Having your information neatly organized will benefit anyone who is trying to assist you if you're not in the home anymore," Rice adds. Keep copies of these documents in a secure location. An attorney may also need proof you have been living in the U.S. for a period of years in order to file for specific visas. Pay stubs, rent receipts or school enrollments for minor children are examples.
"I always tell clients to sit down and write what address/locations they lived at for the past 10 years," Nevarez explains. "Then I tell them to start gathering all documentation containing their name. Often, they will need to remember what months they lived at a certain location or go and 'recreate' documents such as rental agreements."
Undocumented workers may have both documented and undocumented minor children, sometimes both within the same family. "If the children's status is at risk, it doesn't really change what is needed," Rice explains. "If they are also undocumented, ICE may bring in the whole family together."
Many of today's undocumented immigrants resort to using false identification to secure employment. A licensed immigration attorney will advise on the requirements for proof of identity in order to execute legal documents under specific state laws.
Rice also encourages her clients to know their rights in the event of an ICE raid or detainment. For example, ICE agents must present a detailed, signed order to search a person's home. But by simply opening the door, an immigrant may be giving agents permission to enter. In short, ask to see the paperwork before opening any door.
Whether questioned in a home, worksite or during a traffic stop, undocumented immigrants have the right to remain silent after providing their real full name. Most attorneys advise that it is more difficult to establish grounds for an arrest if the individual remains silent and does not provide any information or documentation, especially documents from a foreign country. Undocumented immigrants should never provide ICE with false documentation.
Experts also advise undocumented immigrants to not sign anything until they speak with a lawyer. ICE agents have been known to pressure detainees into signing a voluntary departure. However, this document causes the individual to forfeit some key rights.
Detainees also have the right to request their case number. An individual's name and case number is the only way family members or an attorney will be able to locate an individual within the ICE system.
In the event of a raid, running automatically gives ICE probable cause for detention. Instead, remain calm and silent. Additional information regarding the rights of an immigrant may be found online (Informed Immigrant).
In order for an undocumented immigrant to prepare for possible deportation, they must trust their attorney with sensitive personal information such as the names and details of undocumented family members. While difficult, this step is crucial.
"Your attorney, when an agreement for representation has been signed, is bound by attorney-client privilege and cannot disclose any information that you give them without your permission," Rice explains. Only by providing an attorney with all the information they ask for can they explore every option an immigrant may have to stay in the U.S. legally.
Unfortunately, immigrants have shared with dairy managers that they have paid thousands of dollars to attorneys with no work resulting. However, this doesn't necessarily indicate fraud or misrepresentation.
"These types of cases are very expensive, so even a good attorney who is able to help you is likely to charge several thousand dollars, depending on the complexity of your case," Rice explains. That's why thoroughly researching an attorney before you hire him or her is so important. Clients must make sure the lawyer is both credible and licensed.
"A deportation/removal defense case could cost anywhere from $5,000 to $15,000 and could go on for years because of court backlogs," Rice shares. "If other relief is found, or if the person is eligible for other benefits, it could be less than that amount."
Clients should always demand copies of every filing or documentation prepared by the attorney, as well as receipts for all payments. "That's the only way to get relief if you've been scammed," she explains. "But also know that sometimes we can do a lot of research on your case and still not find any relief for you."
For an undocumented immigrant who wants to prepare for possible deportation, trusted legal advice is necessary. And while expensive, the peace of mind it provides is priceless, especially for the family members who may remain behind.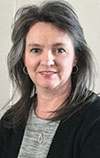 Karena Elliott

International Freelance Writer
Amarillo, Texas