It's been said the world is filled with dreamers and doers. There are those who dream but don't do and those who do but don't dream. A rare find is the individual who both dreams and does.
Twenty years ago, Omar Guerrero came to America with a dream and a willingness to work for it. Today, he's a partner in a 2,500-cow dairy. Through his focus on leadership and empowering others, the dairy manager is taking the operation to the next level in order to be a long-term player in the dairy business.
Pursuing the American dream
When Guerrero and his wife, Rayna, left the city of Chihuahua, Mexico, for a land of opportunity, they found it near the little village of Elkhart Lake, Wisconsin. The couple came to milk cows at Drake Dairy in 1999.
With a misty eye, Jim Drake recalls asking the non-English-speaking 20-year-old through a translator why he wanted to work on his farm. Guerrero replied, "Because I want to show my wife the American dream."
That day, Drake told him, "The American dream is here for you, and it's going to take a lot of work, but if you will be committed to my farm and my business, I will help you achieve it."
Though the two men did not speak the same language, they felt an instant connection beyond words. Over the following years, Guerrero learned to care for cows and speak English simultaneously by spending time with Drake and communicating through a pocket-sized English-to-Spanish dictionary and drawing diagrams with a pen and paper to teach A.I.
"Early on, I saw a lot of potential in Omar," Drake says. "He had an eye for cattle and a desire too."
Guerrero's insatiable appetite for knowledge quickly promoted him from milking in the parlor to eventually taking over the herdsman role for the growing operation. Later, when Drake incorporated the farm, he offered Guerrero equal partnership with his son, Brian Drake. Together, the Drake father-son team manages the cropping, harvesting and manure-handling side of the operation, while Guerrero manages the entire dairy portion.
Guerrero took his responsibility for the dairy business and ran with it. While he'd be the first to say he and his team do not seek excellence for the purpose of public recognition, their efforts don't go unnoticed. Drake Dairy was honored with the gold-level award for reproductive excellence at the 2018 Dairy Cattle Reproduction Council (DCRC) annual meeting last November, and their high-producing herd has also been recognized for exceptional milk quality, maintaining a somatic cell count right around 50,000.
Leading and empowering
For Guerrero, the secret to running a successful dairy is not found in controlling every aspect; rather, he concentrates on developing leaders and empowering them to take pride and ownership in their work.
"I focus on employee motivation, and we have good results," he says. Guerrero spends most of his day talking and listening to his 30 employees. That includes asking workers for their feedback and offering positive reinforcement. "It's empowerment for people to ask for their input," he says.
As a mentor to Guerrero, Drake passed on a humble approach to training others. "Your goal is to teach the next guy to be better than you," Drake says, acknowledging this concept is against our human nature.
"I tell my main leaders: If you develop another person to be better than you, that means you are a really good teacher, and I don't want to lose you," Guerrero adds.
To further cultivate his abilities, Guerrero inundates himself with leadership literature, poring over books from author and motivator John C. Maxwell. He also completed a communications training course, graduating at the top of his class.
Connecting cultures
Both Drake and Guerrero believe understanding differences between American and Hispanic culture has been an integral part of the dairy's success.
"Hispanic people are very proud, and they like recognition," Guerrero says. However, a pat on the back and positive words are more meaningful than being recognized in front of a large group. The same goes for reprimanding. Guerrero knows his employees respond better to being addressed directly in a one-on-one setting when expectations aren't met.
Through time, conversations and caring, Guerrero seeks to "make people feel good," and these methods speak for themselves.
"By the time Omar is done with them, they are going to want to work here," Drake says. "They are proud to be here."
Unlike some other dairies, finding, attracting and retaining good employees is not a problem at Drake Dairy. "Our labor is secure here," Drake confidently states. "We're not losing sleep over that at all."
Focus on family
Guerrero has yet to forget how the Drakes treated him like part of the family when he first came to work at the farm, and he strives to welcome each of the dairy's 30 employees with the same open arms he received when he first walked through the door.
Most of the employees are young adults coming from Mexico, unfamiliar with the climate, food and culture. Providing nice housing, transportation and competitive wages is all part of attracting them, but it's the family atmosphere that makes these people feel at home.
"I want them to feel like if you work here, you are protected," Guerrero says.
Drake shares that sentiment, adding, "We welcome them and care about them, not just as an employee."
Whether it's taking the Saturday crew out for breakfast or cupcakes to celebrate birthdays, these efforts bond and build camaraderie.
Rising the ranks from milker to herd manager and now owner, Guerrero is an inspiration to the employees that they too can aspire and achieve. Just as Drake had once told him, Guerrero tells employees, "Work hard; it's here for you."
And when asked if he has achieved the American dream he came to Drake Dairy looking for two decades ago, Guerrero says with a beaming smile, "I'm living it."
PHOTO: Omar Guerrero (right) is a partner with Jim Drake (left) and Brian Drake in Drake Dairy in Elkhart Lake, Wisconsin. Through a focus on leadership and developing people, the dairy recently received the gold-level award from the Dairy Cattle Reproduction Council. Courtesy photo.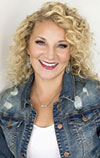 Peggy Coffeen

Editor
Progressive Dairyman
Lessons in leadership
Omar Guerrero attributes learning about leadership to helping him rise in the ranks from a milker to now a partner in a 2,500-cow dairy. Here are a few of his favorites:
Favorite author: John Maxwell
Favorite leadership book: Developing the Leader Within You by John Maxwell
Leadership quotes to live by:
"Keep your feet on the ground. For every one step you go up, go two down. Don't feel like you are better than anyone else."


"If you're not happy with the things you have now, you are never going to be happy if you have more. So live happy with what you have."


"Never let go of your dreams; they may come true."