The dairy industry has always been resilient. However, the COVID-19 pandemic tested the industry's ability to navigate constant changes, highlighted by an initial dramatic decline in dairy demand followed by panic buying, significant pulls on the retail side, supply disruptions, empty shelves, dumped milk, government assistance and labor shortages.
Panelists representing three dairy processors addressed the challenges and lessons learned during a Pennsylvania Center for Dairy Excellence Dairy Financial and Risk Management Conference, held in September. They also discussed the challenges left to be bridged as their organizations move forward.
"A lot of the gains the dairy industry has made in efficiency have come at the expense of resiliency [in fluid milk plants]," said Chuck Turner, president of Turner's Dairy, Latrobe, Pennsylvania. "When you have a 24-hour schedule, how do you make something extra? How do you deal with a hiccup in supply? What do you do with milk you don't have a home for? The whole supply chain still doesn't have a handle on those things."
Relationships and innovation
Turner, whose company works with 36 farms in western Pennsylvania, described how trustworthy relationships and partnerships have not only kept his family business afloat but growing throughout the pandemic.
"One thing we learned from my grandfather is a stewardship worldview," Turner said. "I'm in charge of the business right now, but it's been around a long time before I was born, and hopefully it will be around a long time after I'm here. It's not to serve me and my family but to serve a broader group: our employees, our dairy farmers, our community and our neighbors."
This commitment to their dairy farmers and community was at the heart of their efforts as they navigated markets that seemingly disappeared overnight at the start of the pandemic. With several restaurants and 100 school districts serving as Turner's customer base, their relationships with family, employees, partners and customers helped them pivot and find solutions.
"There is mutual trust and care for each other," Turner said. "Going through COVID with suppliers and customers who wanted to see us get through to the end – and we wanted to see the same for them – is really what made it work in my mind. Trying to reroute all those products and finding a home for milk coming from three dozen farms took work and cooperation."
According to Turner, the USDA Food Box Program also helped his family business and even kickstarted growth for one of their dairy farms that had just started making cheese when COVID-19 hit the marketplace.
"The Food Box program really helped us bridge the gap and get on our feet," Turner said. "We made about 10,000 boxes for three months and ended up putting an 8-ounce piece of cheese from one of our farms in every box. That's something we were able to do to help the farm get started with cheese-making. We got through this with our 36 farms without having to dump milk at our plant or on any of their farms."
Turner noted the decline in fluid milk sales the industry has experienced since 2010 provides a significant challenge for fluid milk processors. Nonetheless, by focusing on innovative, specialty dairy products, Turner's has been able to achieve growth eight out of the last 10 years.
"If you add up the flavored milk, buttermilk and eggnog segments, it amounts to more than all the products derived from nuts, fruits and vegetables," he explained. "Specialty dairy is now a third of the total dollars sold out of the dairy case."
Turner's releases limited edition flavored milk five times a year, including eggnog, cookies and cream, chocolate peanut butter and other flavors. They launch these products around peak holidays and find that white and chocolate milk sales actually increase when specialty dairy products are in the case.
"Our whole goal is to draw attention to the dairy case. If you can just get a consumer's attention with a new flavor and they stop, even if they don't pick that flavor up, they'll probably pick up chocolate milk," he said. "Our chocolate milk sales actually increase when we put these specialty flavors out."
Matching production to demand
Jennifer Huson, senior director of council affairs and industry relations with Dairy Farmers of America (DFA), reflected on the lessons learned throughout the pandemic and described how innovation guides the cooperative going forward. Among those steps, Huson shared how DFA has worked with dairy processors to change products and package sizes. They also worked with milk handlers to help create programs that send economic signals to dairy producers regarding the value of milk produced above demand.
Huson said DFA's base program, implemented in May of 2020, tracks dairy demand closely and seeks to match production bases appropriately.
"If you look at the national footprint, each area markets milk a little differently," Huson said. "The base program and economic signal gets farmers involved so they know what's taking place as those supply and demand imbalances occur. Ultimately, the goal is for farmers to know what's going on to help them make proper business decisions that make sense for their operations."
Innovation is also key to growth at the cooperative level, Huson said.
"The future of dairy is changing shape but, ultimately, consumers continue to come back to the dairy case," she explained. "From a growth perspective, our foundation for the future is sustainability with land and animals, innovation in products and looking at community to help address food insecurity."
The human element is critical
Troye Cooper, director of operations and milk marketing and member services at Maryland & Virginia Milk Producers Cooperative Association, echoed the other panelists' thoughts on the importance of community as the pandemic continues to impact society and dairy markets. He reflected on how many hands are needed to safely get dairy products from the farm to the table.
"You really start noticing weaknesses when you only have 50 percent of your workforce showing up," Cooper said. "You can't run. No matter how many investments you might make, you can't do it without the human element."
Cooper also shared his perspective on negative producer price differentials (PPDs), suggesting they also sent a signal.
"What I find really eye-opening is the multiple components that make up the negative PPDs and the different movements of the products," Cooper said. "In my mind, the negative PPD means another class of milk is going up so in the future, you should see that Class I is also going up," he explained.
Growth moving forward
The panelists concluded with a question-and-answer session from dairy financial consultants and lenders attending the conference. They stressed the importance in planning for producers who want to expand milk production and work with dairy cooperatives and independent processors to achieve growth.
"If we're able to plan, we're able to adjust. Our industry can be dynamic – we just need time. It's about planning," Cooper said.
Huson added that innovation is continuing to open doors for opportunity and dairy demand.
"We've seen some challenges over the last 10 years," she said. "There might be downward trends on Class I, but I think we've seen, with some regional brands like Turner's, (that) product innovation is going up. There is a lot of interest and demand for cheese. It might not be a Class I market, but maybe more Class III is going to come into the area."
PHOTO: Zach Myers (left), risk management educator with the Pennsylvania Center for Dairy Excellence (CDE), moderated a panel with representatives from dairy cooperatives and independent processors during a recent CDE Dairy Financial and Risk Management Conference. Panelists included (right to left): Chuck Turner of Turner's Dairy, Jennifer Huson of Dairy Farmers of America, and Troye Cooper of Maryland & Virginia Milk Producers Cooperative Association. Photo courtesy of Center for Dairy Excellence.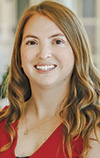 Emily Barge

Communications and Marketing Manager
Center for Dairy Excellence