Precision agriculture innovation continues to provide farmers with improved technologies that are becoming more affordable. Precision dairy management provides a way to gather data that enables farmers to make immediate decisions based on real-time herd statistics.
Technologies such as precision feeding, automatic milking and rumination and activity monitors enable more individualized cow care to increase production and improve sustainability.
Organized by the University of Kentucky and the University of Minnesota, the Conference and Expo on Precision Dairy Farming was held in Lexington, Kentucky, May 30-June 1. To discuss the implementation of precision dairy technology, a producer panel discussion was held on the opening day of the conference. Panel participants were: Dore Baker from Chaney's Dairy Barn, located in Bowling Green, Kentucky; Kyle Abel from Abel Acres HD in Loyal, Wisconsin; and Eddie Gibson from Ed-Mar Dairy in Walton, Kentucky.
Currently, Chaney's 60 Jerseys are housed in a compost bedded pack barn and are milked by a Lely A-4 robot. The farm celebrated its first anniversary of robotic milking on June 14. Learn more about the operation by visiting its website.
The Abels are milking 126 cows with two DeLaval VMS robots and house their cows in sand-bedded freestalls. The robots have been in operation since August 2016. Eddie Gibson also has a Lely for his 55-cow herd. Ed-Mar Dairy was the veteran on the panel, milking with its Lely since November 2014. See the Ed-Mar Dairy website here.
All panelists agreed quality of life, improved cow comfort and precision management are what made the decision to transition to automated milking.
To adequately answer the questions of those present, the panelists took turns answering questions from the crowd.
Q. With automatic milking systems, all kinds of data is collected. Some people claim there is too much. What are your thoughts on the amount of data you get from the robot, and what would you like to see different?
ABEL: I'm kind of a nerd when it comes to numbers and statistics; that is what I enjoy on our farm. I love that DeLaval has given us the opportunity to collect cow statistics. It has provided a huge opportunity for us to individually manage the cows. In our other parlor, we had almost nothing. Other than our herd tests once a month, I had almost no cow statistics specifically labeled. This has been huge for us.
BAKER: I'm not sure about what I would do different, and I don't think there is too much data. In fact, I do not think there is anything as too much data. It is a question about whether we can utilize the data. I think we have a lot to learn; the data that is provided by the robot is more than I could have ever imagined.
GIBSON: There are many values with the robots, but the thing that has the most [value] to me, other than just getting the cows milked, is the rumination monitors. We can keep an eye on what they are doing and head off problems before they occur. Conductivity: I don't put a lot of stock in that – maybe I just don't know how to use it. The heat detection part and activity monitoring help me catch a lot of cows in heat that I would have missed. Still, you must watch your cows. With the production information, the combination of all the information you are given, you have so much more potential for improving your management.
Q. A lot of farmers contribute waiting time in the holding pen to their lameness issues. Does time between milkings vary much between cows, and does this variation in time provide you with an indication of a lameness issue?
ABEL: I would agree with that. It is a little challenging for us at this point. We are at 57 percent first-lactation cattle, so as far as fetch goes, we are still in that transition stage. I am not quite seeing that result yet, but it is an indicator of that.
BAKER: I also agree with that. One thing, as far as the fetch list goes, is heats. If I have a cow in heat, she is probably on the fetch list. Transition animals are often on the list, but lameness can be an indicator, but it is not often an issue. There are a lot of other factors to consider such as timid cows or boss cows causing issues with who is going to be milked.
GIBSON: Yes, for sure, if a cow has a sore foot, the first thing I will look to see is if she is on the fetch list, and if she is not one that is usually on there, I check her out and see what is going on. I do not watch the time between milkings real close, but you are right, the times can indicate lameness.
Q. A two-part question: Are you in a new barn or retrofitted facilities, and what changes did you observe in milk quality and production?
BAKER: We built a new barn with a robot in mind. We were in old facilities and retrofitting was not an option. One of the things that I enjoyed the most about the robot was the improvement in our facilities. Our old facilities were limiting our production. When you go from 50 pounds per cow to 75 pounds per cow, in Jerseys, you can really see just how much that robot and that new facility are as an asset.
ABEL: We built new. We were open to anything, but after touring around and then seeing JTP Farms, which is currently a very successful robot farm, we decided theirs was the model we wanted to replicate. My mom, who has been on the board of directors of the Citizen State Bank of Loyal, Wisconsin, for 14 years, was actually the huge driving factor behind the idea of the robots. With her vision and financial background, we researched extensively, and three years later, built new facilities patterned after JTP Farms, with two robots. When we moved in, we quit using rBST, and we have maintained that same production nine months into the transition. We are extremely happy as far as components go as well; our protein and butterfat is close if not slightly better. And our SCC average was always between 100,000 to 150,000, and my average for the last six months in the robot barn is 44,000.
GIBSON: We built our barn 10 years ago with the idea of a robot in mind, so it went pretty good when we transitioned. As far as milk quality and production, we have not been disappointed in production one bit. We went from the 70s to the mid-90s with the robot. Our butterfat went up a little bit with the robot; however, our SCC is a little higher. I do not believe the brushes that clean the teats off get them dry enough. I am usually in the 200,000 range with the robot, before I was consistently in the low 100,000s.
Q. What kind of changes have you seen on total feed costs on the farm?
BAKER: My job focuses on cow management, and I am not familiar with the numbers of the feed costs.
ABEL: We feed almost all of our own feed, so our feed costs have gone up. I do not feed on an individual basis. I do not do feed tables. All of the cows get 5 pounds of pellets straight across the board.
GIBSON: I switched from crushed ear corn to the pellet. It costs a little more, but it is part of the deal when you are milking with robots.
Q. If you could dream about any sensor that would detect a disease or lameness or a pathogen-causing mastitis – or anything you can imagine – what would your number one dream be?
BAKER: I have two dreams. The first dream would be to have some way to detect the type of mastitis so I could better treat it. The second dream would be to detect ketosis in the milk.
ABEL: The Herd Navigator would be my dream and be able to see where that can go. I know they are working on the dream, but I have not seen any of the results on it. To find a better way that is strictly activity for reproduction would be great.
GIBSON: A really good mastitis detection that identified the type of mastitis would be worth a lot, and my dream come true.
Q. If by some chance you had to go back to milking the traditional way – if for some reason you lost the use of your robots – what would be the one thing you would miss most?
BAKER: I would have to say the employee issues. We do not have the outside factors. It is up to my uncle and me. If we miss something, it is because we missed it and not because of a third party.
ABEL: Right now, the first time for a long time, when my dad and I talk about work, we do not talk about employees. At one time, that was all we talked about. It has been nine months since we have had those discussions, and I do not miss that at all.
GIBSON: What I would miss is the change in the disposition of the cows. The cows just like the robots. When I am out in the barn, cleaning the freestalls, I see how calm and comfortable the cows are. The cows get to come and go as they please and they are not forced to do anything. I would miss the contentedness of the cows.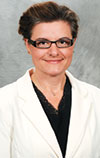 Somula Schwoeppe

Dairy Producer and Freelance Writer
Huntingburg, Indiana
PHOTO 1: Three dairy farmers discussed the benefits and challenges of transitioning to robotic milking during the Precision Dairy Conference held in Lexington, Kentucky, last month. Staff photo.
PHOTO 2: Dore Baker and her uncle Carl Chaney in the compost bedded pack barn with the Jerseys of Chaney's Dairy Barn. Baker was a panelist during the Precision Dairy Conference. Photo provided by Caleb Dotson.