When it comes to operating a successful business, few relationships are more important than the one linking producer and lender, according to Rob Barley, partner at Star Rock Farms and Star Rock Dairy in Conestoga, Pennsylvania.
Barley manages the financial aspects of Star Rock's diverse business entities, including banking relationships, legal and tax issues as well as human resources, overseeing 60 employees.
He shared his perspective on what a producer expects from a lender at the Center for Dairy Excellence 2017 Dairy Financial and Risk Management Conference held in Summerdale, Pennsylvania, in September.
"As ag business owners and lenders, we need to view each other as partners because we are," said Barley. "Their business is to lend us money, and we are not able to do what we do without them lending us that money."
Among the qualities he expects from a lender are a strong work ethic, leadership and trust. "As a producer, you want to surround yourself with people who have what it takes to make them at the top of their game," he said. "A lender has to be trustworthy and honor their word."
Barley wants to work with a lender who knows farming. "I expect a lender to understand agriculture. This is not always necessary in the short term but vital in the long term," he said. "When things get tough, if they don't understand ag, it's going to get tough for me because they won't understand what's going on."
Also helpful is when the lender has the "ability to give referrals to other quality businesses," said Barley. "When they know farming well, I can ask 'Who should I talk to about this?' or 'What do you think?'"
"They need to understand the industry you're in," said Barley. "Also, when there are new opportunities that come out, I need to hear about them from my lender. There's a lot of those opportunities we've taken advantage of. That's important to us because we have all these entities, which makes it challenging sometimes."
This familiarity with farming, said Barley, will help the business relationship during the ups and downs of farming.
"A lender must be willing to allow our business to take a calculated risk," he said. "Farming, as you all know, is a risky business. Be it dealing with the weather or with risky markets, we have issues outside our control."
A two-way street
For his part in the business relationship, Barley said he believes it's his job to provide a lender with realistic expectations – budgets that are reasonable with realistic project costs – in all, "being able to give the best information I can," he said.
"I need to present accurate and timely information and develop trust," explained Barley, "and make sure we have a relationship with our lender with mutual trust we're going to do what we say."
He cautioned lenders on what they need to look for in clients. "If you don't have somebody that's willing to put the time in and work hard, that's a big question mark," said Barley, who highlighted good management as a close second in importance. "There are good managers who understand they don't manage people well, and they get folks in that do that," he said.
Producers would be wise to lay some of their own groundwork of developing relationships in their targeted markets, according to Barley. "As a producer, we're not promised tomorrow, so I think lenders need to find clients who know their options when something does change," he said.
A growing, diverse business
Barley's grandfather, Abram Barley, grew up in agriculture and began farming 23 acres in Manor Township, Lancaster County. Abram's two sons, Abram and John, began farming on their own and took over the dairy, first milking 300 cows, then expanding to 500 cows in 1971.
In the late 1980s, the farm exited the dairy industry and focused on its other ag enterprises, with Rob and his cousin Abe taking over the operation.
"They gave us a great opportunity," said Barley. They started dairying again when his brother Tom joined the partnership in 1993. Today, Star Rock Dairy is a 1,500-cow dairy operation with 1,700 heifer replacements.
In addition, the Barleys have hog, poultry, beef and cropping enterprises. The family farms 11,000 acres of corn, wheat, rye and forage, finishes more than 100,000 each of hogs and chickens per year, and operates a 2,300-head custom feedlot, with the business now including five entities to help separate the farm, dairy and cropping activities.
PHOTO: Rob Barley is a partner in Star Rock Farms and Star Rock Dairy in Conestoga, Pennsylvania. He shared his perspective on what a producer expects from a lender at the 2017 Center for Dairy Excellence Dairy Financial and Risk Management Conference. Photo by Michelle Kunjappu.
Michelle Kunjappu wrote this article on behalf of the Pennsylvania Center for Dairy Excellence.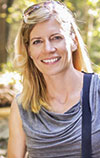 Michelle Kunjappu

Freelance journalist and professional photographer
Based in Pennsylvania
Before commenting on our articles, please note our Terms for Commenting.