Each and every day, Walt Disney theme parks put on a show for millions of guests across the globe. People dream of experiencing the ultimate Disney vacation, and cast members are taught from day one it is their job not to disappoint the guests.
One could argue the Disney experience is a far cry from an average day-on-the-farm experience where most of the time the only guests are the veterinarian, the nutritionist or other farm consultants. Yet now more than ever, dairy farms need to consider what type of show they are putting on.
Consumers are crying for transparency. Animal activist groups are filming undercover videos. Environmental regulators are enforcing new rules, and processors need to verify farm conditions to their customers.
Putting on a good show can reduce these impacts to dairy farms. It can also create a business culture where people want to work. During firsthand interviews with Disney cast members – from the custodial crew to food service to ride operators – Progressive Dairyman heard how each cast member enjoys coming to work each day [for hourly pay equal or lower than what most milkers receive] and how the good experiences outweigh any bad ones.
While the Disney experience itself can be magical, how 73,000 cast members carry it out every day is the result of common management practices that remain at the forefront of the business. The main principles are to hire people who are motivated, train them to fulfill expectations and to create a culture where people are happy to come to work.
"Hire great people and let them do their job," said Lee Cockerell, the former executive vice president of operations for the Walt Disney World Resort, at the PDPW Managers Academy, held Jan. 16-18 in Orlando, Florida.
Cockerell said he looked to hire people based on energy, stamina and happiness. He added that hiring the right people could save managers a lot of time.
Expectations are outlined even before job applications are distributed. They will see 20 to 25 percent of interested people leave after the expectations are explained. "That's perfect," he said. "Get them out before they are hired."
When the employment pool is low, Cockerell said it is even more important to be careful when hiring.
"If you are having trouble finding people, hire people nobody else wants," he suggested. "You can get more loyalty and more commitment from people who don't think they can be anybody."
Better performance comes from clearly defined expectations. "A big problem in business is: People are not clear with each other," he said, noting this includes family businesses, too.
One way to improve a business is to raise expectations in cleanliness, efficiency and expectancy.
"The difference between average and great is incredible. Don't put up with good; push harder," Cockerell said. "It's hard to be great, but it's worth it."
He added that many people don't know what excellence is. At Disney, they don't care about how things were done at cast members' previous places of employment. The focus is always on the expectations they outline at the beginning.
"Guests expect consistency, cleanliness and happiness," Cockerell said. "You've got to be relentless; everything matters."
From how the place looks to how the employees look, everything defines that business.
Disney cast members must care about the smallest of details. "We don't like dead flowers," he said. "It sends the wrong message."
With expectations in place, training is the next step to have a workforce ready for a show.
"Train your people, test them, and then enforce it," Cockerell said.
Patrick, a member of the custodial crew at Disney's Animal Kingdom, said his training lasted three days. Those who work on the attractions can receive five days' to two weeks' worth of training. If he wanted to be part of the third-shift custodial crew, he would need to complete a month of training followed by four days of assessment before he would be considered qualified to do the job. Third-shift is the night crew that is tasked with restoring the park to perfection before it opens the next day.
Disney places a huge emphasis on training, as well as developing its cast members.
"We need more teachers and less bosses," Cockerell said. Most companies perform training, but there's not enough emphasis on development.
"People don't enforce their own training," he said. "When your kids misbehave, do you wait to deal with it on their annual review?"
One way to encourage employees to carry out their training and fulfill expectations is for leaders to be good role models.
Cockerell said his wife once told him, "Everybody is always watching; be careful what you say and do."
In leading by example, employees will be more apt to follow suit. He said, "If the boss cares about everything, they will care about everything."
The environment and the culture you work in can change a person. A professional environment is created in how people talk to each other and how they treat each other.
Cockerell said he wanted a culture where everybody matters and they know they matter. The best way to convey that is to tell them. "Every single day, show appreciation and encouragement," he said.
"You want people to be committed because you care about them and respect them," he added, noting people stay where they feel appreciated.
"Culture is not part of the game; it is the game," Cockerell said.
Create a culture where people are excited to come to work. Let the sun shine at work because it may not shine at home, he said.
After surveying cast members, he said the data shows employees expect employers to make them feel special, to be treated as an individual, to be shown respect for them and their family, and to be trained and knowledgeable.
When there is a culture that drives people to want to be at work, money isn't a huge factor, he said.
Hiring motivated individuals, clearly defining expectations, providing continuous training and creating a culture where people want to work is how Walt Disney World can guarantee a hit show for its guests each day.
"Don't ever believe you're not putting on a show," Cockerell told the dairy audience. Every business must hire actors, provide a script and maintain props. Everything matters if you want it to be a hit show.
PHOTO: Walt Disney theme parks put on a hit show every day for millions of guests. Lee Cockerell breaks down the core business principles that maintain excellent cast member performance. Photo by Ray Merritt.
For more management tips from Lee Cockerell, visit Lee Cockerell to see his collection of books or hear his weekly podcasts.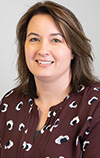 Karen Lee

Editor
Progressive Dairyman