In November 2019, the nation's largest fluid milk processor, Dean Foods, declared bankruptcy. Recently, the bankruptcy court received bids from interested parties to purchase the Dean Foods plants and other assets.
On March 31, 2020, the successful bidders were announced. Dairy Farmers of America (DFA), the nation's largest dairy cooperative, was the successful bidder on 44 of the Dean plants. The sale has since closed, but as part of closing proceedings, the U.S. Department of Justice (DOJ) required DFA to divest three fluid milk plants in the following locations De Pere, Wisconsin; Harvard, Illinois and Franklin, Massachusetts.
Prairie Farms, an Illinois-based cooperative with a long history in fluid milk plant operations, was the successful bidder on 10 plants and depots. Two other entities were successful bidders, one for a plant in Florida and the other in Nevada.
This article looks at ownership of the nation's fluid milk processing plants prior to Dean Foods' sale. Plus, it looks at ownership after the sale.
Data from the 11 Federal Milk Marketing Orders, along with the FDA's Interstate Milk Shippers List, was used to compile a list of the nation's fluid milk processing plants as of January 2020. The compiled list shows 423 fluid milk plants. To better understand ownership, the 423 plants are divided into seven categories as follows:
Multiple non-grocer: Corporations, partnerships and individuals owning one or more fluid plants not directly affiliated with a retail grocer


Single non-grocer: Corporations, partnerships and individuals owning one fluid milk plant not directly affiliated with a retail grocer


Cooperative: Dairy farmer cooperatives owning fluid milk plants


Grocer: Retail grocer owning one or more fluid milk plants


Foreign: One or more fluid milk plants owned by companies based outside of the U.S.


Producer-handler: A person who operates both a dairy farm and milk processing plant with total fluid sales less than 3 million pounds per month


Exempt: A fluid plant that processes and distributes less than 150,000 pounds of fluid milk per month, or a fluid plant operated by governmental agencies with no fluid sales in commercial channels, or a plant operated solely for charitable purposes
The list shows 71 plants in the producer-handler and 97 plants in the exempt categories. Even though these two categories comprise 40% of all fluid milk plants, I estimate they only process and distribute 1.5% or less of all fluid milk. In other words, these are small-volume milk plants.
(Note: Exempt plants can only process and distribute less than 150,000 pounds per month and producer-handlers less than 3 million pounds per month.) Producer-handlers and exempt plants are not subject to federal or state order pricing and pooling provisions. About one-half of all U.S. producer-handlers are in two orders – the Northeast and Southeast. Over one-third of exempt plants are in the Northeast federal order.
Setting aside the producer-handler and exempt plants, that leaves 255 plants, which I will call commercial fluid milk plants. These commercial plants process and distribute about 98.5% or more of the nation's fluid milk. Almost all of these plants are fully or partially regulated under one or more federal or state milk marketing orders, thus making them subject to order pooling and pricing provisions. Table 1, divides the commercial plants into one of the five categories, as described above, and shows the number of different plant owners in each category.
Prior ownership
As expected, Dean Foods owned the most fluid plants at 51. Please note I am only including fluid plants, not manufacturing plants. Dean plants were located in 29 states, including five in Texas. Borden Dairy follows with 12 milk plants, located in nine states, with three in Texas. H.P. Hood is third in this category with 11 fluid plants. All Hood plants are located in the east except for one in California.
Eight cooperatives are involved in fluid milk ownership, led by the Illinois-based cooperative Prairie Farms. According to my count, Prairie Farms owns and manages 14 fluid plants. Plus, they manage 11 milk plants in a joint venture with DFA and one plant in a joint venture with another cooperative. DFA has nine fluid plants; five are in the Northeast and four in the Upper Midwest. Three other cooperatives, Darigold, Maryland-Virginia and Upstate, all have multiple fluid plants.
Several of the nation's largest retail grocers are involved in fluid milk plants. Kroger tops the list with 16 plants located across the country. The next grocer is Albertson's with seven fluid plants, followed by Florida-based Publix with three plants. Other grocers with fluid milk plants include Texas-based H.E.B. and Michigan-based Meijer. Each have two milk plants. Two large regional convenience store operators, Kwik Trip (Midwest) and Wawa (East Coast), have a milk plant each.
Based on ownership, the fluid milk industry is a domestic industry. Foreign-based ownership of fluid milk plants is relatively small – only 13 plants. Canadian-based Saputo has six plants, and its compatriot Agropur has two. Organic milk processor White Wave, owned by Danone, operates three fluid plants. Nestlé and Lala Group each own a fluid milk plant in the U.S.
New ownership
How will fluid milk processing change once former Dean plants transition to new ownership? Dairy cooperatives become the largest "category" owner of fluid milk plants, owning more than 90 out of the 253 commercial fluid plants (Table 2).
DFA, who is the largest marketer of raw milk, also becomes the largest-single owner of fluid milk plants in the country. Once DOJ-mandated divestiture is completed, DFA will own 45 milk plants, plus joint-venture ownership of 11 more bottling plants, for a total of 56 plants. DFA's milk processing presence will be felt in 31 states. Prairie Farms, again if the sale is approved, will own 22 fluid milk plants. The two cooperatives together, including their joint ventures, would have 81 or about one-third of the commercial fluid milk plants.
The fluid milk business going from an industry led by a publicly traded company to one led by dairy farmer cooperatives is a significant change. I put the change right up there with moving from cream-line to homogenized milk and from glass bottles to paper cartons or plastic jugs.
The industry continues to face sales decline of 2% to 3% per year. This has led to low margins, a competitive marketplace and many plants operating below their capacity. The bankruptcy of both Dean and Borden show fluid milk processing and distribution is a challenging business financially. Let's hope past financial challenges will not just transfer to dairy farmer cooperatives and their members.
Instead, let's hope increased cooperative involvement will not only provide needed markets for dairy farmers' milk production but help grow the fluid market. And, most importantly, be profitable milk markets for dairy farmers.
PHOTO: Staff photo.
Calvin Covington is a retired dairy cooperative CEO and now does some farming, consulting, writing, and public speaking.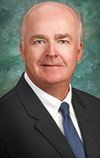 Calvin Covington

Retired Dairy Co-op Executive