Since the beginning of the genomic era, the De-Su prefix has dominated high-ranking Holstein lists, leaving a lasting impact on the breed with bulls like Observer, Bookem and Balisto, just to name a few.
Behind the big numbers is a dairyman driven by the desire to create profitable commercial cows, and he's having fun doing it.
A true cow man to his core, Darin Meyer has forged a path with disciplined genetic parameters to breed cows with production, health and conformation traits to thrive in his own operation, which includes 1,200 cows at the main dairy in New Albin, Iowa. Another 450 cows are milked at a second site, which is also home to De Novo Genetics, near Caledonia, Minnesota.
Meyer took an interest in genetics at a young age, supported by his father, Dean, who let him begin making breeding decisions as a teen for the family's 70-cow herd. However, as he came back to the farm after high school and began expanding the dairy, there was a time Meyer recalls being "fed up" with genetics.
"It was in the days when indexes were built off of deviations; people were making average cows look like great cows," he says.
But when Meyer starting learning about genomics and a real, measurable way to select for "true genetics," he latched on to it. While others were hesitant to dabble, Meyer "doubled down." He made strategic investments in cows that, foremost, fit his own program, yet he had the foresight to recognize the opportunity to market elite genomic animals.
Getting in the game
Getting into the game of creating genomic giants required investments on the front end, but Meyer stuck to a cautiously aggressive approach.
"I wasn't afraid to put it out there and take risks, but for the most part, it has not been foolish risk," he recalls. "Everything I did was calculated. I was adamant I wasn't going to spend all my money in one cow family or one sire line."
Meyer says Sully Shottle May-TW, one of his early-on investments, was a "game-changer cow." Though not genomically tested at the time of her purchase, Meyer knew she had the makings of a great one.
"She had three of the top 10 Planet daughters tested; she had the highest Sandy daughter tested and the highest Bowser daughter tested," he recalls. "I didn't know what the cow was going to test for the numbers herself, but I knew she was going to be top of the breed."
He purchased her for $38,000, and a few weeks later the numbers came back: Shottle May was the No. 1 cow in the breed.
To complement her impressive GTPI, she also responded well to flushing.
"Shottle May did a really good job for me financially and genetically because she was reproductively really good and genetically really good," he says.
Another prominent cow family Meyer developed was that of De-Su BW Marshal Georgia, the grand dam of De-Su Observer, a sire found in many Holstein pedigrees.
According to Ryan Starkenburg, ABS senior geneticist, Observer's paternal half-brother De-Su 521 Bookem has been the most influential De-Su bull to date. "Bookem went on to be the sire of several high-ranking sons throughout the industry, but it was his son De-Su 11236 Balisto that has had the broadest impact, not only in the U.S. but also as the highest-ranking sire in Australia and various countries in Europe," Starkenburg says.
Balisto sons and grandsons now populate the European lists. His best daughter, Bacon-Hill Balisto Molly, sold for $265,000 as a young heifer and is herself the dam of over a dozen bulls in A.I.
What's your kind of cow?
Meyer strives to breed the kind of cow that will thrive in a competitive commercial dairy setting like his own, with a focus on long-term profitability. Since entering a joint venture with ABS Global to form De Novo Genetics two years ago, that has not changed.
"My prior breeding strategy probably isn't any different than now," Meyer says. "Everything is selected toward making more money commercially milking cows."
That said, Meyer is not striving to breed a barn full of stylish-looking cows – rather, he focuses on traits that equate to efficient, healthy and productive animals. "I don't disregard type, but I want the kind of type that contributes something," he says. "I just define my type a little different."
He continues to work toward uniformity among his herd. "I want a group of cows that's more homogenous," he says. "Average-sized cows with an above-average rib cage on them, above-average substance, enough dairyness and big udders that are attached well to give me a ton of milk."
"These aren't cows you are going to throw a halter on and take to your local show, but for anybody who is milking cows for a living, a barn full of them is going to put you in the upper percentage as far as cost of production just because of the kind of cows they are," Meyer says. "That's my goal."
Though phenotype is not his primary focus, Meyer has impacted the Holstein show ring more than he may have ever imagined. In particular, two Bookem sons, De-Su BKM McCutchen 1174 and Val-Bisson Doorman, both currently rank among the top 10 sires for show-winning heifers and cows.
What is your mating strategy?
Constant and concise improvement, from the bottom up, is part of Meyer's strategy for breeding top-genomic cattle.
"If you are going to keep moving forward, you've got to work off the bottom," he says. "I think you do better if you keep working off the bottom-end traits and improve them."
He identifies the two weakest points and tries to improve on them.
"I reckon a cow to a chain – they are only as strong as their weakest link," he says. "Keep making the bottom end stronger."
What young animal are you most excited to develop?
"Of all the animals I've ever owned respective to their career, there's never been a heifer I've been as optimistic about as [De-Su Frazzled 6984]," he says. The daughter he bred from De-Su Delta 4900 was the highest-ranking female in the world, as of August 2018, with +2987 GTPI.
"I have more hope for her potential than any other animal I've ever owned … I don't think there's ever been another heifer before that got to number one and got the numbers with the right package of health traits and type and everything else as she does."
Not only does this heifer have "everything that means everything to the commercial world," but she also responds well to flushing. Meyer already has 60 pregnancies out of the 18-month-old heifer. "She's a dream; she's got the numbers, and she cooperates," he says.
What is your advice for other dairymen?
Meyer believes genetic potential can only be achieved when the basic fundamentals are in place. "The first thing everybody's got to do with their dairy farm is management, management, management," he says. "It's not just genetics. Get all your management in line."
With that in place, Meyer then suggests determining genetic goals and laying a disciplined path for getting there.
"As far as genetics, pick what you want, know what you want, and know what your operation needs. Have an honest conversation with yourself," he says. "At the end of the day, accept what you want and be disciplined about it. Select for that time and time again, and you will get it."
What's next?
Looking ahead, Meyer plans to keep his foot on the gas, driving the genetic influence on the Holstein breed through De-Su and De Novo. In fact, four of the top five Net Merit heifers in the breed during the August 2018 sire summary carried the De-Su or DeNovo prefix, along with several up-and-coming sires.
However, Meyer's ambition is not limited to dairy. He's more than dabbling in a new hobby: 300 head of beef cows. From a select group of Angus donors, he is challenging himself to do what he's done in the dairy industry on the cattle side.
And given Meyer's history of setting goals and achieving, there's a pretty good chance that will happen.
PHOTO 1: Darin Meyer, De-Su Holsteins. Photo courtesy of ABS Global.
PHOTO 2: De-Su Observer (pictured above), along with De-Su 521 Bookem are two highly influential Holstein bulls bred by Darin Meyer. Photo courtesy of Select Sires.
PHOTO 3: De-Su Delta 4900 (pictured above) is the dam of De-Su Frazzled 6984, the highest-ranking female in the world, as of August 2018, with +2987 GTPI. Photo courtesy of ABS Global.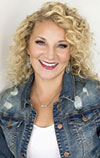 Peggy Coffeen

Editor
Progressive Dairyman