Navigating the issues of farming are complicated enough during a normal year, but this year the COVID-19 pandemic has added an extra layer of complexity.
As we continue to navigate this uncharted territory, it's essential the dairy community work together to continue to drive demand and protect our farms for future generations.
The first step toward that common goal is to understand how the pandemic has impacted the ways consumers perceive and shop for dairy during a time when every aspect of their lives has been disrupted.
Getting this perspective from consumers was the focus of the recent Dairy Experience Forum, hosted by Midwest Dairy. Held virtually, this year's theme, "A Disruptive Forum on Today's Consumer and Dairy's Opportunity," examined how current events have created unique circumstances and are influencing consumer behavior today and beyond. Even though the year has been filled with challenges for dairy, it's also provided tremendous opportunity, which we all – throughout the entire supply chain – need to focus on in the present and the future.
Here are some biggest takeaways from this year's forum, as it relates to the factors influencing consumers' purchasing behaviors and where we have an opportunity for dairy.
There has been significant shift toward consumption of comfort foods
When the pandemic hit, the way people shopped and the products they selected changed. Consumers turned to foods they know and trust, seeking comfort during an unsettling time while also prioritizing value – both in quality and nutrition. Fortunately, dairy has a long legacy of all of the above.
Because of these purchase drivers, it's no surprise that as the country braced for the unknown, our sales grew. In the two weeks following the first reported case of COVID-19 in the U.S., e-commerce dairy sales spiked 113% compared to sales during that same time last year. One month later, e-commerce sales had increased to 209% compared to 2019.
Since March, consumers have turned to the dairy category as they prepare more meals at home, snack more and are baking. To me, these shifts reinforce that dairy has always been a tenant of good, affordable nutrition and enjoyment. Somewhere along the way, people forgot – and the pandemic reminded them. Now we need to focus on retaining this increased market share and consumers' renewed enthusiasm for our category – during the rest of the crisis and beyond.
Acceptance of online shopping has been accelerated
While online grocery shopping isn't new, regular use and acceptance of it have been accelerated due to the pandemic. People who were once worried about ordering fresh products online gave it a try and realized they could still get high-quality dairy products through convenient, safe online ordering, pick-up and delivery options. So much so that 70% of those who tried online shopping during the pandemic said they would continue buying online after.
As an industry, this provides new opportunities but also some challenges. Because trips to the grocery store are less common, how do we get in front of today's shopper through a screen? In the past, many people spent time exploring their grocery aisles to discover new products. With the shift to online shopping, they're not. And for those who are returning to stores, they are quickly grabbing tried-and-true staples and heading out the door to minimize the potential risk of each trip. How do we convince people to reach for that new yogurt drink or more containers of milk? As online shopping continues to grow, it will be more important than ever to find innovative ways to reach consumers with the stories of dairy – wherever they may be buying.
Price, nutrition, taste and convenience are main factors driving purchasing decisions
While innovation, sustainability and animal care are still very important in what we do and in how we tell our stories to consumers, the pandemic has shifted the list of priorities when it comes to purchase decisions. As much as we hear about how important these issues are to consumers, surveys show that when it comes down to it, what's driving purchases is still price, nutritional value, taste and convenience.
At the heart of it, this isn't surprising, as during a time of crisis, people naturally focus on the basic needs first. The great news for dairy? It is – and always has been – a tasty, nutritious product consumers can trust. Because of this, we'll continue to win the hearts and wallets of consumers time and time again.
Telling our story has never been more important than it is right now
Illusionist Harris III, the motivational speaker at this year's Dairy Experience Forum said, "We tell ourselves stories to help make things make sense, which in turn impacts how we view the world."
This statement stuck with me, especially as I reflect on the comments shared during the consumer panel discussion which kicked off the forum. It's clear there's still confusion out there about dairy, and it's important to understand why that is and how we can better participate in conversations to minimize it. Because we are so close to it, it's sometimes hard to understand the viewpoint of someone who knows very little about farming or where their food comes from. It's important that we listen and find some common ground to start conversations and build relationships with consumers.
These are not irrational people. These are people, just like you and me, trying to make the best decisions for their family given the information they have – which can be overwhelming. Consumers need easy-to-digest information and excellent dairy experiences. If they don't have this, as Harris III said, they will make up their own stories, which leaves us wide open for misrepresentation. Sharing the stories of on-farm practices and the benefits of dairy in a healthy diet will help answer questions and eliminate confusion. If we focus on doing this, we can continue to build trust and credibility, and drive demand like never before.
I know you have plenty to do on your side of the farmgate, but to be successful as a dairy community, we need to prioritize sharing our stories – just like we prioritize taking care of our cows. As times change – and they will – the importance of value, taste and nutrition will never go away. We need to make sure consumers continue to associate all those things with dairy.
Another thing about being farmers is: We know there will always be another challenge to face – that's life. If we spend all our energy just solving the issue in front of us, and not looking with an eye toward the future, we're being short-sighted. We should listen for what consumers want and need now while also innovating for what they'll need tomorrow. The opportunity is ours for the taking, and that's really exciting. Let's continue to learn and find new ways to meet consumer needs, tell our stories and continue making a product consumers turn to for comfort, enjoyment and nutrition – for many years to come.
PHOTO: Getty Images.
Alex Petersen, Trenton, Missouri dairy farmer and Midwest Dairy Mo-Kan division board member, has attended Midwest Dairy's Dairy Experience Forum each of the past three years.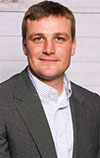 Alex Petersen

Petersen Dairy Inc.
Trenton, Missouri