From The ONE Thing podcast "Customer Loyalty | How Lady Gaga Turns Fans Into Fanatics with Jackie Huba" that originally aired on Aug. 27, 2018.
Whether you know Lady Gaga's music, like it or hate it, or even know who she is – what does a dairy farmer have to learn from a pop star?
Like everyone in business – Lady Gaga's business happens to be entertainment – we are selling a product, and we need customers who want to buy what we have to sell. Basic customer satisfaction is not enough anymore because customers can switch at any time and have many choices.
Lady Gaga has turned her fans into evangelists and built a brand with redefined customer loyalty by doing things that no one else was doing. It's more than music than attracts her fans to Gaga.
"You don't have to be Lady Gaga-stardom level to have crazy fans that love what you do," Jackie Huba, author of How Lady Gaga Turns Followers into Fanatics, said during an interview for The ONE Thing's podcast (August 2018). "I see too many companies who just think that 'my loyal customers will just be there for me,' but they don't really do much to connect with them to show them that we are into making you successful as a customer."
Define loyalty
When someone buys from you over and over again, it can be a sign of loyalty, but it can also be a sign of being stuck. Airlines have "loyalty programs," but the programs also lock you in. You're held hostage by the status that being a "loyal" customer gets you.
Huba outlines three top levels of customer behaviors:
Level 1: Do they refer you? Do they put their reputation on the line to tell someone else about what you're doing?
Level 2: Evangelism. It's more than a referral. It's when your customers absolutely love what you are doing and feel compelled to tell everyone they know about you.
Level 3: Ownership. This is the holy grail to loyalty. It's when customers will go to heroic feats to help a business succeed.
How do we move our customers up this ladder?
Let's take a look at this example of Domino's "Points for Pies," a promotion with an interesting twist. Collect 60 points for photos of any pizza – frozen, homemade, fancy, and even from competitors like Pizza Hut – and trade the points in for a free medium two-topping pizza from Domino's (for a limited time).
Do you think this promotion will help move Domino's customers up the loyalty ladder? Who are your customers? Where are they on this ladder? Are you waiting to take your first step?
What is the first strategy Lady Gaga took on her journey on her customer loyalty value ladder?
Lady Gaga focused on the 1 percent of her audience that absolutely loved what she was doing. After doing further research, Huba found that it was only about 1 percent of total customers who are the most engaged, evangelistic and influential, even though they are a small group.
"When we look at [the 1 percent], we might think their behavior is irrational," Huba said, "but these are your best customers."
In what ways are you a 1 percenter? What logo do you believe in so strongly you would tattoo it on your body? Would you take wedding photos with your favorite tractor? Would you will Green Bay Packer tickets to the next generation?
On the other side, how can you engage a following of 1 percenters? How do we or could we even better, as a dairy industry, engage with our 1 percent customers?
While social media is a loose gauge, there is still something to be learned by observing the number of people following a brand. Let's look at some numbers for comparison's sake of social media following for five brands: Lady Gaga, Undeniably Dairy, Milk Life, John Deere and fairlife:
Lady Gaga
78,500,000 followers on Twitter
35,400,000 followers on Instagram
59,600,000 followers on Facebook
Undeniably Dairy as DairyGood online
7,373 followers on Twitter
5,984 followers on Instagram
89,000 followers on Facebook
Milk Life
21,300 followers on Twitter
938,000 followers on Instagram
538,000 followers on Facebook
John Deere
170,000 followers on Twitter
620,000 followers on Instagram
4,000,000 followers on Facebook
fairlife
5,200 followers on Twitter
13,500 followers on Instagram (also has brands CorePower and Yup)
127,000 followers on Facebook
Lead with values
When people buy, they have a logical way of evaluating a product: price, functionality and experience. But they also have a strong emotional side to why they buy.
Lady Gaga led with her values – Born This Way – connecting with her customers on an emotional level. She knew that when she had the chance to use her platform, she used it to advocate and support. She started an anti-bullying foundation, and one specific action she took was to have a "Born Brave Bus" where kids under 25 could apply to come on the bus before her shows and receive counseling to demystify counseling so they could know and get help.
She didn't just put her values up on her website or have them posted on a wall. She lives them out and connects with her customers on a deeply emotional level.
That said, let me leave you with this thought to ponder: What can we learn from Lady Gaga about how we can connect with our customers and move them up the ladder to Level 3: Ownership?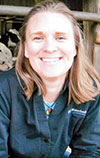 Amy Throndsen

Chief Operating Officer
Advanced Comfort Technology Inc.