I began working with Jim, Karen and their three sons (Abe, Brett and Chad) last spring. The five had been partners* (joint owners) for the last six years. They knew they needed a buy-sell agreement, but they hadn't been able to agree on some of the key provisions – chiefly, how ownership would transfer to widows should something happen to one of the sons.
Meetings among themselves, which included the two married sons' spouses, had been held to iron out these differences. The results were angry words and hurt feelings. When I met with everyone individually, it was apparent they were in ongoing pain.
Every one of the eight harbored bitterness about at least one other person's behaviors. They were frustrated, discouraged and didn't enjoy being in a family business together.
As you may have guessed, the buy-sell wasn't the real problem for this family. The real root of the problem was: Ownership had been granted to each of the three sons without any deliberate discussion around their shared vision for the future of their family and business.
It began innocently enough; the farm's tax professional suggested a new entity because it offered significant tax advantages. The logic was this: You've got these three sons involved in the operation. This is a great time to make them owners – they will be able to participate in equity growth without taking on a bunch of debt.
In the short term, it was an efficient way to add owners. But in the long term, joint ownership without discussion and agreement around the vision hasn't been efficient at all. It has come at a great cost in adviser fees (mine included) and, most significantly, in relationships among the family. Holidays are not fun.
It turns out that among the couples, this family has some very different ideas about the future. Two couples didn't want to grow cow numbers. They had watched other operations get very large and be unable to involve children in the daily work. In these nuclear families, working side by side with their children (like they did as kids) was a key part of their vision for the family business.
Abe, the oldest brother, envisioned tripling cow numbers over the next 10 years. He was not married (yet) and wasn't very concerned about the next generation's involvement – the oldest was only 7 and crossing that bridge seemed very far away to him.
Mom and Dad were very willing to support their children. They knew something of these differences when the new entity was formed but thought everyone's desire to farm together was enough to overcome what they considered minor distractions. In fact, these "distractions" were meaningful differences in viewpoint among adult partners.
Why shared vision matters
So how does your family business avoid this kind of erosion in relationships? By developing your shared vision for the future of the business before choosing your structure for succession.
When tackling the transition of family business leadership and ownership, it is really tempting to start by solving technical and tangible issues.
What entity type should we use?
What should our new operating agreement contain?
How do we minimize taxes?
The questions can get you clear, actionable answers from your attorney or your tax professional. And, as in the story above, the answers are often good advice – they develop the structure necessary to transition ownership and manage tax liability.
Problems arise when the structure selected does not meet the family's chosen direction or vision. And if you didn't choose your vision first, how do you know if you're putting a structure in place that will achieve that vision?
To set the foundation for successful transition, a family should first explore and articulate a shared vision. A shared vision identifies your underlying reason for being – which is entirely idealistic. And this idealism, this intangibility, is exactly what makes it hard to tackle.
A shared vision is particularly hard to determine for long-standing organizations that grew "organically," especially family businesses.
Part of why you're here is because you've always been here. But that history isn't enough to align you and create a strong foundation for future decisions. As the example above outlined, you must have discussion, understanding and agreement on where you're headed, together, for the future.
How do you determine a shared vision?
First, you must carve out some time for the family in business together to talk about what everyone wants for the future of the family and the business. I suggest everyone tackle the questions (listed on page 32) on their own, writing down their thoughts. Then, plan for at least half-day, away from the business in a neutral setting (not someone's kitchen table, if you can help it) and discuss everyone's answers.
Assign someone to take notes. Having someone to facilitate is helpful; it's hard to contribute to content when you're worried about the process.
People in ag businesses tend to be practical and strive for results. This process might be a little uncomfortable; it's more of an exploratory, brainstorming time that won't be productive unless the space is created for your family to share (in a safe space) and learn from each other.
A skilled facilitator can help ensure everyone's perspectives are heard and you don't end up solving day-to-day issues rather than focusing on the big picture.
Your goal is a draft. Don't try to wordsmith this during the meeting. Keep to an initial bullet-pointed list that one or two folks who were in the meeting can pare down later. Here are a couple examples of a shared family vision:
Our family seeks to achieve growth and prosperity through all our business activities, extending well beyond the present generation. We are deeply committed to nurturing and perpetuating the entrepreneurial expertise of our founders.

We seek to provide qualified family members with the opportunity to participate in the family business so they may learn, grow and pass on our family business legacy.


Our family will help each other learn and grow in ways that promote happiness in ourselves and those around us and to be responsible stewards of our family business so the business can continue to serve customers, employees, our communities and our family. We aspire to leave the world a better place for future generations.
Putting structure in place first before writing down a shared vision is tempting. Structure can be the "easy" button – it feels like you're accomplishing something when you're concerned about succession. But don't shy away from the harder – and more deeply rewarding work – of getting your family together to develop a shared vision.
Don't fear the outcome. Perhaps you'll discover that not everyone is united around a single shared vision. Part of providing strong leadership for your family is exploring this possibility, and dealing with it, before you grant ownership.
Note: I've used the term "partner" in this article to mean joint owner. It is not a reference to a particular kind of owner within a partnership entity.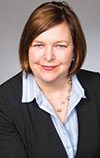 Barb Dartt

Consultant
The Family Business Consulting Group
Hear me out please
Use these questions to help you create a shared vision. They might seem a little "out there." They are! My experience, though, has found families who can unite around a shared vision are the ones with healthy family relationships. They usually can continue their family businesses for generations if they choose to.
Are we committed to continuing our family business together? Why?


What do we want to create together?


What guiding values do we turn to when we make difficult decisions?


What is your vision for the future of the family business?


What are your expectations for financial performance – of the business and for your personal financial position?


What are your expectations for family involvement within the business?


What are your expectations for future family relationships?


As you think about your grandchildren or great grandchildren, what do you hope for their futures as they relate to the family business?