Work on a dairy farm can be hectic. A lot of your success and efficiency is tied to clarity on who does what and when. Consider creating more energy when you understand what I call the family roles guide.
This guide is also a valuable component of the farm transition process. Here's a list of questions that can be the hub of decision-making for your transition journey. If one of the spokes is not strong, your wheels of success might be stuck, so let's see what you need to get clarity on.
Farm team members: What is your vision for a great day on the farm? What are your key roles and responsibilities? What is it you are doing when you lose all track of time (it's called being in flow)? What do you hate doing?


Non-farm family: What kinds of connection and activity do you want on the farm? Some of my current clients are identifying as "lifestyle" farmers. They want to vacate their city jobs during seeding and harvest and be a true asset of help in those seasons. They also want their children to learn the work ethic and have a future opportunity to do work on the farm.


Who gets to be an owner of the farm assets and when? This is a great discussion starter, as typically founders like to own land as long as possible, and their idea of ownership sharing maybe in the form of shares, not equipment or land per se. Is your family open to the idea of having your professional sibling (e.g., a doctor, dentist, engineer) be a silent partner in the farm or land corporation?


How much of the assets are going to be gifted to the next generation, and how much will be serviced with debt? How do the new owners pay for their interest? This is a very long and tough discussion, with land purchases being out of reach for many new farm generations coming back to farm.


What happens if someone comes back and doesn't fit or doesn't like the reality of farming? I have a son-in-law who is going to "try out" working with his wife's siblings, but he also wants it to be a probation period with no hard feelings if he decides it is not workable. This is the "How do they exit?" question. When you are putting people together in a company like a farm, it is also a good idea to talk about leaving. Unanimous shareholder agreements and partnership agreements can address these issues.


Does family bloodline guarantee you a farm job? No. People who farm these days should have the right skills for the right jobs. Your DNA is not your door opener. What are the criteria to work in the business? Dick Wittman's management binder has a great list of job descriptions to help decipher what skills are needed for many roles on your farm.


What are the farm roles that can be assigned? Here are some categories for roles that can be clarified: general management responsibilities; negotiating and administration relationships; secretarial, legal support functions; capital purchases analysis and procurement; crop production management; grain storage and marketing; service-manager/machinery maintenance; book-keeping and financial management; risk management/insurance programs; livestock operations; conservations practices, drainage systems management, etc.


What does "slow down" mean? Farms today are more complex, and I suspect the founders are wanting to slow down. Who gets the final say on who does what? Collaborative decision-making between the founders and the successors is the goal.


How much do you get paid? Do you get the same as your brother even though you showed up five years before he did? Compensation strategies should be tied to the value of the position and skill set. I know one farm that uses the pay scale similar to teaching pay grades, and it has worked well as a model for them. Do the spouses also get compensated or are they expected to be a support to the farm on an as-needed basis? This is a huge bone of contention when the spouses are very skilled and would be drawing a wage if they were not tied into the family business but working off-farm.
Family expectations around compensation also get messy when one worker is single and the other is married with kids. Get all the financial expectations out on the table. Look at merit-based compensation and have a pay scale. Write agreements. Do performance appraisals on family members.
Have a hiring process for family members. Is there a probation period? Less than 8% of farms have a human resources policy.


What's the learning plan to train new workers and have continued personal development? The whole learning plan for successors to be mentored is a huge gap for many next-generation farmers. They say, "Elaine, I feel like a glorified laborer on this farm. Dad keeps telling me he'll show me the books, but it never happens. He says we have too much work to do and no time to talk." Yup. The months whiz by and before you know it, you're another year closer to 40 but not much wiser on the management skills needed to run a multimillion-dollar farm.
Your guidebook should also have a section on confidentiality and codes of conduct.
As a conflict resolution specialist and farm family coach, I highly recommend doing an online conflict dynamic profile. This tool can help you see your positive behaviors and tweak your hot buttons. Not everyone is going to always agree on your journey of figuring out who gets to do what on your farm. It's great to have tools to attack the issue, not the person in front of you.
PHOTO: Mike Dixon.
Elaine Froese, CAFA, CSP, CHICoach is a trailblazer for agriculture. Visit Elaine Froese or email her to get resources to help you on your farm's transition journey.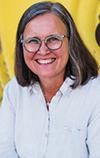 Elaine Froese

Certified Farm Family Coach
Questions to clarify farm family roles
• Vision: How do we want family to participate on this farm?
• Who gets to be an owner? How do they buy in? Do we need marriage contracts?
• What if someone wants to exit or come back to farm later?
• What guidelines do we have for off-farm experience?
• Who gets to work on this farm?
• How are the main roles or job descriptions determined?
• What are the farm perks? How is compensation figured out?
• What is the process for hiring family members?
• How do we create a mentoring/learning plan for each generation?
• Who does performance appraisals on family members? When?
• How do we keep family accountable to doing a great job?
• What are the guidelines for confidentiality and dealing with suppliers who are family members?
• What is our plan to foster integrity, honesty and transparency?