Livestock manure is a highly variable fertilizer. Its composition can vary depending on the age of the animal, feedstuffs consumed and the way it is agitated and removed from storage, just to name a few reasons.
The latest application of John Deere's HarvestLab 3000 is looking to eliminate the guesswork from nutrient management.
With Manure Constituent Sensing now available with this equipment, manure applicators can more accurately analyze, adjust and document manure volume and nutrients applied per acre.
"This is real-time nutrient analysis as applied," says Chris Arnold, product marketing manager, field and crop sensing, John Deere ISG.
The sensor takes more than 4,000 readings per second using near-infrared-reflectance (NIR) technology. The HarvestLab 3000 is already in use for forage analysis and can be fitted on a self-propelled forage harvester to document nutrients and dry matter content of harvested forage. Its second use is a table top setting to monitor the components of a TMR or forage samples from storage.
This latest application mounts it on a manure tanker or dragline to measure total nitrogen, ammonia nitrogen, potassium, phosphorous and dry matter content of the liquid manure as it flows by the lens.
"It is the same concept [as the forage applications] to measure the product in the field, so can we manage it based on nutrient level," Arnold says.
Mounted after the flow meter on the manure equipment, it can be used to set application rates based on a target value or limit rate based on any of the measured values.
Oftentimes, regulations and nutrient management plans stipulate manure applications by gallons per acre. Based on the nutrient content of the manure, that could end up being too much or not enough. "In knowing the nutrient content of the manure, we can manage nutrient levels to meet crop demand," he says.
"This is a revolutionary development for manure application. We can now validate nutrients and more accurately quantify what we have applied," says Jeremy Puck, general manager for Puck Enterprises.
Puck, who builds equipment to serve the industry and runs four custom manure application crews in Iowa, has been testing the technology for a few years and finds it to be a better solution than using several random samples sent to a lab to estimate the entire application.
"This is real-time, what is going on. Now we only have to wait on test results for validation," he says.
Users can expect to see some variation between the sensor analysis and laboratory analysis.
People looking to utilize this technology need to have "a realistic expectation of what it can do and track," Arnold says. "It will never match wet chemistry exactly, but it can help you make a decision on the fly and within range."
Even laboratory reports can vary when the same sample is spilt among multiple labs.
While it may not match sample to sample, this technology aims to reduce the overall variability of the application because it is constantly sampling the manure.
Jesse Dvorachek, owner of Dvorachek Farm & Industry LLC, a trucking and manure application business in east-central Wisconsin, has been testing this system for a few years.
He uses the sensor on a toolbar applicator. By also incorporating Tractor Implement Automation on his John Deere tractor, the tractor automatically increases or decreases speed to maintain the desired target application rates of either nitrogen or gallons per acre.
As long as the flow is consistent, Dvorachek says, the application falls within 10% of the target.
"Speed automation is a big advantage," he says. "When we side-dress manure in corn, we can put down actual units of nitrogen versus just guessing. Before, if we did not put enough out, we'd have to go again. With this, we can save our customer an extra pass."
Arnold explains the technology works best with manure between 2% and 10% dry matter. At less than 2% dry matter, the measurements are not as accurate.
As with any sensor technology, it is predicted that the more samples analyzed, the more the algorithms and software can be improved for better performance.
"With more run time, the more accurate and better it will become," Puck says.
"Once fully tested, we will be able to apply a variable-rate prescription, just like commercial fertilizer applications. This will change the way the game is played," he adds.
Dvorachek says he is looking forward to section control as an added feature for the same reason.
"When crop consultants write prescriptions on a map, we will be able to apply differently to different areas of the field where the nutrients belong," he says.
For now, the current application data is able to be sent wirelessly to the John Deere Operations Center for mapping and documentation, or shared with trusted advisers.
"There is value in the data and documentation of best management practices," Arnold says.
A custom manure applicator can provide these reports to their customers as an added benefit of knowing the right rate was applied. Someone selling the manure now has an analysis and can charge by the nutrient value of the manure applied.
"We know what we're doing," Puck says. "This [data] validates it."
He is looking forward to layering this data with crop yield and farm data to begin to understand what is really happening in the field.
"For me, the payback is instant. I can provide better service," Puck says.
"It is what the industry needs, real-time data to keep up with current farming practices," he adds.
The investment is around $27,000 for activation and lab. That doesn't include the flow meter or tractor guidance system.
It can be attached on any liquid applicator, as long as there is enough room for it following the flow meter.
Arnold expects liquid manure application units that don't have the space will be redesigned to accommodate this addition in the future.
"We will see adaptation in the industry. Flow meters were the same way when they were first released," he says.
Customers with existing HarvestLab 3000 units will need to order the parts to install the sensors on their manure application equipment, as well activate the manure sensing software.
For more information on this new technology, contact your local John Deere dealer or visit the John Deere website.
PHOTO 1: The John Deere HarvestLab 3000 with Manure Constituent Sensing uses NIR technology to analyze liquid manure for total nitrogen, ammonia nitrogen, potassium, phosphorous and dry matter content of the manure as it is applied to the field.
PHOTO 2: An in-cab display provides real-time data so applicators know exactly how much material is applied per acre. Photos courtesy of John Deere.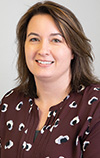 Karen Lee

Editor
Progressive Dairy