Incremental growth and manure separation were the topics discussed during a panel of Pennsylvania dairy producers who shared their stories at the Professional Dairy Managers of Pennsylvania (PDMP) annual meeting.
The three dairy producers participating in the panel discussion included Joe Hess of Hess Dairy Farm, Marietta, Pennsylvania; Mark Mosemann of Misty Mountain Dairy, Warfordsburg, Pennsylvania; and Andy Bollinger of Meadow Spring Farms, Lititz, Pennsylvania.
While the three farms all took different paths to get to their current size and scale today, all three have grown gradually, utilizing the insight they gained from working with a team of advisers along their journey.
Joe Hess formed a partnership with his father in 1973, starting with a 178-acre farm located in the river-bottom land in Lancaster County. The dairy started to grow when they converted an old tobacco barn into a dairy facility and, by 1996, they were milking 150 cows and farming 400 acres.
In 2008, Joe bought out his father and offered interest in the operation to a long-time employee, Tom Stoltzfus. From 2010 to 2017, the operation grew to its present size of 400 milking cows, with Joe's son Aaron returning to the dairy in 2012 to oversee crops, nutrient management and equipment maintenance.
Mark Mosemann farms with his father, brother and wife in Fulton County. In 2000, they saw most of their growth occur after Mark returned home from college. At that point, they were milking 120 cows and farming 130 acres. The transition to their present size of 450 cows and 750 acres occurred in three stages, with an initial expansion in 2001, dry cow and feed storage facilities added through 2005 to 2008 and an additional expansion which included feeding storage and a manure separator in 2016.
Andy Bollinger, with his wife, father and mother, owns and operates a 400-cow dairy farm in Lancaster County. The farm has grown gradually and internally to its present size, with construction on its first freestall barn completed in 1996 and its second freestall barn built in 2002. In 2008, the farm built a new heifer barn and manure separator to reduce shaving costs. Conservation and manure management were a critical part of Meadow Spring's growth plans along the way.
Digester or no digester?
All three of the dairy producers on the panel had considered a digester but decided against the investment for several reasons. "For us, it's something the next generation needs to consider," Hess said. "We toured farms in Wisconsin and realized you need to be a large enough size to go that route. I thought it made more sense to transition leadership and for me to back away before we go another direction."
For Bollinger, his transformation team looked at a digester and found the land base and herd size wasn't enough to support the investment. "Our transformation team evaluated the option and couldn't get the numbers to work," Bollinger said. "The digester project was put on hold because our family believed better technology might be coming in the future."
Identifying the person to oversee the digester was also an area of concern for each farm. "Tom was interested in it, but it wasn't his field," Hess said.
"One of the reasons we didn't move forward was because we didn't have that key person to manage it," Bollinger said.
Jeff Ainslie, a consultant from Red Barn Consulting Inc., served on the panel and discussed how there wasn't as much support for digesters that existed five or 10 years ago. "You used to be able to get 85 percent of the digester funded through grants, but that has come down considerably. Also, you must evaluate whether you want to fit the farm to the technology or fit the technology to the farm," he said. "There are opportunities there, but the volatility in the pay price is real and can hit you hard."
Manure separation worked well
The Mosemanns and Bollingers found a manure separation system made more sense for their dairy operations. "Up until 2001, we were daily hauling our manure with no skid loader," Mosemann said. "When we built the new dairy complex, it gave us the opportunity to move to a lagoon but still had to do weekly hauling with some of our facilities. We had sand-bedded freestalls, and the cost of sand skyrocketed. That's when we started utilizing manure solids from a neighboring farm."
Bollinger had a similar experience. "In 2008, we spent $40,000 on shavings for our freestalls, and the cost of the separator, building and pumps was $200,000. We also got a grant from EQIP to partially fund it," he said. "It just made sense for us. We are able to sell our excess separated solids as compost, which helps reduce operating costs, and we are very happy with the system we have today."
While the Hesses don't have a manure separator, they do utilize manure solids from a neighboring dairy producer and have found it has been beneficial to reduce bedding costs and improve cow comfort.
All three farms have prioritized manure management and conservation in their incremental growth plans. At Meadow Spring, they received a Pennvest grant to address any manure runoff concerns. "It allowed us to cover all of our cow walkway areas, install new storm water piping, add retention basins and construct a high-flow/low-flow leachate collection system in front of our forage bunkers," Bollinger said. "Our goal was to make our runoff water as clean as possible."
Along with preventing manure runoff from the facilities, the farms utilize practices to conserve topsoil. Hess rents a farm with creek land near a fly-fishing trout stream. "We have that farm, as well as all of our croplands, well buffered with grass and hay land as well as tree lines."
A team approach guided their path
Incremental growth takes patience, all three of the panelists agreed. "Have a master plan with a final goal in mind," Mosemann said. "But be willing to work in increments that are right for your family and economically feasible for your business. We didn't build a 500-cow facility, but we really almost ended up with one in the end."
Mosemann, Bollinger and Hess have all utilized a team grant offered through the Center for Dairy Excellence to take a team approach to their growth strategy. "Using a team teaches you how to drop the blinders and get rid of your tunnel vision. It brings outside people in to expand your vision," Mosemann said.
For Hess, having an outside-the-industry perspective to his team has been incredibly valuable. "I have a neighbor who used to be in management of a highly profitable company and invited him to sit in on our team meetings.
It turns out that was a very good move because he challenged us from a non-dairy perspective and asked some tough questions. Getting the right consultants involved in your planning process is critical. You want to have the right people on your team," he said.
Bollinger found value in bouncing ideas off of his team members. "The team really helped us think through the decisions we made. For example, we looked hard at the digester opportunity and, in the end, realized the timing wasn't right for us."
With much of Pennsylvania located within the Chesapeake Bay watershed, environmental regulations and difficult profit margins continue to make large-scale expansions more challenging. Although it has taken patience and perseverance, these three farms have found success in growing gradually and incrementally with the help of their transformation team.
"Things aren't always perfect all of the time," Mosemann said. "But if you stay focused on your long-term goals, it can lead to a good progression of growth."
PDMP is a producer-led organization focused on advancing profitability and productivity of Pennsylvania dairy farms.
PHOTO: Pennsylvania dairy producer Joe Hess (left) does not have his own manure separator but purchases separated solids from a neighboring farm and has found it to be beneficial in lowering bedding costs and improving cow comfort. He was recently one of three dairy producers to participate in a panel discussion on incremental growth. Photo by Melissa Anderson, Center for Dairy Excellence.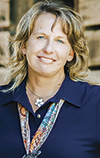 Jayne Sebright

Executive Director
Pennsylvania's Center for Dairy Excellence