Nearly a decade ago, Prairie's Edge Dairy Farm LLC in Fair Oaks, Indiana, began looking at manure as more than a byproduct of milk production. The owners decided to install an anaerobic digester to harvest the biogas and begin monetizing the value of the farm's manure.
Click here or on the image above to view it at full size in a vew window.
Not only did the digester produce biogas used to fuel the farm's tanker trucks, as well as generate electricity, it started the farm on a path to explore manure's full potential as a farm commodity.
"We were able to at least monetize manure value through biogas production in the early phases of what we have done, then after that, we have continued to look at ways to monetize manure and nutrient harvest," says Carl Ramsey, environmental manager, Prairie's Edge Dairy Farm LLC.
While the biogas was adding revenue for the farm, hauling the manure was chipping away at the operation's bottom line.
"It costs quite a bit of money to haul manure. It's one of the largest expenses a dairy farm has," Ramsey says.
While the nutrients in manure are worth hauling, they are diluted by a large amount of water that doesn't have enough value to justify transportation.
"If we can harvest and segregate those nutrients, the value inherent in the manure of the nutrients allows for hauling those nutrients," he says.
To accomplish this, the farm installed a nutrient recovery system by Trident Equipment, which allows it to recover most of the phosphorus and organic nitrogen, creating a nutrient-dense cake and low-solids (less than 1 percent solids) effluent water to be irrigated.
The nutrient-dense cake is a stackable material that can be piled on a concrete pad and hauled by truck. Because there are more nutrients in every truckload, the cost for a longer trip is justifiable.
The farm is also saving money by keeping most of the solids out of its lagoon storage. In the past, high-solids-content manure in the lagoon required higher-cost application techniques such as agitation and pumping.
"We no longer have to do near as much of that because the solids are now in a separated-solids form and don't go into the lagoon to begin with," Ramsey says.
In addition, the cleaner lagoon water no longer plugs irrigation nozzles or allows for solid settling in the irrigation pipeline.
"Because the nutrient content of the water has been decreased substantially, we can apply more gallons per acre than we were able to in the past," he adds.
With the nutrients separated, the farm is furthering its manure processing by partnering with Midwestern BioAg on the construction of a fertilizer plant. The plant will take the farm's high-phosphorus cake, blend it with conventional fertilizer products, size it and dry it to be a homogenous blend of both fertilizer products that can be shipped throughout the Midwest.
The farm will see a return based on nutrient content within every pound of cake sent to the plant, again maximizing the value of the nutrients produced at the dairy.
While the farm has found ways to capitalize on the manure's biogas and phosphorus cake, it recognizes a few nutrients remain that are not being fully utilized.
"There are still a few nutrients left in what we call our final effluent, which is the water that goes to our lagoon. We're going to continue to research and develop further technologies to harvest the remaining nutrients as best we can out of our effluent so that we can maximize the nutrient dollar return to our enterprise," Ramsey says.
That next step may take a few years to develop, but Ramsey says he is confident they will get there. Ever since the decision was made to add a digester, the farm has been steadfast on its path of environmental and economical sustainable actions.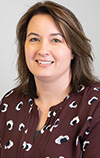 Karen Lee

Editor
Progressive Dairyman
Before commenting on our articles, please note our Terms for Commenting.