A handful of dairies are adopting an eco-friendly solution to treat wastewater that uses nature's most simple workers: earthworms and micro-organisms.
This technology, created by the company BioFiltro, is called the BioFilter Dynamic Aerobic (BIDA) system. The system acts as an aerobic biofilter that uses the buildup of the worms' castings to create microflora and micro-organisms. These byproducts, in combination with wood shavings, rock and passive aeration, are used to process the water as a very natural and effective filter.
The filter is methodically layered in a gravity-driven system, which has been found to remove and reduce nitrogen anywhere from 80 to 90 percent – all while using 95 percent less electricity than similar systems.
The system primarily attracts producers because it lowers the concentrations of nitrate and nitrogen enough to allow herd size to increase, or stay the same, while using less acreage to spread manure.
Progressive Dairyman first covered the BIDA system a few years ago during its pilot stage in the U.S. Since then, this wastewater treatment system has been put into operation by commercial dairies. Read on to see the experiences of two farms that have made it a part of their management.
Fanelli Dairy
Fanelli Dairy in Hilmar, California, has been using the BIDA system for five years with its herd of 750 Jerseys. "This is just another tool that we have to get rid of some of our nitrogen," owner Victor Fanelli says. "It was an experiment, actually, and it was a cost match."
The farm was fortunate in receiving a grant from the California environmental initiative, Sustainable Conservation, to establish the system at the very beginning. The grant paid for the system itself, and Fanelli paid for the cement flooring. Since then, the system has been successful in removing as much as 90 percent of the nitrogen from the farm's lagoon.
The system has fit perfectly into the farm's manure management program. "It's pretty simple," Fanelli says. "(We) just keep the filters clean." He says he has one man on his farm overseeing the system. If there are any issues the two of them can't solve, the company representative is ready to help.
Fanelli notes how, prior to the system, he had to be more intensive in his cropping regimen to keep up with the nitrogen levels in his fields after spreading. "Before, I had to three-crop with corn, wheat and sudan (grass). I needed enough to get rid of my nitrogen and salt I put in the ground," he said, noting he now plants less sudangrass than before. "This (system) kind of helps me put less stress on my fields."
Perhaps the biggest benefit is the system's self-payoff. Fanelli explains the struggle of balancing excessive nitrogen on a limited amount of land. He points out his only other option would be to purchase more land. "Around me, we've got nine dairies, and they all want more land," he says. "If I didn't put (the system) in, I'd have to buy at least 50 acres of ground at $35,000 to $40,000 an acre."
Royal Dairy
Austin Allred, general manager and owner of Royal Dairy in Royal City, Washington, began with a small pilot version of the BIDA system in 2015 that filters 6,000 to 7,000 gallons of water per day. Happy with the results, this spring he made the decision to move to a bigger size that will fully accommodate his herd of nearly 6,000 head. The new design will be an 81,000-square-foot system capable of filtering a few hundred thousand gallons on a daily basis.
For Allred, it was the simplicity that first attracted him to this technology after coming into contact with the company at the World Ag Expo in Tulare, California. He visited a few established systems in California before having it installed on his farm.
Despite the climate differences, it kept up well in Washington. "This last winter was really cold," Allred says. "We only had to shut it down a couple times to keep the lines from freezing. All in all, it got a passing grade through the winter."
Allred took the initiative to monitor the system's progress himself before making the decision to upgrade. "We have tracked the cleanliness of the water … that was our main concern," he says, noting they took several before-and-after samples of the wastewater. "On average, it took out about 90 percent of nitrogen, 75 percent of phosphorus and a good chunk of the potassium and salt."
The green water off the lagoon from the herd requires more than 4,000 acres of field per year for proper distribution of its nitrogen concentration, not including the solids. According to Allred, this new system is capable of cutting that down to only 300 acres per year. Additionally, the system is expected to cut down on manure hauling and spreading costs.
"We already had the pipelines in place from the lagoon, so we'll just put it through the (irrigation) circles versus trucking it," he says. "That's probably the biggest thing, being able to cut down on those acres by turning on a couple circles versus thousands of hours trucking."
Besides the economic advantage, Allred says they have high expectations for the impact on herd health and the environment. The water from the system will be used in the barns' closed-loop flush system. He anticipates cleaner water, lower somatic cell count and reduced odor.
"The smell should also be significantly better because when you put that green water on hot concrete, it releases a lot of methane, so we're expecting a big drop in general smell from both the flush and lagoon."
Since establishing the first system, the farm's lagoon has been much cleaner with much less odor; the trend should continue with the flush. Allred notes they expected reduction in their overall carbon footprint, which is something dairies are increasingly pressured to improve.
The system holds promise of being an additional source of farm income. The worms' castings are a valuable byproduct that, once collected and dried, make for excellent fertilizer. Allred says while they have not made any sales yet, they are reaching out to potential buyers and getting a lot of positive feedback. In the near future, he hopes to make this a profitable outlet for extra income.
You can read Progressive Dairyman's original BioFiltro article from 2014 online (Worm manure: A filter for clean water).
PHOTO 1: Austin Allred at Royal Dairy during the installation of a larger 81,000-square-foot biofiltration system.
PHOTO 2: This biofiltration system uses wood shavings as food for the earthworms, allowing them to create a filter of micro-organisms and microflora from their castings. Pipelines sprinkle lagoon wastewater over top of the wood shavings to provide food for the worms. Photos courtesy of Chelsi Riordan, Dairy Farmers of Washington.
Jaclyn Krymowski is a 2017 editorial intern.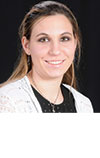 Jaclyn Krymowski

Editorial Intern
Progressive Cattleman