When Jackson Williams left for New Zealand after college, his parents Darryl and Lucinda were a little worried he might never come back to their dairy. After all, if he came back, he'd be the thirteenth generation to farm that land.
"We thought, could he get further from us?" Lucinda says.
Their challenge: Wanting to encourage Jackson to come back without making him feel pressured into it.
"So part of that problem is at 13 generations, Darryl and I completely did not want to foist this on anyone. It's hard enough when it's what you want most in the world, and if you feel like 'Oh I have to do this because it's a family tradition,' that can be a really bad life and that's not what we wanted to do."
After all, he'd never said he wanted to take over the family dairy.
"I didn't know for a long time," Jackson says. "As a kid I didn't think I wanted to be a farmer. I mean, it's sort of a hard lifestyle. I had hobbies and now my hobbies are farming. It pretty much starts and ends there, but my mom and dad were really good at not pushing the decision.
There's always been an added stress just because the farm has been around for so long."
Thankfully after working on a sheep and vegetable farm over there for a year, Jackson decided it was time to come home. Now, four years later, he's in the process of taking over the 150-cow Holstein dairy in Hatfield, Massachusetts.
Farm history
Back in 1661, Samuel Belden, an English immigrant, settled on their farm before Hatfield was even a town. In 1670, he and seven other men signed the charter to found it and the congregational church, which the Williamses still attend today.
Over the years, the farm has been used to grow a variety of crops such as onions, tobacco and cucumber, and was a well-known sheep farm for several years.
It wasn't until 1964, when Darryl's mother Mary and her husband Gordon Williams joined her father Luther Belden on the farm, that it became a dairy. Sadly, Luther passed away just two years later so they named the farm Luther Belden Inc. in his honor.
Modern challenges
Currently, there are only 150 dairy farms left in the state of Massachusetts, Darryl says, which is why he and Lucinda make a point to be involved outside of the dairy.
Whether it's serving on the U.S. Department of Agriculture Cattlemen's Beef Board or visiting legislators in Boston, the Williamses have made a point to be a voice for dairy whenever and however they can. In Hatfield, they take the time to volunteer and stay involved in the town.
In fact, for 10 years Darryl served as the town selectman and a moderator at the congregational church, positions which Samuel Belden also held.
"I laugh and thought, 'oh Samuel Belden,'" Lucinda says. "So we've always been involved in the town politics, and we're volunteer people so we serve on boards and stuff like that. We've always believed if you're going to be involved in something that you believe in, then do all you can."
In addition, their dairy is now located in the middle of a residential neighborhood, so public perception and politics are a major concern for them. Thankfully, their neighbors do not seem to mind the proximity of the farm and often visit to pet the calves or go for rides in the tractor. Jackson says it can be a challenge sometimes, but they enjoy it too.
"It's a little bit intimidating at times to have just random people walk over, so we have to keep our guard up," Jackson says. "Like if a vet is performing a surgery you have to tell people to stay over there, the vet is doing their work. It's nice though."
The Williamses also host an annual Corn Party. They invite the whole neighborhood and tell them, "We'll supply the sweet corn, you bring something to share." Lucinda says people often bring friends and family as well, so they often have around 100 people at the event and there's always plenty of food.
Land management
Due to the farm's location, the Williamses often need to compete with vegetable, potato and berry farms. Land rents can run as high as $400 to $500 per acre. This can make growing enough food for their animals challenging.
To manage for this, they have adopted two practices. First, they only rent the land other produce farmers do not want for some reason, such as it's too wet or the area is too small, which makes it less expensive. This amounts to 175 acres in addition their own 180 acres, 125 of which are tillable.
Second, they do land trades with the produce farmers in the area, which is something Darryl's father started back in the '70s.
"My dad actually started that (land trade) way back in the early '70s, he was trading with people," Darryl says. "They thought he was crazy. It's really for the benefit of the land to have different crops, different things. Now sometimes it's hard to know if we're on our own land or someone else's because there's a lot of trade over the years."
Darryl says they usually get a little more land in the trade since they enrich the soil with manure, and trading land benefits the produce farmer more than it does the dairy. Some of the produce farmers only grow one type of crop and rely on the dairy for crop rotation, whereas the Williams can rotate hay and corn which is something they do anyway.
However, the trading gives them a much larger land base where they can spread manure, which is a huge benefit for them from a nutrient management standpoint.
Going forward
The Williamses currently have plans to build a new 180-stall barn and install a voluntary milking system in spring 2017. Jackson plans to start with two robots, with room for a third, and eventually increase the milking herd to 180 cows. Jackson feels this will allow the farm to stay in business, solve some of their labor challenges and give him a little more flexibility with his schedule going forward.
"It's exciting. I think it's a way to stay in business for a farm our size," Jackson says. "With labor, it's really hard to find consistent labor. The employees we have now are fantastic. We generally get high school kids, but we're paying them $10 an hour, so that's what we're getting out of them. Sometimes it's good and sometimes it's not."
To add a little diversity to their operation, Jackson also plans to continue his beef operation. Currently, he breeds the bottom third of their herd to Angus, Charolais or Hereford bulls and raises those crossbred calves for beef. He sells them to a number of caterers and restaurants in Boston which is only about two hours away. Presently, he only raises about 20 head each year.
However, eventually he'd like to raise the Holstein steers as well. Between that and increasing the milking herd to 180, he says that should put him around 80 head of crossbred and dairy beef cattle per year.
Whatever happens though, Jackson is committed to being a dairyman.
"We're still really excited about the dairy market," Jackson says. "We realize it's tough right now and everything, but we're really committed to it and are going forward long term even though we sound kinda crazy doing it. I'm lucky to have a family like this that allows me to farm."
PHOTO: Jackson, Lucinda and Darryl stand in front of the mural the local high school painted for the school's annual art project. The calf's face is a map of the farm. The star is the farm. The white lines represent the roads that lead to the farm, and blue lines are the river and streams around the farm. Photo by Jenna Hurty-Person.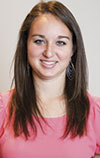 Jenna Hurty-Person

Field Editor
Progressive Dairyman