The Dairy Cattle Welfare Council (DCWC), which formed in 2015 to promote dairy cattle welfare, named Elizabeth Cox, DVM, ruminant technical services manager for Merck Animal Health, as their new president at their annual meeting in June.
Last year she served as vice president and will serve as past president next year to complete her three-year term with the council.
Progressive Dairyman Field Editor Jenna Hurty-Person recently interviewed Cox to discuss her new role and the council's future.
What made you want to be involved in the DCWC?
COX: I am involved in organized veterinary medicine and helping to promote the profession. With this specific position, it's nice because we're not just targeting veterinarians as far as the advancement of dairy cattle welfare; we're also focusing on animal scientists, pathologists, academicians and allied industry.
I really was interested in this because it feels like this council can be much more impactful; we're going across all of these different ways of approaching dairy cattle welfare, instead of just approaching it from one viewpoint as a veterinarian.
Serving as vice president, and then now in just a month or so as president, I'm continually learning and being challenged by other people who are serving on the board with me as they bring their different perspectives in.
I really enjoy that because there's science behind welfare, and then there's a lot of emotion and feeling behind welfare for animals. It's important for us to listen to different viewpoints as we, as a community, figure out what's best for the welfare of cows.
What excites you most about this opportunity?
COX: Getting people together to have conversations about dairy cattle welfare and the improvement of dairy cattle welfare. I'm really excited that, with this multi-disciplinary council, we're going to be having discussions on a larger basis as opposed to only talking amongst ourselves.
I hope that, because there are so many different viewpoints involved in the council, we can have even more of an impact on dairy cattle welfare.
What do you hope to accomplish during your time in this role?
COX: We had our second annual conference this year, so I hope to be able to continue that, grow that and share the message of the council to more people across the country and across the different sectors of the dairy industry, helping educate people through our conference – and also through our webinar series, which we did last year and we're going to continue to do this year.
We want to get people to continue to talk about animal welfare, dairy cattle welfare, and to be willing to hear others' viewpoints on it and continue that conversation – because that's obviously a very important topic.
It's top of mind for the consumers of our dairy products, so I think it's important for us as a dairy industry to continue to have the conversation and figure out the best way to move forward, understanding and improving animal welfare.
What has surprised you the most during your involvement in this council?
COX: There are so many people within academia researching welfare. There are animal scientists and ethologists in addition to DVMs.
In my world, as a vet, I become narrowly focused on my own profession – and from DCWC I've learned so much of the interesting and impactful research being done around behavior and animal welfare through animal science programs at the universities. It's nice that, in this council, we can collaborate with our different areas of expertise.
The DCWC's stated goal is to 'promote dairy cattle welfare by bringing together dairy farmers, veterinarians, consultants, universities and the dairy community to develop best recommended practices with focus on animal well-being, management, husbandry, animal-people interaction, health and productivity.' What do you see as the council's greatest challenge in accomplishing this goal? How do you plan to overcome this challenge?
COX: Educating all of the different groups you mentioned and us educating one another. I think we have to understand there are some aspects of dairy cattle welfare that are black and white, but also some things that are a little more gray; and some things where the line might continually be moving with society's evolving opinion.
This is a challenge in that people often want a yes or no answer on what's right and wrong about standards for animal welfare. It's important to remember what we accept today as a society might be different than what we expect five or 10 years from now.
As we learn more things and do more research, and as the society we live in grows and changes, perhaps our standards or what's acceptable in animal welfare will change as well. I don't think it's a science where we're going to lay down the law today and it'll never change; I think it's for us to understand, and everyone involved in the dairy cattle industry to understand, that things might continue to grow, evolve and improve as the years pass.
Animal welfare is currently a hot topic in today's society. What do you see as the main challenges dairy farmers will face in the next several years?
COX: The majority of consumers of our dairy products are not raised around animal agriculture and aren't familiar with it, but they're also interested in knowing where their food comes from, and want to know the food they put in their own body or buy for their own families was raised in an ethical way.
I think the biggest challenges are the education and transparency dairy farmers must have. That's a challenge because dairy farmers, in general, take great pride in what they do. They do a really good job, but there's also a feeling of – you don't want your big brother always looking over your shoulder.
I think the theme of transparency and to educate and get our positive messages out in regards to the dairy industry is going to have to continue because the consumer is demanding it.
How will the council help guide the discussion around these topics and keep dairy farmers informed?
COX: We definitely want to promote that dairy farmers attend and have a role in our meetings. On our board of directors, there are three positions designated for dairy producers, so dairy producers have a leadership role within the council. That's important so they have a voice as far as our program and the direction the council is moving in.
Another way we want to reach out to dairy producers is our annual meeting and its location. Our first meeting was in Columbus, Ohio, and then we met in Milwaukee, Wisconsin. Next year it's going to be in Phoenix, Arizona, so we're consciously trying to pick areas of the country where there is some kind of a milk shed so local dairy producers could drive and attend the meeting.
We really want to involve them and not just talk amongst ourselves but also to educate them and hear their opinions. During the past two annual meetings, we've included dairy producers as program speakers and as panel discussion participants, so we're actively trying to include them in the whole process.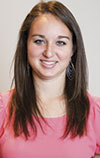 Jenna Hurty-Person

Field Editor
Progressive Dairyman