Clover Stornetta Farms is a third-generation family-owned-and-operated dairy processor and co-op in Sonoma County, California. In 2016, the brand announced it would begin transitioning all its 28 member farms to non-GMO feed to pursue a non-GMO Project Verified label.
The co-op's milk is already labeled as rBST-free, locally made, sustainable-certified, humane-certified, organic and soon to be Non-GMO Project Verified. Its first non-GMO-labeled products will be in stores soon.
Progressive Dairyman spoke with Marcus Benedetti, the co-op's CEO and president, about the co-op's transition to GMO-free feed sources and why it felt the move to non-GMO certification was necessary.
Marcus Benedetti
CEO and President
Clover Stornetta Farms
Q. What motivated Clover to decide to go non-GMO?
A. BENEDETTI: Primarily, it's because we have created a dialogue with consumers over the years.
It started with our stance to offer an rBST-free alternative. We were able to offer farmers an economic premium to not use it. When we did that, it created a strong degree of connectivity with our consumers in terms of what their expectations of dairy were and would be over time.
That decision naturally led us into early entrance into the organic space in 1999.
Animal welfare standards, as endorsed by the American Humane Association, happened in 2001, and verified sustainability is in all our ranches now. As we did all that, it continued to create the expectation of our consumers that we offer alternatives to what exists in the dairy case.
GMOs are one of those issues. We have been hearing loud and clear from our consumers that, whatever the reasons, they just wanted an alternative.
Q. What's Clover's position about other suppliers and their choice to go non-GMO?
A. BENEDETTI: We believe consumers should be in a position to allow the free market to determine what that best course and path should be in the American diet and for American agriculture.
Q. How is the non-GMO movement like or different from the organic movement?
A. BENEDETTI: The state of non-GMO labeling right now is very similar to what organics was like prior to the USDA organic seal that we are all familiar with now.
Then it really was contingent upon individual certifiers, and it was kind of a hodge-podge of labeling. That led to a lot of confusion because the standards were all over the place. Clover would be all for uniform standards, clear guidelines, rules of the road.
Q. How much of Clover's market is the San Francisco Bay area, and how much of the GMO issue relates to the progressiveness of those consumers versus those elsewhere in the U.S.?
A. BENEDETTI: Most of our market share is greater Northern California, but it also stretches into the Central Valley, the Sierra Foothills and Southern California, Nevada and Arizona.
Food movements tend to start right here in the Bay area, and then they migrate out. In this case, I think it's right to offer non-GMO as an alternative, and I think over time it will spread throughout broader demographics.
Q. Clover's non-GMO-labeled dairy products will be available in 2017. How long will it take for all of Clover's farms to be non-GMO?
A. BENEDETTI: We wanted to launch with the most important product line to us, and that is the half-gallon line. That will be in February of this year, and the goal is to transition the entire fluid line over to non-GMO within the next two years. The goal is to transition the rest of our products, which is harder to do because of additional ingredients.
We are talking non-GMO pineapple and cottage cheese, or cookies-and-cream ice cream or orange juice. There is just an additional layer of sourcing that we have to go through in order to do that, but the goal would be to transition all of the rest of the Clover conventional line by the end of 2019.
Q. Will your farmers have a financial incentive to transition to non-GMO?
A. BENEDETTI: Well, there has to be one, and we have already created one because we have dairies committed. One of our core principles, being a part of this industry, is to try to preserve the family farm.
Our farms are very different up here in the north coast of California; they are very small compared to the rest of the industry. It's an idyllic place to dairy, but it has a higher cost structure than what you would experience in the Central Valley or Wisconsin.
This move will add an additional layer of premium on top of our existing premiums. Given that there is going to be a higher cost structure associated with farms procuring non-GMO feed, we must essentially make non-GMO feed procurement revenue-neutral.
But then there needs to be an additional premium beyond that to incentivize farms to go through all the certifications to ensure that, in fact, they are abiding by Non-GMO Project Verified standards.
Q. If farmers choose not to transition, will they have to send their milk elsewhere?
A. BENEDETTI: I personally don't look at it as an ultimatum. That is just not how we work with our dairy partners.
There is a strong interest in getting consensus from all of them that this will work in the marketplace, that we can find a sustainable, durable feed system that doesn't jeopardize their TMRs and that will give them milk output. We will work collaboratively, and the economics should prevail.
Q. Have efforts to educate your dairy farm members about the switch begun?
A. BENEDETTI: They have. In fact, to even get this whole initiative off the ground, we approached a representative group of them to really understand what their TMRs consisted of, what levels of feedstuffs were included, what feedstuffs could we secure GMO-free, what was the cost differential of the non-GMO feed and how to tweak their TMR to their production.
(By all accounts, production won't go up.) That was the foundation by which we started to reach out to the rest of the group to ensure that, in fact, those assertions apply to all of them.
Q. What were some of the challenges in sourcing non-GMO feed you found as you studied this change?
A. BENEDETTI: Ironically, a lot of it was already being grown in the western U.S. I'm talking in terms of alfalfa and corn. Primarily, this production was geared toward export over to Japan. There is a live and well non-GMO system over there as well as in the European Union.
So the good news for us was it existed; the challenge was: How do we get it in sufficient enough numbers, get it down here, get the feed mills to integrate it into their operations and provide a stable secure source for farmers to buy? It took a lot of work. We hired a full-time nutritionist consultant to help us with procurement, as well as two dedicated internal sourcing employees.
Q. Do you think Clover farms might be able to achieve this transition easier than others in the country? Why or why not?
A. BENEDETTI: Logistically, GMO-free is difficult to do. For example, we are organic and we are conventional, and now we're essentially launching a third line that's a GMO-free conventional line. Also, at the plant processing level, you must have additional tanks to segregate and you must add additional layers of protocols to ensure the segregation.
But all that aside, we have a recognized and trusted brand, and our customers expect us to provide an alternative, so I think we are probably the best suited to provide one.
Q. In the press release announcing this move, your company said: "Clover continues to disrupt the dairy industry to effect change and improve the food system." What does Clover perceive as changes and improvements that need to be made in the dairy industry?
A. BENEDETTI: The improvement to be made is a continued aspiration to provide consumers a choice. I think there is a tendency of all of us in the industry to look at milk as a static product that doesn't need to evolve over time or to meet the needs of consumers.
So when we say "disrupt" and "change" the milk category, what we are saying is we really need to provide an alternative to the status quo. Just by virtue of us being in the dairy industry, we are not entitled to sell product in perpetuity.
We have an obligation to meet consumers' expectations, even if that changes how we have been doing it for a hundred years, not speaking of us but the industry.
Q. In the long run, do you see non-GMO verified milk as a niche market, or is it the future of all milk production?
A. BENEDETTI: That is a great question. I think that's ultimately inconclusive. That's the beauty of an alternative in the market.
Let's face it: This is a controversial issue. Philosophically, scientifically and health-wise, I don't think there is a consensus in America as to whether GMOs are good, bad or indifferent. Until there is definitive consensus nationally, we won't know whether or not this project is revolutionizing the dairy industry or a temporary stop-gap to fill a real consumer need in the absence of conclusive evidence.
That's what we are attempting to do is to provide consumers time and space for that conclusive evidence to emerge. That will dictate whether the industry adopts it or not.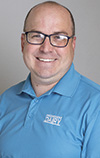 Walt Cooley

Editor-in-chief
Progressive Dairyman