At World Dairy Expo in October, Marilyn Hershey, a dairy farmer from Pennsylvania, was selected as the 2017 Dairy Woman of the Year.
Having grown up on a dairy and been crowned a dairy princess in high school, Hershey has been passionate about advocating for the industry from an early age. Today, she and her husband, Duane, own and operate Ar-Joy, an 850-cow dairy in Cochranville, Pennsylvania.
She is also a member of the National Dairy Board, the American Dairy Association North East Board, a blogger, and she has visited Capitol Hill to educate politicians about the dairy industry.
What are you most proud of?
Hershey: I think what Duane and I have built with this farm; it's not just about the cows, and I like that. It's about the relationships with the employees. Your relationship with your vendors. The people you impact. It's the relationships with the community.
I would like to think Duane and I can relate to the community, even though even our next-door neighbors might not understand farming. We try to reach out, and we try to be cognizant of their concerns as well. I can say I'm really proud of that. We try to put others on the radar and that, I think, is a good goal to have.
What has been your biggest challenge in accomplishing your goals?
Hershey: Definitely time. I have goals and things I want to do here on the dairy, and then I have goals and things I want to do outside of the dairy. With being involved in the dairy board, I can take the dairy with me, so to speak, because the efforts are related back to the farm.
I think that's one of the reasons I enjoy being on the DMI board and working with them – because it does relate back to my passion here on the farm.
We have a lot of goals, but you have to have the time and energy to do that. It's meant really pacing myself, learning to say no to maybe some committees and maybe some efforts I previously was involved in. I used to be heavily involved in a children's writers group.
I had to step away from that to be able to have more time to put into the dairy industry. I'm glad I did that. I'm glad I had the opportunity to be involved when I was, but the time had come that I needed to focus more on one effort than several.
What does it mean to you to be named Dairy Woman of the Year?
Hershey: It means a lot, and I'm still kind of relishing in what it means. It's extremely humbling for me when I look at the list of women who were already named this and to think now my name is also on that list.
It truly is humbling, and I don't know that there has been a time I have been more humbled and honored to have an award. I'm so honored. It's hard to put into words.
As an advocate for dairy, what do you see as our greatest opportunity and what do you personally hope to accomplish?
Hershey: How we can communicate our story with consumers. I don't think there has ever been a greater opportunity because of the social media aspect. It's free. If I want to post my story, it doesn't cost me a dime. It does, however, put us out there as a risk.
We were used to farming and kind of closing the gate at the end of the farm lane. Other than the neighbor who drove past and saw us, we didn't have to worry about consumers' perception. Now, with social media, that has completely opened up. It is a challenge, but I think it's also a huge opportunity for us to tell other people how and why it is we farm – how and why it is we have the passion we do.
What I personally hope to accomplish: It's not me personally; it's a team. It's a team effort. I hope to promote unity within the industry. I think we need every size of farmer.
We need every type of farmer. There are different methods to what we do. There are different methods when milking cows. There are different types of cows we milk. There are different-size dairies, and I think we need everybody. I think we need to promote each other as opposed to working against each other.
As a woman in dairy, what do you want to be known for?
Hershey: I hope I can share peace and love and joy, but I also can share my passion for the dairy industry and share the value of relationships. I want people to know they're valued. I want people to know they're important and their relationship is important.
What advice do you have for other women in dairy?
Hershey: We all have passions, and we all have goals. Go after those goals. Go after those passions and enjoy the journey. Enjoy that time of pursuing your goals. Sometimes we have a goal in mind, and we want it to be instant. We want it to be tomorrow.
I can say there were times when – I mean, Duane and I have been farming for 33 years, and there were years I didn't enjoy the journey as well as I wish I would have. So even though you're pursuing a goal, even though you have something on the horizon you're looking at, enjoy the moment you're in.
PHOTO: Marilyn Hershey with her parents, Mast and Anna Stoltzfus, the night she received the Dairy Woman of the Year award. Photo by Randy Blodgett.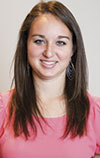 Jenna Hurty-Person

Field Editor
Progressive Dairyman