Earlier this year, the company that owns the most commonly used herd management software in the industry – DairyComp305 – hired a new CEO and began rebranding itself. Valley Ag Software (VAS) is spending millions to redesign the interface of its herd management software and announced at World Dairy Expo that a cloud-based version will be available in 2018.
Progressive Dairyman Editor Walt Cooley sat down with the company's new CEO, Tim Taylor, to discuss his vision for the company, its software and its role in the future of the industry.
Tell me about where you were prior to this position.
TAYLOR: For the past 10 years, I was with a cloud software provider in the telematics space. I was managing vehicles, mobile workers, vehicle route optimization, vehicle workflow, safety utilization and customer service. We had relationships with companies like Tru-Green Lawn Care and Sysco Foods.
That company was my first software project. When I joined, we had 17 people in the company. We decided to be the power-player in the mobile enterprise resource management area, and we did. We went from managing 6,500 vehicles on our platform to several million vehicles on our platform when we sold the company to Verizon last July.
What did you learn in your previous work that will be beneficial in your new role in the dairy industry?
TAYLOR: In my previous work, we built in a lot of integrations to other platforms, such as SAP, Oracle and SalesForce.com. I wasn't the CEO there. I was the No. 2 guy. I loved to go to trade shows and to see customers and come back and tell the development guys, "This is what the market needs."
I didn't know anything about writing code, but I could sense where the market was going and come back and tell the developer guys, "We are going to need this in our software." I say that I did a 10-year apprenticeship in cloud-based software. I wouldn't have been able to do this current job without it.
How can dairy management software benefit from moving into the cloud?
TAYLOR: What the cloud allows you to do, at the software development and deployment level, is to deliver software in a way that is sane and sustainable. You can test it behind the scenes. You can allow early adopting customers to kick the tires before you roll it out to your whole customer base.
Then, when all of your clients come in one morning to milk their cows and have some new features, they have already been tested. You don't have to bother them to update their software; it is just there. The quality of software deployment in the cloud is significantly higher than traditional software development.
Also, the ability to provide business intelligence for your clients is amazing. Because all of the data is coming in through the cloud, you can provide business intelligence. For example, because we have a dominant market share on large farms, and they are almost inevitably multi-farm operations, we can roll up data in the cloud from Farm A, Farm B and Farm C and give them a dashboard – a set of business intelligence tools to run a better dairy business enterprise.
What do you envision Valley Ag Software becoming?
TAYLOR: The cloud has transformed how software is developed, tested, deployed and how clients interact with it to really transform their businesses. It's an exciting era for software companies. Look at SalesForce.com. They have paved the way. They basically invented the software-as-a-service model. But they've become what we call a software ecosystem, where you could literally build a service-based business with all the components you need on their platform.
That's my vision for this company. I want farms to see us as being at the heart of their dairy, connecting their data … from the milking parlor to downstream processors to retailers like Walmart and then upstream to providers of products and services to the dairy itself. Being in the cloud now, we are well positioned to be at the heart of the dairy, to be a connector and to be an information provider.
What was intriguing to you about the dairy industry that made you want to jump into this role?
TAYLOR: First of all, the dairy industry is a relational marketplace. I've always enjoyed building relationships because it is the key to a great business. I've always felt if you have great products, are committed to great service with your customers and you communicate effectively while building long-term relationships, your business will grow. But in order to do that you have to listen to your clients; you've got to know their business.
Also, what I like about the dairy industry is: There is room for improvement in every dairy. When I go on the farms, I see you can have two dairy farms getting the same milk output per cow, but one is making money and one is losing money. I know if we show up and do the right thing for the farmer to help them be more efficient, to achieve higher quality, to deepen the understanding of what drives his or her business, the result will be we are going to grow our company.
Finally, this company has market share. My whole business career has been all about making some cool product or service people will start buying so we could start gaining market share. Having big market share makes the turnaround of a company more accessible and faster. We don't have to go knocking on a million doors to try to get into the farm. We are already on the farm.
You say you've done several farm visits since becoming CEO. What have you learned from them?
TAYLOR: I have been on a lot of farms lately, and every one of them said: "Make information more accessible to me. Make it easier to find without me having to dig for it."
Our clients want information to help run a better business. They want information at their fingertips. They don't want to have to log into five separate screens and connect all the dots. They don't want to copy data out of one screen and put it into Excel. I think we can improve the information availability – both to the farmer and to the farmer's partners and advisers.
Every time I go on the farm, I get an idea for a new product. I'm driving our product development guys nuts. I mean that in a good way.
In short, I am really excited because the company has a good reputation for an amazing product. However, I've learned it didn't have a great reputation for saying yes to the client and being super-responsive [in the past].
What's going to be the hardest part of this leadership transition?
TAYLOR: I think we've gotten through the hardest part. The hardest part was a cultural turnaround. It was getting past the word "no." We've now created a culture of yes. I literally said to everybody in the company the day I started: "I am not here to make decisions for you. I want to inspire you to make decisions, even if you make mistakes, and to build an extraordinary company." We just needed to listen to the client and to learn to say yes to the client.
You wrote a white paper earlier this year that suggested data gathered in the dairy industry is 'often not able to drive a corresponding reaction until hours or days later.' Tell me how you feel like that impacts the dairy industry.
TAYLOR: Currently, a farmer might not get information on how his farm is operating until he can sort through all the data himself or someone does it for him. The real exciting thing about creating a cloud platform is taking sensor data from multiple areas of the farm and then giving the farmer a near real-time dashboard and a set of decision-making tools to make decisions today. Then he can make changes right away instead of realizing he should have fixed something two weeks ago.
What are your personal goals for your tenure as CEO?
TAYLOR: The company's board of directors asked me to answer 12 questions as a part of my recruitment and interview process, so I put together a 30-page PowerPoint presentation to answer them. My very first slide suggested that I think we could be relevant in the global agricultural ecosystem. Every company needs has to have a purpose. Our purpose is to have an impact on the quality and efficiency of the global agricultural ecosystem.
I don't know how many jobs there are where you can literally have an impact on the quality of the world, but I feel the dairy industry touches every aspect of life on the planet. I really think we are having an impact on people's lives with our work.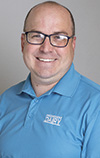 Walt Cooley

Editor-in-chief
Progressive Dairyman
Before commenting on our articles, please note our Terms for Commenting.