Dr. Marissa Hake is a practicing calf veterinarian from northwest Ohio. She obtained her undergraduate degree in animal sciences from Michigan State in 2011 and continued there to finish her master's in public health (MPH) and doctorate in veterinary medicine (DVM) in 2015.
During her time there, her studies and research were heavily focused on food animal production medicine.
Right out of vet school and for the past five years, Hake managed the health and well-being of around 60,000 formula-fed veal calves annually for growers in Michigan, Indiana and Ohio. She spent the majority of her day going between the farms making sure the calves were being taken care of and dealing with their health. She was in charge of all health examinations, disease diagnostics and animal traceability.
Hake recently transitioned to a role as the director of animal welfare and sustainable farming for fairlife LLC in January. There she serves as a conduit between their brand and source dairy farms.
She explains five things she can't do without for her career.
1. A good esophageal feeder
Since Hake focuses on the calf side of the business, she finds that a good-quality tube feeder is essential. She also prefers a stainless-steel tube feeder because they don't get scratched up from calves chewing on them. "It's really important to have an easy and economical way to treat calves," Hake said. "One of the biggest issues is getting fluids into them when they are ill, so I think a good quality esophageal feeder with training from a veterinarian can help accomplish those health goals pretty easily, as well as provide adequate colostrum and in the correct time as well." Because colostrum is so incredibly important, Hake doesn't mess around with getting colostrum into calves quickly.
2. A sharp knife
Hake truly believes in the power of the necropsy. "We can learn so much from post-mortem exams, and I really encourage farmers to work with their veterinarians," Hake said. "Not only do necropsies help give us a more accurate diagnosis but also help us to use our antimicrobials more judiciously." With a basic necropsy, Hake assesses the entire animal and looks for either signs of disease or if things are abnormal – because a lot of times why we think maybe a calf died isn't always the reason. "When we open up those animals, we can learn a lot," Hake said. "We look at the lungs for pneumonia or the intestines for scours, and we can then take samples of those tissues to send in for culture and sensitivity, which helps lead our decision-making for treatment."
3. My phone
Communication with her producers is critical to Hake's success. Active communication helps develop trust which, in turn, helps to make sure everyone is on the same page. "Our phones can be our greatest tools for collaboration," Hake said. "I feel like nowadays our phones are so vital for communication with our producers and making that connection with our farmers." Whether it's sending a picture of an issue or talking about management strategies, Hake says it can really help expedite that conversation as well as help veterinarians stay part of the management team on farms when they're not there.
4. The Madigan Squeeze procedure
According to Hake, this procedure was adopted from the equine side when dealing with "dummy foals." "This is my go-to for calves that appear normal but don't want to nurse," Hake said. "We try to mimic the birthing process by squeezing on the calf's thorax for approximately 30 minutes with a soft rope. The theory is that it releases specific hormones, causing the brain to be 'rebooted,' and thus stimulates the calf to nurse normally." Hake says it needs to be done within the first couple days of life to be most successful.
5. Coffee
Hake says she loves a caramel Americano. "This is more for us than the cows," Hake said. "At home, I have an espresso maker that helps when I'm not on the road. But if I am on the road and in Michigan, I will definitely try to stop at a Biggby. It's my favorite place to go." In agriculture, Hake works long hours and deals with unique struggles. Sometimes a cup of hot coffee and a debrief with one of her farmers is just what she needs to get up and do it all over again.
PHOTO: Courtesy photo.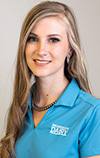 Audrey Schmitz

Editor
Progressive Dairy