EcoDairy Farms isn't just another organic dairy. Home to lush pastures, an array of diverse livestock and wildlife of all sorts, EcoDairy goes above and beyond the call of environmental stewardship while producing quality, nutritious foods.
The business is owned and operated by Blake and Stephanie Alexandre with their five children. Nestled in northwest California, EcoDairy sits between a forest of redwoods and the Pacific Ocean; it spans four different farms with a total herd of about 4,000 crossbreds.
See more of EcoDairy Farms in this slideshow.
The decision to move from conventional to organic dairy production started in 1999, says Vanessa Alexandre. Vanessa is the family's middle child who works as the farm's calf manager and unofficial "sibling" secretary.
"It was a purposeful thing for my parents to do because they wanted the farm to be a viable option for us kids to return to," she says. "They knew it wasn't going to grow and be that viable sustainable option if they continued at the prices they were getting as conventional dairy farmers." By 2001, their first dairy was entirely certified organic.
Quickly, they found benefits of being organic going beyond profitability. Soil biology was healthier and provided better grazing for their cows with the kind of milk quality they wanted. Their grass-fed milk is high in conjugated linoleic acids, vitamins E and K, and omega-3 fatty acids.
They currently sell their milk to the Humboldt Creamery co-op and Rumiano Cheese. "At the core of the farm, we're all about producing good nutrient-dense foods," says Vanessa. "We do that through consumer education and all other environmental stewardship efforts."
At the roots of grass and pasture
Grazing is an important staple in the EcoDairy infrastructure. One of their four dairies is entirely grass-fed; the other three are grass-based with some grain supplementation. With year-round pasture access, the goal is for all animals to be on grass at least 280 days a year. "We see the value of the cows on the grass," Vanessa says. "We're not just dairy farmers; we're grass farmers."
The Alexandres believe growing better grasses begins by building better soils. Soil management is crucial, a mixture of nutrient building and grass selection. "The diversity of plant species is pretty crucial," Vanessa says. "We're using the native species but also with other perennial and annual rye and New Zealand white clover."
The California climate, with its nourishing rainfalls and warm weather, is perfect for keeping grasses green and growing even into the winter.
For the past 15 years, breeding the right animals to best utilize the fertile pastures has been a major focus. Most of the farm's herd is primarily made up of Holstein and Jersey crossbreds. Vanessa says European genetics, including breeds like Fleckvieh, Normandy and Swedish Red, have been incorporated into the breeding program.
"We've been crossing all these animals with our Holstein-Jersey crosses to build our own short-statured breed of animal, one that can travel distances to pasture and eat a lot of grass and put that grass into rich milk," she says. In line with their crossbreeding program, they have genetically selected for the A2A2 beta-casein milk protein gene for the past three generations.
Currently, their heifer herd is made up of 80 percent A2A2 animals, and they aim to move to 100 percent in the near future to improve milk quality.
More than just a dairy
A benefit of "grass farming" is: It has the versatility and capability to go beyond strictly dairying. The farm began expanding its markets when the family decided to retain their bull calves. "(We wanted) to give more value to our bull calves," Vanessa says. Believing their calves had value worth increasing, the Alexandres searched for their own mode of production where they wouldn't need to settle for cheap market prices.
This inspired them to add the Fleckvieh breeding into the herd to enhance their market value. Today, they raise their males on grass from calves on up to finished steers and sell their own high-quality certified organic beef.
After visiting a Mennonite farm, the oldest boys, Joseph and Christian, were inspired to get into pastured pork and egg production. Since 2005, they have been selling eggs under the "Alexandre Kids" label, a venture that has grown to a flock of about 40,000 pasture-raised hens.
For a number of years, the farm has also raised a herd of Watusi cattle. The African breed adds an exciting exotic flair to the green pastures.
In harmony with the environment and wildlife
The farm has earned a unique reputation for being a wildlife haven, one that cohabitates alongside their day-to-day operations. Over 250 species of birds have been recorded on the property, making it a regular hot spot for birdwatchers. A herd of 194 Roosevelt elk are also known to roam the farm year-round.
"They love what we've done with the soil and the nutrients in the grasses," Vanessa says. "We value that. We like wildlife coming onto our land because it means there's something more here."
The Alexandre family has put a lot of work into making their land ideal for wildlife. They work with the California Fish and Wildlife Service, California State Parks, the North Coast Regional Land Trust and the Natural Resources Conservation Service, among others. Vanessa says they have worked to improve the natural environment, such as building ponds and enhancing the creeks on the property.
"We've opened up stream channels that were clogged with invasive species," she says, noting the salmon on their property have been recorded 30 percent larger than neighboring areas. "We're doing stuff like that just because we want to promote wildlife. It's an important part of how we dairy."
Currently, four of the five Alexandre children are out of college and intend to stay working on the farm as the fifth generation. "We're always looking ahead," Vanessa says. "We've got a lot of big family dreams and family goals."
Next on the list is for the farm to get its own milk label. "That's a big goal of ours," she adds. "It's the final source of really being sustainable and supporting our community." She also says while they do offer farm tours, they are looking to further expand their agritourism efforts. For them, it's another way to connect with their community to share the life they love so much.
"We live purposely in everything that we do," she says. "It's about being a steward of the land God gave us and sharing that with others in the form of the most nutrients in organic milk, meat and eggs."
PHOTO 1: The Alexandre family is committed to producing nutrient-dense milk, meat and eggs, the way nature intended. Left to right, Joseph; wife, Alexa; Vanessa; Stephanie; Blake; Christian; Savanna and Dalton Alexandre. Photo provided by the Alexandre family.
PHOTO 2: The temperate California climate permits year-round grazing for the herd. The pastures are a mix of several grasses and legumes including Italian ryegrass, white and red clovers, plantain and chicory.
PHOTO 3: Egg production is just one of the many additions to the farm that fits right alongside dairying. Photos by Mike Dixon.
Krymowski was a 2017 Progressive Dairyman editorial intern.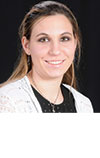 Jaclyn Krymowski

Editorial Intern
Progressive Dairyman