"My dad always told me that a cow was put on this earth to produce milk, but she doesn't have to be ugly to do it," says Paul Chittenden, founder of Dutch Hollow Farm in Stuyvesant, New York.
When Paul's father, Stanley, bought his first Jersey cow in 1925, his then-10-year-old self probably had no idea this one cow would turn into a lifelong passion, not only for himself but also for his children, grandchildren and now great-grandchildren.
Prior to that, Paul isn't sure what breed of cattle his family milked on their dairy, which was located in Massachusetts until Paul's grandfather moved his family to New Lebanon, New York, in 1935. There he started Fair Weather Farm, which is still owned by the Chittenden family today.
Growing up, Paul says his father always tried to stay one step ahead of everyone else.
"My dad was always a pretty progressive farmer," Paul says. "When the average herd was 25 cows, my dad was milking 100. When I finished high school in 1962, we were milking 300 cows, which was one of the largest herds of cattle in the state in those days."
His progressive mindset didn't just apply to the number of cows he owned either. Stanley is also known as one of the pioneers of polled Jersey cattle, which he started breeding for in 1952, Paul says. Today, almost every polled Jersey cow in the breed today is a descendant of either Stanley's Fair Weather Farm breeding or Paul's own Dutch Hollow Farm breeding.
It is this forward-thinking mindset Paul took to heart even when he left to start Dutch Hollow Farm in 1976, allowing his two youngest brothers to take over Fair Weather Farm.
"We've always looked at new ideas and been accepting of new ideas, and we always try to stay on that edge," Paul says. "It's the same thing with our cattle. We try to stay efficient and we look at new things, and if we think they work, we're not afraid to try them."
Paul moved with 55 milking cows plus youngstock, all of which were descendants of his 4-H cows. Shortly after that, he bought 20 more cows, and the dairy has continued to grow since then.
Today Paul's sons, Brian, Alan and Nathan, own and operate the 700-cow, 2,000-acre dairy and continue to embrace the progressive mindset as they get ready to pass the operation on to their children.
Just like their father did with them, the brothers take the time to mentor and teach the next generation to make sure they're ready to step up when their time comes.
"When I came home from college, my dad said, 'There it is. Take it and run,'" Brian says. "I was helping my daughter milk cows on another farm, and I was looking at it saying, 'This is awesome."
"I can't wait for her to come back and begin to take over some of the responsibilities.' It's kind of that attitude where we're working ourselves out of the job, not scared to go to the next step but always encouraging and empowering the next generation, teaching and letting them make the decisions and just kind of guiding them."
Currently, Brian is training Alan's oldest son, Maxwell, to take over his position as general manager by teaching him about crop management.
Brain says it's been cool to see him develop from a young kid who saw himself as the low man on the totem pole to now being Brian's right-hand man just because Brian put him in a tractor one day, gave him responsibilities and the room to step up on his own. That simple step made Maxwell realize he was capable of taking on a bigger role than he had previously.
Alan has taken a similar route with Brian's oldest daughter, Cassidy, who is interested in the cow side of the business. He takes the time to mentor her and discuss which bulls to use with each cow and why.
"It's the same leadership skills you would find in a good corporation where you're always grooming the next person," Brian says. "You become a mentor and a coach rather than a boss."
During college, however, the kids are not encouraged to work at the family dairy. Instead, they encourage them to do internships or work somewhere else to give them some valuable outside experience they can bring back to the dairy.
Whether it's cows, crops or something else, the Chittendens make a point of finding a place on the operation for everyone, even if it means starting a new project or buying additional property or another dairy, Paul says. They view their current operation as a source of equity to help their family.
For instance, they had one family member who had a love of education and wished to share their story with the public. Because of this, they researched it and later built an education center on the dairy, allowing her the opportunity to do what she loved. Now around 1,500 people, most of whom are in elementary school or high school, tour the dairy each year.
Although Paul admits that letting go of some of the responsibilities he loved – like breeding – wasn't easy, he says, "The pride of watching the next generation become involved makes it pretty easy."
Paul knew Alan thought about breeding the same way he did and that the herd was in good hands. He says that made stepping down easier because he knew Alan would keep the quality standards just as high as Paul had when he was in charge.
Today, about 25 percent of the herd is polled and, on average, each cow produces 73 pounds of milk per day with 4.9 percent butterfat and 3.6 percent protein. They won the master breeder award from the American Jersey Cattle Association in 2012. In 2014, the Dairy Shrine presented them with the master breeder award.
Paul attributes some of their continued enthusiasm for breeding purebred Jerseys to the Jersey community itself. He says it's like one big family, which makes it easy to stay involved.
In addition, Paul and his father are the only father and son who have both served as the director and as the president of the American Jersey Cattle Association and to be recognized with the Distinguished Service Award. Now, Alan serves as the director on the board. He is the only third generation to do so in the history of the association.
Breeding purebred Jersey cattle is something Paul was born into, and every generation since then has also been raised with that same passion and dedication to quality and the desire to set up the next generation for success. After all, one of the most important aspects of creating and preserving a legacy is the ability to step down and pass it on to the next generation. PD
PHOTO 1: Paul Chittenden says the pride of watching the next generation become involved in the dairy made stepping down pretty easy.
PHOTO 2: The Chittenden family in 2012: (front row, left to right) Melanie, Alan, Donna, Zachary, Paul, Beth, Brian. (back row, left to right) Cassie, Jonathon, Emily, Maxwell, Lydia, Meagan, Jill with Anna Carol and Nathan.
PHOTO 3: Every year more than 1,500 people visit Dutch Hollow Farm.
PHOTO 4: The Chittendens are active in 4-H and show their cattle at local fairs in the summer. They also show at the All American Junior Jersey Show in the fall. Photos provided by the Chittenden family.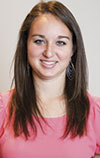 Jenna Hurty

Northwest Editor
Progressive Dairyman