For most people, Christmas means the yearly round of traditions like carols, eggnog and trimming the tree. For Alpenrose Dairy near Portland, Oregon, it means "Christmas in Dairyville" and Storybook Lane.
First started by Alpenrose Dairy owner Carl Cadonau Sr. in the early '60s, Dairyville is a replica of a frontier town in the Old West, while Storybook Lane is a miniature village of animal-filled displays of fairy tales and nursery stories decorated to look like a Christmas wonderland.
Both have become a Christmas tradition for the Cadonau family and the local community.
Dairyville has been a holiday event since its start in the 1960s, with a brief hiatus from 2006 to 2010. Tracey Cadonau McKinnon is the third generation of the Cadonau family to take charge of Dairyville and Storybook Lane.
She brought back Christmas in Dairyville and Storybook Lane in 2011 after a request from her father, Carl Cadonau Jr., to revive the Christmas tradition.
"I'll never forget," Cadonau McKinnon says. "I was sitting at a spaghetti dinner back in 2010, and my dad leaned over to me and said, 'You should start up Christmas again.' I got to work, and we made it happen the next year."
Dairyville is open year-round and used throughout the year by different community groups, but Storybook Lane is a special Christmas addition.
"Each scene tells the story of an old nursery tale," Cadonau McKinnon says. Each scene, from "The Three Little Pigs" to "Three Billy Goats Gruff" includes animals from the story. Other attractions include a bakery, modular train displays and performances by various music, dancing and theater groups in Dairyville's 600-seat theater dubbed "the Opera House."
"It started and continues as our way to give back to the community and bring people together," she says.
Christmas in Dairyville is not the only event Alpenrose hosts. Alpenrose's 52-acre event complex includes several different facilities, including a family-friendly quarter midget racing track; the Opera House theater, used by Northwest Senior Theater and many other groups; a velodrome used by the Oregon Bicycle Racing Association; and a complex of baseball diamonds used by Little League Oregon to host the annual Little League Softball World Series.
Several 4-H groups also use Dairyville for their 4-H Discovery Farm and hold meetings there throughout the year.
In exchange for using Alpenrose Dairy's facilities throughout the year free of charge, the different groups supply the over 400 volunteers needed to make Christmas in Dairyville possible.
Cadonau McKinnon says the 4-H groups are especially helpful when it comes to organizing volunteers and handling Storybook Lane. "I thought 4-H would be a great group to partner with because the kids are well trained with animals, so they can take the lead on Storybook Lane and I can focus on other things," she says.
"It's been a really wonderful partnership and a great opportunity for the kids because it provides the children a volunteer position to work with animals and share their knowledge with the public."
Patrick Willis, 4-H extension educator with Oregon State University, is in charge of the 4-H Discovery Farm at Alpenrose Dairy, which has been meeting at Alpenrose Dairy since 2010. "I ran into Tracey at a meeting, and we started talking and decided using Alpenrose as a 4-H meeting place would be a great opportunity since it fits the family mission for their dairy and fits with our mission as 4-H."
In addition to supplying roughly 100 volunteers to Christmas in Dairyville and supplying animals for Storybook Lane, Willis says a group of about 20 ambassadors, the high school-aged leadership group, take on Storybook Lane as a leadership project.
Cadonau McKinnon says the ambassadors are also in charge of coordinating all of the volunteer assignments. "They take on a huge role of helping me maintain everything and making sure all of the volunteers are happy and in the right spot, so that's been a very helpful program for us and, I believe, for them as well," she says.
Willis says the ambassadors have shown a lot of dedication to their task. "They are on-site to meet with the volunteers and come out, get them oriented, get them a name tag, make sure they know what they're doing and they get a break," he says. "It gets really busy around there, but these high school kids manage the whole thing. They love it too, and they really get a kick out of it."
Willis says he remembers visiting Dairyville as a kid himself. "It was so exciting because there was always something going on over there, but at the same time, it's still a working dairy," he says. "They set this up years ago to thank the community for being there, and it's turned into a tradition."
Cadonau McKinnon makes sure the rest of her family is also directly involved in the event. They are in charge of the information booth. "I like to put my family members up front so that when people walk in, we get to greet everybody," she says. "We're very involved in all of the events."
She says the volunteer help and response from the community has been amazing.
"It's a magical event filled with holiday warmth and nostalgia. Our incredible volunteers help ensure we're able to offer this family-friendly event to the community free of charge year after year," she says. "I think people feel that kind of magic and energy at Christmas and want to share it with others."
Christmas in Dairyville and Storybook Lane will be open Friday through Sunday, Dec. 1 through Dec. 17.
PHOTO 1: Tracey Cadonau McKinnon says Alpenrose Dairy brings in over 300 fresh-cut trees every year to help decorate Dairyville and Storybook Lane.
PHOTO 2: Cadonau McKinnon says they keep a donkey on the dairy specifically for use in Storybook Lane.
PHOTO 3: The 4-H groups supply some of the animals in the displays in Storybook Lane. Photos courtesy of Alpenrose Dairy.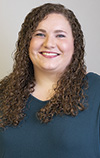 Carrie Veselka

Associate Editor
Progressive Dairyman
Before commenting on our articles, please note our Terms for Commenting.