At April Ridge Genetics Center, the view can't be beat.
"I love seeing the best of the breeding program right here," Ed Peck says, looking out over his livestock from a loft viewing window at his genetics facility near Mount Horeb, Wisconsin.
Another window reveals a picturesque paddock scene, complete with white board fences.
This little glimpse of heaven is a stark contrast to the view from the downtown Madison office that houses his agriculture advertising agency, Filament Marketing.
But that is exactly why Peck chose this piece of property, surrounded by cropland and wooded pasture, to be his "place in the country" and the site of April Ridge Genetics Center.
Work and play
Peck built the barn three years ago for the purposes of both work and play.
Though it certainly serves as a retreat from the hustle and bustle of city life, the building's primary function is to provide a place to capture the potential of his genetically elite Red & White cattle.
His top-tier youngstock come here for a temporary stay, while cows and young calves are housed at nearby Fertile Ridge Dairy.
Five group pens with headlocks and bedded packs accommodate around 45 heifers on an intensive flushing program. Most of these females from April Day Genetics' elite bloodlines surpass 2500 GTPI and are red, red carrier and/or polled.
A smaller barn on the property keeps around 15 bulls that will either enter A.I. or be sold as herd sires. They, too, offer unique combinations of high numbers and sought-after traits, like red, polled and beta casein-tested.
Cattle comfort was top-of-mind when Peck designed his barn. One of the key features, he says, is the ability to access animals from several directions, which reduces stress when giving shots or moving animals from pen to pen for flushing.
A self-adjusting curtain regulates the temperature of the naturally ventilated building to take advantage of summer breezes and protect animals from the elements. He believes these factors create a calm environment that attributes to the success of embryo recovery.
Country charm
An office, kitchen and bathroom, accompanied by an upper loft, take up the northeast corner of the barn, but it's the decorative details that give these modern amenities character. Authentic barn boards trim out the interior windows, doors and bathroom vanity.
Antique granary equipment adorns the upstairs, and barn beams even make up the base of Peck's desk.
While Peck admits that dairy was the original intent of the facility, his scope has since broadened. He now also raises around 30 head of Akaushi beef cattle, a Japanese breed known for its tender meat, and more than 150 adult Orpington chickens.
Whether looking out from his desk into the barn between conference calls, or relaxing on the patio on a peaceful summer night,
Peck couldn't be more pleased with a facility that allows him to pursue his ambitions to breed and develop elite genetics. PD
PHOTO 1: April Ridge Genetics Center
PHOTO 2: Ed Peck
PHOTO 3: Barn built three years ago
PHOTO 4: Group pens for working elite heifers
PHOTO 5: Viewing windows overlooking the barn from upper loft and lower office
PHOTO 6: Orpington chickens
PHOTO 7: Spacious pens and self-adjusting curtains
PHOTO 8: Kitchen
PHOTO 9: Barn beam office desk and barn board trim
PHOTO 10: A beautiful view of the countryside. Photos provided by Ed Peck.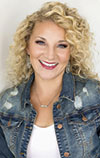 Peggy Coffeen

Editor
Progressive Dairyman