Brad Biehl's bedding robot is smart. But then so is his autonomous feed pusher, robotic milker, automated calf feeder and other robots.
Biehl has a lot of automation, perhaps the most of any dairy in the country. And it is smart because it works together.
This fourth-generation dairy farmer and former mechanical engineer returned to his family's dairy in Kutztown, Pennsylvania, five years ago. Since then, he's been transforming Corner View Farm into what might now be the "smartest" dairy in the country.
Everything on the dairy is programmable and automated – with the exception of feed mixing. And even that is something Biehl would like to someday automate.
The 36-year-old is genuinely friendly. He eagerly explains how he can find any cow's location inside his barn in real-time or literally see what's happening on his dairy with his smartphone by tapping into one of eight on-farm cameras, even if he's a continent away.
This amiable dairyman is every bit a people person, but he has one small problem with them: They're just not reliable.
"There's nothing more frustrating than people making mistakes and letting you down," Biehl says. "Human labor, whether it's my dad, me or a hired part-time person, we're just not that good."
When Biehl came back to his parents' farm, the dairy had just expanded from milking 60 cows in a tiestall barn. Biehl used his background in engineering to help milking system provider AMS Galaxy create a touch screen programmable logic controller.
He then installed the Dutch company's first U.S. robotic milking unit in 2012 on his own dairy and began milking 120 cows. The touch screen controller he helped create is now the centralized brain that integrates all of the other automated technology he owns, and it's what makes it "smart."
Smart technology is an emerging trend for hardware and equipment manufacturers. For example, earlier this summer a consumer appliance manufacturer launched the first-ever smart fridge. This futuristic appliance takes a picture of its shelves each time it's opened and can send the photo to its owner via the Internet at the grocery store, for example, to show if there's any milk at home.
The name "smart" is borrowed from the computer industry and stands for self-monitoring, analysis and reporting technology. For instance, smart computers could detect a threat to memory storage, such as a virus, and then copy information to another drive before becoming damaged.
Smart technology has emerging applications for the dairy industry too. Biehl's farm showcases some of these.
For example, Biehl's overhead bedding robot rides an I-beam monorail to bed stalls twice a day. However, before the programmed time to begin, it checks in with the dairy's weather station, which measures temperature, humidity, wind speed and precipitation.
If it's too windy outside, it will ask the logic controller to close the dairy's curtains or to turn off the farm's fans temporarily. Only when conditions are right will it begin its task.
"What good is it if a robot puts down bedding and it blows halfway across the barn because it's too windy inside or outside?" Biehl says. It's the application of "smart" technology that makes a difference.
That same controller calling all the shots can "sense" when it starts raining via an alert from the dairy's weather station. It will then close the barn's curtains in order to keep outer freestalls and the dry shavings that have been freshly applied twice that day from getting wet. Even climate control on his dairy is automated.
Biehl jokes that getting the bedding robot this year might be the only way to get his dad to retire. Prior to its installation, Brad's father, Dalton, would bed stalls once a day, four times a week. Now the robot does the same task twice every day.
"I feel like it's a good investment. The stalls look great, better than they ever have," Biehl says.
While the robot does use more bedding overall than applying it with manual labor did, Biehl says the robot allows the job to be done consistently, in the way it should be done. His only involvement now is to load the bedding hopper once per day with a couple of skid-loader scoops of sawdust.
He admits they were probably over-bedding but less frequently in order to save on labor costs.
"When I look around at technology, I take action based on things that we aren't doing well or where we have made mistakes," Biehl says about his process for analyzing technology to add to his dairy. "I go to technology for a solution before I think of hiring another person."
Biehl asks the following three questions to assess whether technology may be able to help his dairy: Where is all my labor going? Where is all my time going? Where are all the mistakes happening? Usually technology has an answer, if you're willing to tinker with it a little bit, he says.
He recommends that before producers get too far into automation they start with the basics, such as robotic milking. Automation is just another tool dairy producers must learn to use; it's not a light switch you turn on and walk away from, he says.
"If someone said, 'I like everything Brad has on his farm,' and took my list to the bank and built a new dairy barn with all of this stuff in it, they would likely crash and burn," Biehl says. "Every piece of technology involved me spending time to set it up, learn about it and tweak it."
Brad has learned how to maintain and, in most instances, repair his smart technology equipment himself. It's somewhat of a hobby for him and comes naturally due to his mechanical engineering background.
"I love to take care of my own equipment, and I don't like to pay for people to fix my stuff," he says.
It's maintenance costs, Biehl believes, that scare most producers away from automation and smart technology. He hopes to one day see his son own an autonomous tractor. Something he says is, "not a dream, just a reality that's years away."
In the meantime, he's planning how to eliminate the next major task that requires the most day-to-day labor – preparing and feeding a partial mixed ration. While the technology to automate it exists, Biehl has some unique challenges.
"I'm still feeding out of two upright silos and a 9-foot AgBag, and my forage storage is not connected to my barn," Biehl says. "It's a bigger hurdle than just buying a piece of equipment. I have to change the whole logistics of my feeding program. It's not going to happen at these current milk prices."
When milk prices do turn favorable again, you can bet you'll see more smart robots gliding around this Pennsylvania dairy.
See more photos of Corner View Farm in this slideshow.
PHOTO 1: Brad Biehl eagerly explains how he can find any cow's location inside his barn in real-time or literally see what's happening on his dairy with his smartphone by tapping into one of eight on-farm cameras, even if he's a continent away.
PHOTO 2: The dairy's bedding robot beds twice daily with kiln-dried sawdust.
PHOTO 3: Corner View Farm's robotic feed pusher follows an invisible line of magnets, which have been bored into the concrete and sealed over, in order to push up feed along the feedline. Photos by Sherry Bunting.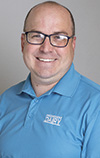 Walt Cooley

Editor-in-chief
Progressive Dairyman