Health issues, a dwindling labor force and aging facilities pushed Rick and Cathy Balzer to consider an alternative option to milking cows in a tiestall barn, something they had done for the past 40 years.
The Balzers were milking 103 cows in their tiestall barn near Owatonna, Minnesota. One by one, their four sons graduated from high school and sought opportunities off the farm – with the exception of Scott, who decided to farm with his parents.
After researching automatic milking systems for five years, the Balzers broke ground on a new three-row freestall barn with two milking robots in March 2015. Five months later, they moved the milking herd into the new barn, located on the other side of the treeline from their existing facility.
"We've been really happy with the system," Rick Balzer said to participants of the Lely Journey Tour in early December. He reported milk production increased 15 pounds per cow to an average of nearly 82 pounds per cow in the new barn. He also noted the farm eliminated its monthly milk testing program because of the data it can get directly from the robot.
The farm now milks 120 cows, which are averaging 2.7 to three visits to the robot each day. They are at a 42 percent pregnancy rate, using a double-Ovsynch protocol and breeding off of the robot report. With a growing herd, Rick said he would like to eventually start culling cows that are slow to milk out now that he can see those that average 14 pounds of milk per minute versus 3 pounds of milk per minute.
They average six fetch cows per robot per day, which Scott fetches twice a day. He also spends about a half-hour each day on maintenance and cleaning of the robots.
While researching robots, Scott said he heard from another producer that he lost 3 pounds of milk per cow every day they used a skid loader in the barn to bed the stalls. To keep activity in the barn at a minimal level, the Balzers installed a belt conveyor over the freestalls to deliver dry manure solids for bedding. It takes a couple of hours to sprinkle the solids over a row of stalls.
Once it is complete, they hand-rake the bedding to even it out. They do one row each day to keep up with the desired level of bedding.
In addition to milking cows, the Balzers run 500 acres of oats, corn, alfalfa and soybeans. They feed a partial mixed ration at the feedbunk, which consists of haylage, corn silage, forage, soybeans, corn and a protein mix. They just started growing soybeans again, and Rick figured they reduced their feed costs by 10 cents a pound with the roasted beans in the ration.
As they started up the robot barn, the Balzers opted to deliver feed twice a day to encourage the cows to get out of their stalls more often. Now they feed once a day and use an automatic feed pusher that runs every hour.
The cows also receive between 10 and 18 pounds of pellet mix a day in the automated milking system depending on their production. They start with 10 pounds at freshening and receive more as their production increases. The system is set to start tailoring back the amount of pellets fed as the cow begins to dry off.
The labor and management efficiencies gained in the automatic milking system will help keep the Balzers milking cows for their next 40 years.
PHOTO 1: Cows are fed a partial mixed ration of haylage, corn silage, forage, soybeans, corn and a protein mix at the feedbunk. They also receive between 10 and 18 pounds of pellet mix a day in the automated milking system, depending on their production.
PHOTO 2: Rick Balzer and his son Scott are farming a bit differently these days. A year-and-a-half ago they moved the herd across the treeline from a tiestall barn into a new three-row freestall barn with two automatic milking systems. Not pictured is Rick's wife, Cathy, who also has an active role on the farm. Photos by Karen Lee.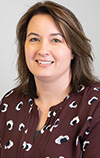 Karen Lee

Editor
Progressive Dairyman